Sony has announced that it will be adding a dedicated 24-hour news channel in the shape of Sky News to its Bravia Internet Video platform in the United Kingdom. This means that users can keep up-to-date with the latest breaking news on a range of internet-connected Sony devices (such as Sony Internet TV sets) even in the absence of digital TV reception. A software update will be required, after which the Sky News icon should appear on the Sony product's XrossMediaBar (XMB) user interface.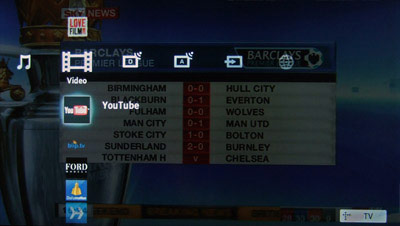 Currently, the Sony Bravia Internet Video web portal lets owners of internet-connected Sony HDTV displays, Blu-ray players and Blu-ray home cinema systems enjoy BBC iPlayer and Demand Five catch-up TV services, watch YouTube videos, social network with Facebook, and stream Lovefilm movies directly on their Sony gear.
Although most consumers will probably end up watching Sky's 24-hour rolling news channel over digital terrestrial television, the upcoming launch of the Sky News app on the Bravia Internet Video IPTV platform should come as a boon to those who stay in areas with poor Freeview reception, as they will soon only need broadband internet connection to access Sky News on their Sony Bravia Internet TVs.
Commenting on the partnership with Sky News, Sony Europe's proposition development manager Edward Uzzell said that delivering breaking news to users through the Sky News service is in line with Sony's desire to enhance its portfolio of web content on its connected internet platform. Indeed, this announcement came barely a fortnight after the Sony Qriocity cloud-based movies on demand service went live on the Bravia Internet Video portal.