British Sky Broadcasting (BSkyB) has rolled out a massive new update for its Sky+ iPad app, which effectively transforms the tablet device into a remote control. Using the iPad remote provides an incredibly intuitive experience, with a simple user interface that allows users to switch between channels, pause, fast-forward and rewind programmes, all with a simple swipe on their iPad touchscreen.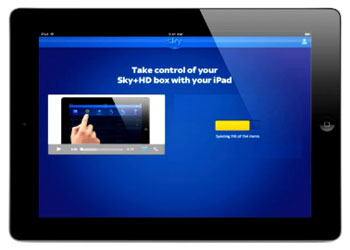 Sky+ app update adds remote control function to iPad
Using their iPads, viewers will be able to access Sky's new television guide directly, where they can select programmes to watch right away or else save them for later. In addition, users will be able to search for channels by name or according to genre. In order for these functionalities to work seamlessly, their Sky+ HD box needs to feature the new-look EPG, and be connected to the same internet network as the Apple iPad.
This is just the first of many new enhancements in the pipeline for the Sky+ application. BSkyB's brand director for TV products Luke Bradley-Jones revealed that customers can expect to receive a new update soon that will add Zeebox second-screen functionality, allowing users to follow online reactions to the content they're watching, and interact with friends via integrated Twitter feeds.
He explained: "We want to take the Sky+ experience up a notch, giving viewers even greater control over how they watch content."
Having tested it out, we can report that the iPad remote is dead easy to use. After signing into Sky with your user ID, the app will prompt you to connect to your Sky HD box. Tap "yes" and a small navigation icon will appear in the corner of the Sky Plus app screen – all you need to do is tap this once and you're set.
Control is extremely intuitive. You can use the iPad remote to play or pause with a simple tap, swipe left and right to rewind and fast-forward, or up and down to flick through the channels. More precise functionality comes when you use two fingers, such as fast-forwarding at 30x speed, or skipping through channel genres.
The inclusion of the TV guide and planner is another bonus. Essentially, it's no different to using the planner on your Sky Plus HD box, but the crucial advantage is that playback is no longer interrupted when using the iPad.