BSkyB (British Sky Broadcasting) seems to be getting into the Christmas spirit of giving far earlier than anyone else at the moment, with its second major product announcement in a week.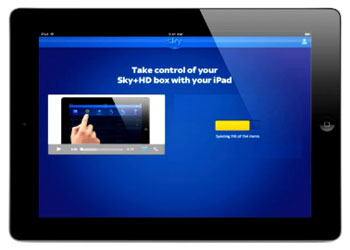 Sky+ app update brings on-demand download to Sky+HD box via iPhone & iPad
The digital satellite TV broadcaster has just made some major new updates to its Sky+ app, less than 24 hours after making Sky Go available to Android Jelly Bean users for the first time.
As of this week, Sky+ HD subscribers will no longer be forced to do everything through their set-top box, thanks to the release of a new iOS app that lets them browse through and download anything from its On-Demand and Catchup catalogue from anywhere in the home.
The biggest benefit for iPhone and iPad owners will be one of convenience. According to Sky, it'll mean that users will be able to search for suitable shows to watch on a separate device without needing to interrupt anyone else in the house that happens to be watching TV at that moment. Instead, simply open up the app, browse through the listings, then place it in the queue to watch at a later date.
Users can actually browse through the listings anywhere – at work, on the bus etc, etc, – but the download function will only work when their iPhone is connected to the same WiFi network as the Sky+HD box, so it's definitely not as good as it could be. We'll be eagerly awaiting the day when Sky can integrate the app properly, so that it's possible to download our favorite shows whilst at work, ready in time for when we get back home and crash on the sofa.
Luke Bradley-Jones, Sky's Director of TV Products, said that the app would be especially useful for families during busy times of the year:
"If you happen to have a house-full this Christmas, instead of interrupting the kids while they're watching cartoons, simply take out your iPhone and browse through the on-demand listings while you're sat in the kitchen preparing dinner."
For those who live alone this update probably won't generate that much excitement, simply because the app doesn't really do anything more than what the remote control already does.