British digital satellite broadcaster Sky has today unveiled its new Sky Q platform as a top-tier premium option to complement its existing Now TV and Sky+HD services. Central to the company's latest offering is a Sky Q Silver main set-top box that features a slimmer design, a 2TB hard drive, as many as 12 tuners with the capability of recording 4 shows simultaneously, and a revamped home screen.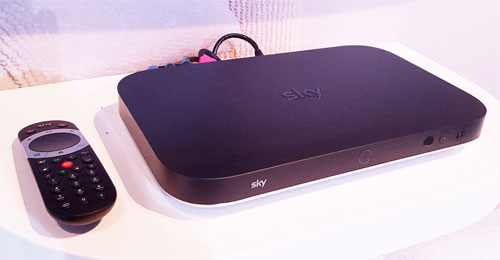 Of interest to readers of this site will be Sky Q box's 4K UHD (ultra high-definition) prowess. The good news is that it's UHD-ready, though Sky will only start broadcasting not only sports, but also movies and entertainment content in ultra high-def later in 2016 shortly after launch.
The specification sheet suggests that the SkyQ Silver box will feature two HDMI ports, one of which being an HDMI 1.4b output with HDCP 1.2, the other an HDMI 1.4 input (YCbCr & RGB) with HDCP 1.2. If true, this means that the highest transmissible resolution will be 3840×2160@60Hz/ 50Hz at 8-bit 4:2:0… Sky themselves have listed 2160p as a video resolution to be added in a future update.
However, in a conversation with Inside CI's contributing editor Steve May, Sky's director of new products Andrew Olson declared that the Sky Q Silver box will offer HDMI 2.0 with HDCP 2.2, whereas the Sky Q Mini will have an HDMI v1.4 output. This seems much more likely, paving the way for future HDR (high dynamic range) possibilities assuming a compatible chipset.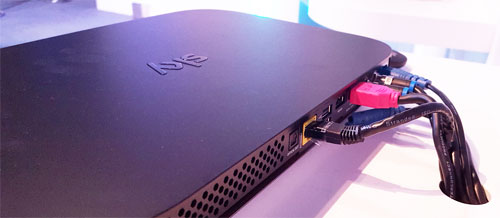 Subscribers who have been complaining about 1080i/50Hz being the highest resolution on current Sky+HD boxes will also rejoice at 1080p being listed as a supported resolution on the Sky Q Silver, not to mention on the add-on Sky Q Mini boxes which can also act as wireless hotspots provided you have the new Sky Q Broadband package.
The SkyQ family of products will be available in the UK and Ireland in early 2016. Sky spokespersons at this morning's launch event have remained tight-lipped on pricing, but do not expect packages to be cheap.