British satellite TV provider and entertainment giant British Sky Broadcasting has revamped its online TV listings guide, adding a range of improvements. The new and improved version of the listings website, Sky Guide, has been launched with a range of benefits for consumers to enjoy. The multichannel TV listings site now contains programme information, clips and trailers for up and coming shows, celebrity interviews, viewing recommendations, high quality editorials and more, which means that subscribers will now be able to get far more from the guide.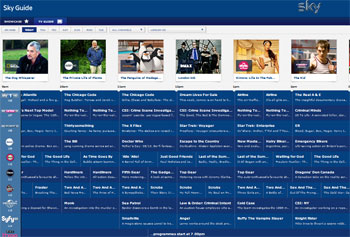 Sky revamps online TV listings guide
The Sky Guide also comes with the remote record function from the broadcaster, so that subscribers are able to set their favourite shows to record via their Sky+ set top boxes when they are not around. The online revamped guide should make it far easier for consumers to plan and organise their viewing, and it has also been redesigned to make it quicker to use as well as easier.
The revamped listings guide will complement the dedicated listings app that is available on the Apple iPhone and Apple iPad. The company launched its Sky Go service earlier this year and this enables subscribers to enjoy the benefit of free access to live TV channels whilst they are out and about.
Simon Hinde, head of editorial in Sky's products team, said that this latest strategy was designed to provide the company's customers with a greater level of control when it came to their viewing. He said that the revamped guide enabled consumers to get the most from their Sky TV service. The revamp means that consumers now have the benefit of enjoying increased convenience and ease no matter which method they use to access the online web TV guide.