BSkyB has just announced a brilliant new update to its Sky Sports app that footy fans in particular will surely love, adding multiple camera angles for replays to give viewers an unprecedented overview of live games.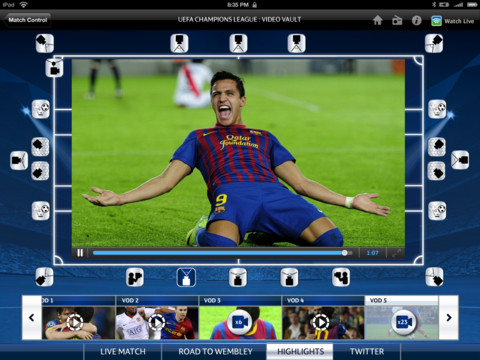 Sky Sports 360 football app adds multi-camera replays
Available for this weekend's Champions League final clash between Bayern Munich and Borussia Dortmund, the new Sky Sports 360 feature gives viewers the chance to call up instant replays of the action from 20 different camera angles. The app makes use of EVS' C-Cast second screen delivery software, and allows viewers to choose what angle they'd like to see the action from, be it from behind the net or right there on the goal line. The app promises to give footy fans the best perspective on matches they've ever had, letting them see what the referee sometimes cannot.
The Sky Sports app is currently only available on the iPhone and iPad, and allows non-subscribers to view Sky Sports on their devices for a monthly fee. It's not to be confused with Sky Go, which is aimed at Sky subscribers only and gives them access to all of the broadcaster's services across multiple platforms. Neither should it be confused with NOW TV, which allows pay-as-you-go access to all of Sky's services.
Sky Sports 360 is a huge update for football fans, promising to transform the live experience in the same way that the Sky Sports F1 app did for motor racing fans. Viewers can access the new feature through the Champions League Events Centre in the Sky Sports app. From there, they'll be able to select and replay all of the key moments in a game, including crunching tackles, miraculous saves, dodgy refereeing decisions, goals and more. The app also includes a new slow-motion feature, allowing fans to analyze extremely close decisions.
Sky hasn't actually said if Sky Sports 360 will be a permanent new feature, so we can assume that the Champions League final is something of a trial run. If it proves to be successful though, we wouldn't be surprised to see the feature being rolled out for all Premier League games from next season – after all, Sky is going to be more reliant on cutting edge technology than ever before in light of the new threat to its footy coverage from BT.
Meanwhile in other news, footy fans who're wondering how they're going to get through the next three months with no Premier League and no international competition this summer might be interested to try out the new "Internet Football Channel" from FilmOn.com. Announced this morning, the internet TV broadcaster's new channel offers a packed schedule of archived Premier League games from the season just gone. The channel can be streamed directly to any PC or compatible mobile device, and what's more it's completely free of charge.
Source: Engadget and Advanced Television