Now this is #veryclever. British Sky Broadcasting (BSkyB) has finally hit upon a a way of making Twitter hashtags useful, with tweets tagged #WatchOnSky effectively becoming a remote control that allows viewers to watch different shows simply by clicking on them.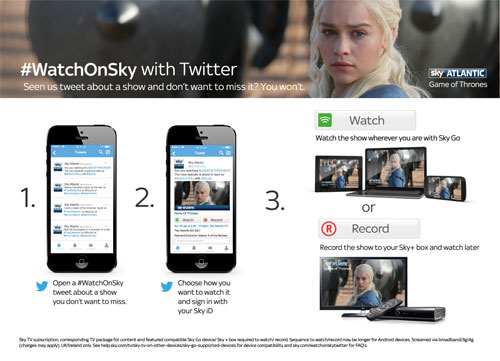 Sky has begun tweeting about certain shows from its @SkyHD, @SkyMovies and @SkySports accounts, allowing smartphone and tablet users to tap on their devices to begin watching, or else record the programme if they're not at home.
Sky shouldn't take all of the credit for this ingenuity though – Comcast launched a similar feature in the USA last year called SEEit, and now Britain's biggest pay TV provider is following in the American media giant's footsteps.
The way it works is simple enough – Sky will tweet just before a certain programme or movie is about to start, and if viewers are interested all they have to do is expand that tweet and choose to watch it right away, or record the show for later.
This feature will be most useful for those who're out and about, fiddling with their phones. All of a sudden Sky sends a reminder that Game of Thrones is about to start, and voila! – you can quickly set your Sky+HD box to record it so you won't miss it. Alternatively you can watch the show right there and then on your phone, so long as you have a decent WiFi connection of course.
Dan Biddle, head of broadcasts at Twitter UK, says that this is a natural extension of Twitter given that telly addicts love to chat about their favourite TV shows on the site.
"#WatchOnSky is a really exciting development that will make it even easier than ever for Twitter users to spot social buzz about a show, and tune in or record it for later," said Biddle.
Of course, viewers will need to have an actual Sky subscription to the relevant channel if they want to be able to watch it. They'll also need to login with their Sky ID and let the app know which DVR is theirs if they want to watch shows on the go. The feature is available on both iOS and Android, though users will need to download the relevant Sky+ and Sky Go apps to be able to view the shows.