Last December, China's Skyworth surprised us all when it announced plans to make OLED TVs affordable in an effort to bring them to the masses. Now, the company has just made good on that promise, with the launch of its new Tianchi E980 sporting LG's WRGB OLED panel.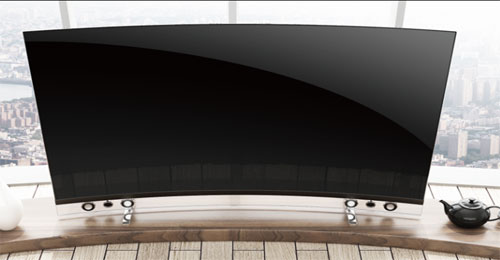 Chinese brands have apparently been racing to get into the OLED game for some time now, no doubt spurred on by soaring sales of their own low-cost 4K TVs in their home market. We saw several Chinese-made OLEDs on display at the CES 2014 show in Las Vegas back in January, but it seems that Skyworth has won the race to get its boxes out to the market first.
Skyworth hasn't yet mentioned any pricing details for the Tianchi E980, but it's a sure bet that it'll cost a hell of a lot less than the OLED televisions sold by Samsung and LG. Even so, Skyworth's offering looks to be the real deal, if only thanks to LG's WRGB panels. In its press release, the company claims it's achieved four innovations in display technology, including an extreme contrast ration of 100000:1; a response time of 0.0001ms, which is twenty times faster than the human eye; the addition of new, white subpixels that enhance the display by 2.08 million subpixels to give it a 15% higher colour domain average than other OLED displays; and superior viewing angles.
The Skyworth E980 looks the part too – sporting a sleek "industrial design" complete with super narrow, 1mm bezel and a body thickness of just 7mm, which is even thinner than Apple's iPhone 5S. We should also mention that it's a curved-screen OLED, which is contrary to our original report that said Skyworth's OLEDs would be of the flat-panel variety.
It's unlikely we'll see Skyworth's OLED TVs arrive in the UK anytime soon, but the fact the Chinese manufacturer is using LG's panels is still a noteworthy development. As we remarked when Skyworth first announced its OLED plans, the fact that LG is now selling its OLED panels to other TV makers suggests that it's finally overcome its manufacturing yield problems, and the partnership with Skyworth means that it's now looking to ramp up production. Even so, LG's been careful about who it chooses to partner with, and has so far avoided selling its OLED technology to any of its Korean or Japanese rivals who compete in the North American and European markets.
Source: Skyworth via FlatPanelsHD.com