We've come across a fair number of smart TVs among the HDTV displays that we've tested so far. Please use the following checkboxes (Javascript needs to be enabled) to drill down our smart TV reviews according to the features (built-in Wifi connectivity) and apps availability (such as Youtube, Netflix, Lovefilm, Skype and BBC iPlayer):

Disclaimer: The results are based on the internet-connected televisions as logged in our database at the time of testing. Sometimes manufacturers release firmware updates later down the line to expand their apps and services which would not have been available when we reviewed the sets.
You should not depend solely on this filtering tool for your final purchase decision… it's intended to be a guide to help you find the best display that is suitable for your needs.
What Is It?
While commonly used to describe a television that can access the web without needing to be hooked up to an external PC or streaming device, a "Smart TV" is technically the next evolution in internet-connected TVs that sees the inclusion of advanced functionalities like branded portals, downloadable apps, as well as voice and motion controls.
That said, internet connectivity remains the core feature which opens up a whole new world of possibilities for users. They can now catch up with their favourite TV shows, rent and watch online movies, stream videos on demand, connect with family and friends via Skype or social networking sites such as Facebook and Twitter, play games, and even browse the internet… all directly on the television without the need for a separate device.
So how do you go about choosing the best smart TV for your needs? In no particular order, here are some important factors to consider:
Apps/ Content
Content on internet-connected televisions usually comes in the form of apps, i.e. downloadable pieces of software that run directly on the TV to deliver videos, games, etc. The majority of these applications come pre-loaded or are free to download, but some need to be paid for.
As you can expect from a smart television ecosystem that hasn't been standardised, each manufacturer has different – sometimes exclusive – access to various content providers. In the UK, some of the most popular video-on-demand (VoD) apps are Youtube, BBC iPlayer, Netflix and Lovefilm, which most platforms cater for.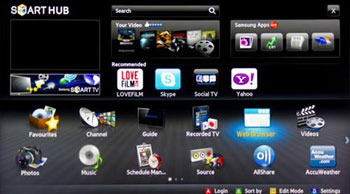 Samsung Smart Hub connected platform
Other apps covered in our drill-down tool include Skype, Facebook and Twitter. If you think we've missed an important app, please let us know in the comment section.
Built-In WiFi
In a world where we are constantly seeking to reduce cable clutter, integrated wireless capability is increasingly becoming a necessity rather than a luxury. Let's face it, if you had a choice, you wouldn't run an ethernet cable to the TV in your living room, nor would you shell out an extra £50 or so on a compatible Wi-Fi dongle. Having Wi-Fi built into smart TVs is the crucial first step in getting consumers to start taking advantage of their connectivity – we hope that one day this feature will become so commonplace that we no longer need to check it against each HDTV we review.
User Interface
Every TV maker has its own idea of how to lay out the available apps on screen, resulting in varying levels of ease-of-use, responsiveness and stability.
Input Methods
Most television brands have developed companion remote apps (usually free to download) for iOS or Android devices, which allow users to use their iPhone, iPad or Samsung Galaxy to operate the connected TVs and most importantly, type out text (for example when using the web browser) with ease. Some have also started putting QWERTY keyboards on the back of the included remote; while others offer voice and gesture controls.
Picture Quality
Of course, please do not forget that in spite of a smart TV's bells and whistles, it should above all deliver good picture quality (which you can read all about in our reviews).
Major Smart TV Platforms
Panasonic Smart Viera 2013
Panasonic's Viera Connect portal used to be clunky to navigate, but the Japanese brand has upped its game this year with a complete redesign. The first thing viewers will notice is its new "My Home Screen" interface displaying a large video feed on the left, which is bordered by an information panel to its right, as well as 3 app widgets at the bottom. Such is the importance placed upon "My Home Screen" that the company has implemented a step-by-step tutorial to guide owners through setting it up when the television is powered up for the first time from factory reset.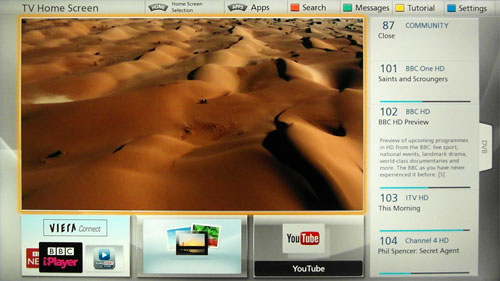 Certain high-end Viera HDTVs come equipped with an embedded pop-up camera, allowing for not only Skype video calls, but also personalisation of "My Home Screen" through facial recognition. Navigation and application launching speed is fairly quick on models featuring Panasonic's "Hexa-Processing Engine". Most of the key Smart TV apps for the UK audience are available, with the exception of LoveFilm.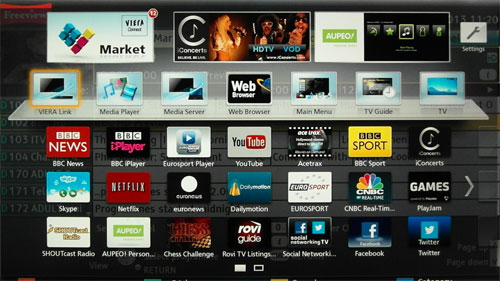 Samsung Smart Hub 2013
Despite having led the pack in terms of Smart content, the Korean TV maker saw fit to revamp its Smart Hub internet-connected platform for this year. There are now 5 top-level pages, namely "Social", "Apps", "On TV", "Movies & TV Shows", and "Photos, Videos & Music".
Upper-tier Samsung HDTVs like the F7000 and F8000 series is blessed with a retractable camera (for facial recognition, motion control and Skype), as well as quad-core processor which really boosts navigational responsiveness to incredibly zippy levels. Samsung offers arguably the most comprehensive suite of Smart television apps on the market, primarily because of exclusive access to ITV Player at least until sometime this summer. Interestingly, even though it has been promised since the beginning of this year, Demand 5 is still not operational on the company's 2013 TVs at this time of writing.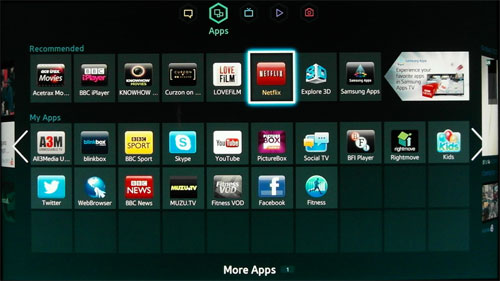 Sony Entertainment Network (SEN) 2013
Sony's offering is slightly more sluggish than Panasonic's and Samsung's in terms of general navigation and app launching. Nevertheless, SEN has most of the popular video-on-demand (VoD) apps on board, including BBC iPlayer, LoveFilm, Netflix, YouTube and Demand 5.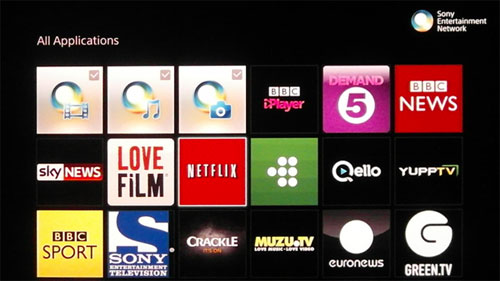 An innovation heavily marketed by Sony this year is the NFC "One Touch Mirroring" capability implemented on the Japanese firm's high-end Bravia televisions such as the W905A. Simply touch the back of the NFC-chipped secondary remote against the back of an NFC-compatible mobile device (like the Sony Xperia Z smartphone), and whatever is showing on the smaller screen will be displayed on the TV via direct WiFi connection.