A pioneering study into the effectiveness of advertisements on internet-connected Smart TV platforms in the United Kingdom has revealed some initial promising results. The study, jointly conducted by US-based digital media management company Rovi Corporation and British market research firm Decipher, showed that most UK owners of connected devices like internet-enabled HDTV displays and Blu-ray players are engaging with the app content delivered by such platforms on a regular basis.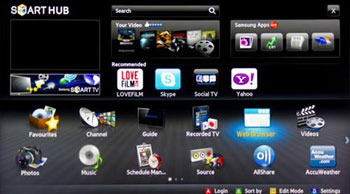 Most UK Smart TV owners regularly access connected apps
Decipher carried out the research among five hundred UK households who took part in the Rovi UK Smart TV Field Trial Advertising programme which is primary based on the "Smart Hub" content portal found on this year's Samsung Smart TVs and Blu-ray players. The study consists of two distinct phases: the first phase would compare the demographic and usage profile of web-connected television users to the average British household; whereas the second phase (which is expected to be completed early next year) is designed to determine the effectiveness of a variety of interactive ad campaigns on Smart TV platforms.
According to the findings from the first phase of the study that was published this week, 84% of respondents regularly used the Samsung "Smart Hub" portal to enjoy video-on-demand (VoD) application services such as LoveFilm and BBC iPlayer. The presence of internet connectivity heightened the interest of 85% of potential buyers of HDTVs and Blu-ray players, while almost half of Smart Hub users claimed that they watched more TV probably owing to greater content availability. The main reasons cited for Smart Hub usage were the convenience of multitasking on a single large screen – 58% now use fewer other devices to connect to the internet – as well as to access on-demand content.
Commenting on the research, Rovi's senior vice president of worldwide advertising Jeff Siegel was keen to point out that consumers are engaging with connected TV platforms at a speedier rate than expected, which bodes well for their potential as a new advertising medium. Meanwhile, Decipher's chief executive Nigel Walley (who was obviously pleased to be part of this pioneering study) said that the results should help dispel the myth that Smart television owners are not utilising the connected capabilities of their sets.