Thanks to the ease of accessing online streaming content through Smart TVs, the personal computer is no longer the most common device for watching web videos. A new study by the research firm NPD Group has revealed that for the first time, the television has overtaken the PC as the favoured device for online viewing.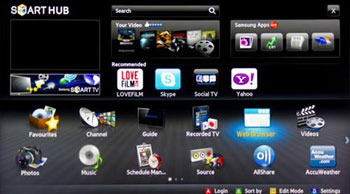 Smart TVs help TV overtake PC for online video viewing
According to the study, 45% of American viewers now use their internet-connected HDTV sets more often than their computers to watch both premium and free streaming content from the web. This is in marked contrast to just one year ago, when only 33% of respondents said Smart TV was their first choice. Consequently, the popularity of watching streaming content on PCs has declined, from 48% in 2011 to just 31% this year.
The rise in viewers accessing streaming content via televisions can be attributed to the increased adoption of connected TVs, said the NPD Group. In addition, a growing number of consumers are accessing internet content through devices like the PlayStation 3 or set-top boxes, enabling them to watch web-based content on older televisions as well.
NPD's data shows that around 10% of US households now possess at least one Smart TV that can access streaming apps such as Hulu Plus and Netflix. Of these households, 40% of them have used their Smart TVs to view online entertainment in the past 12 months.
Russ Crupnick, NPD Group's senior industry analyst, explained:
"The growing adoption of connected TVs shows that online video is becoming much more popular and is here to stay. Online streaming has moved away from people's bedrooms and studies into the living room. With more and more households expected to buy Smart TVs in the future, we can confidently predict that this trend will continue."
One noticeable result of the growth in Smart TV use is that consumers are now losing interest in peripheral devices such as Blu-ray players, games consoles and set-top boxes as a means of accessing internet streaming content. According to NPD Group, around 20% of all households that have recently bought a connected television no longer use these alternatives to hook up to the web.
Regarding the most popular content, somewhat unsurprisingly, Netflix proved to be the most dominant of online video services, being viewed by almost 40% of internet-connected TV owners. Second place was Hulu Plus, watched by approximately 12% of all Smart TV viewers, followed by pay-per-view movie provider Vudu with 4%.