A new report from tech research firm Gartner has once again emphasised that the future of television lies in Smart TVs, predicting that they will account for almost 85% of all flat-screen televisions manufactured in 2016. This will be borne out by a massive rise in the total number of smart TV sets being made, up to 198 million units a year from the current 69 million units made annually now.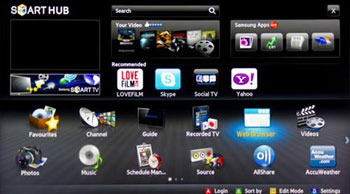 Smart TV penetration rate to reach 85% in 2016
The only thing that remains unclear is whether or not consumers will feel the same way. Gartner says that while manufacturers are eager to embrace next-generation TV and ship out as many units as they can, it's much harder to predict if consumer demand will be able to fuel this wish. The research firm says in its report that brands will have to do some aggressive marketing and educational campaigns to convince consumers to buy their Smart TVs.
Gartner's chief research analyst Paul O'Donovan said that content could become the deciding factor between brands, rather than the actual hardware:
"Consumers will be more interested in the kinds of internet TV services available for a particular model, which sites can they access, and so on. They'll also want to know about compatibility – can this TV be used with their smartphone or tablet?" explained O'Donovan.
"The industry will face a critical challenge in trying to sustain sales levels, what with the global economy still struggling and consumer confidence levels declining. This is especially so in emerging markets."
"When demand is reduced, the extra functionality that Smart TVs possess have the potential to become the deciding factor that convinces consumers to buy."
Gartner's report follows months of rumours that the world's biggest tech firm, Apple, may be about to gatecrash the Smart TV market with an iOS-based flat-panel HDTV (nicknamed "iTV" by the press). These rumours have been further fuelled by Apple's blunt refusal to even discuss the subject, while reports of the company having manufacturing problems have only added more fuel to the fire.
It's not difficult to see why Apple would be interested in pushing its own Smart TV brand. The nature of connected devices is evolving, with Smart TVs, smartphones, tablet computers and other devices becoming ever more integrated – and Smart televisions being seen as the central component that links all these together.
"With connected smartphones and tablets, we have the ability to stream content from the Web with one device, and then display that content on our big screens in the living room. This gives manufacturers of both devices a significant advantage other those that don't," explains O'Donovan.
And it's only natural that Apple would want to seize that advantage for itself.