A recently released report has revealed that between December 2011 and January 2012 the number of people in the UK who now own a Smart TV has only grown by 1 percent. The growth of Smart TVs – televisions that come with built-in Ethernet or WiFi connectivity which allows users to connect the set to the internet for a variety of services – has slowed considerably in recent months.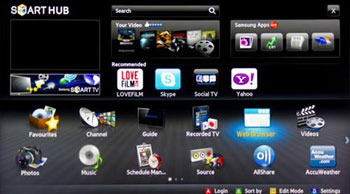 Smart TV uptake remains low in the UK: YouGov survey
Only one in every ten people in the UK own a Smart TV, and the number of users planning to buy one of these internet-connected HDTV displays is quite low, with only 15 percent of the remaining consumers saying that are going to buy one in the next 12 months. This is according to a YouGov survey that was carried out in November 2011.
The sales volume of new Smart TVs over the Christmas period unfortunately came nowhere near the purchase levels that retailers and manufacturers had hoped for. By comparison, sales of many other digital electronic products rose significantly, with one example being the 1.33 million e-book readers that were sold over the same period. Most consumer electronics retailers like Comet and Dixons, however, announced lower overall sales during the Christmas period, which ties in with the lower-than-expected sales of Smart TV sets.
A more recent survey carried out in January by YouGov found that games console is considered to be the device that most consumers will use to view web content on television sets. This finding is given further credibility by the rise in sales of video game consoles that are internet-ready, like the Nintendo Wii which saw sales increase by 4 percent over this period.