A new report released by market research firm YouGov today has revealed that only one in ten Brits have the intention of buying a Smart TV over the course of 2013. This is despite the fact that more than half of people in the United Kingdom (55 percent to be precise) have some sort of internet connectivity running to their television sets, which is indicative of the desire among consumers to watch web content on their main screen in the living room.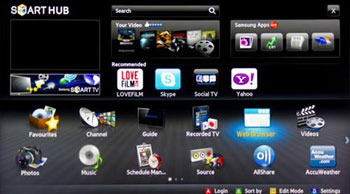 Only 1 in 10 Brits plan to buy a Smart TV next year
A leader in online surveys, YouGov polled its UK panel consisting over 350,000 people of all age and socio-economic demographics to explore the nation's TV habits. Only 11 percent said they are interested in purchasing a smart television – defined as a TV that can directly access the internet without the need for an external device – next year.
These potential buyers would be willing to fork out £440 and £550 for a 32-inch and 42-inch internet-connected HDTV display respectively, according to YouGov. Based on these figures and also the population statistics from the ONS, the agency projected that Smart TV sales will hit in excess of £2.5 billion throughout 2013, working under the assumption that 11% of Britons aged 16+ (5.76 million) will buy a 32″ Smart TV costing £440 in the next year.
Of course, this estimated sales figure of £2.5 billion, which is spreading through the press like wildfire, is wildly optimistic. It would be more accurate to extrapolate the data using the number of homes instead of the number of adults, as it's highly unlikely that one household containing two potential buyers will purchase two televisions, in the same year no less.
Headline-grabbing figures aside, YouGov suggested that affordable pricing is an important factor (isn't it always?) for TV makers (like Samsung, LG and Sony) and retailers wishing to sell a boatload of Smart TVs in the upcoming Christmas and New Year shopping period. Dan Brilot, media consulting director at YouGov, also said that retailers and manufacturers should highlight the potential of Smart televisions to be loaded with new apps, given the consumers' appetite for downloading apps on their smartphones.