A new study by the market research firm NPD DisplaySearch has highlighted the astonishing growth of Smart TV, providing further evidence that internet-connected TVs are rapidly going mainstream among consumers – especially in Western Europe and Asia.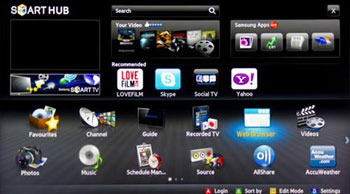 Smart TVs going mainstream: to see 15% growth in 2012
Smart TVs are selling like hot cakes all over the world at present, and this is most apparent in China and Western Europe, where connected televisions account for more than 40% of their markets, having grown from 26% and 34% respectively in 2011. In Japan meanwhile, Smart HDTV owners now make up the majority of consumers, with connected TVs accounting for 55% of all shipments over the last 12 months.
Curiously, Smart TVs have failed to see the same success in North American markets, constituting just 20% of overall shipments, a figure that has remained more or less constant over the past two years. This represents the lowest growth of any region in the world, despite North America's position as the biggest consumer of internet television content.
So what's going on here? According to NPD's European research director Paul Gray, the main sticking point for US audiences is one of content – in particular, free content.
For countries like China, which has more free content than any other nations, consumers are flocking to buy Smart TVs in their droves, while Western European consumers also have a lot of free content available through open sources, applications and other services. Meanwhile in the USA and Canada, the majority of video streaming content has to be paid for on a subscription or on-demand basis, which means that consumers are less likely to be tempted by connected HDTVs, instead using set-top boxes provided by cable companies.
Even so, NPD DisplaySearch insists that North America's apparent unwillingness to adopt Smart televisions in large numbers is unlikely to affect the technology's rapid growth, with total worldwide shipments expected to number some 43 million units by the end of this year, a 15% increase from 2011. Ultimately, NPD said that it expects Smart TV shipments to rise to 95 million units by 2016.