Note: OPPO has responded to our questions regarding future developments on its players. To move to their response, click here.
Today's announcement that OPPO Digital is to cease the manufacture and design of new products will come as a shock to video and audiophile users. A sub-brand of China's BBK Electronics, the company carved out a well-deserved position in the early days of upscaling DVD due to its exceptional customer service and attention to requests from video enthusiasts. It launched DVD players in the United States market in 2004, when flat-panel displays were finally beginning to gain a foothold in the television display market. Today's announcement marks the end of a relatively short life for this respected brand.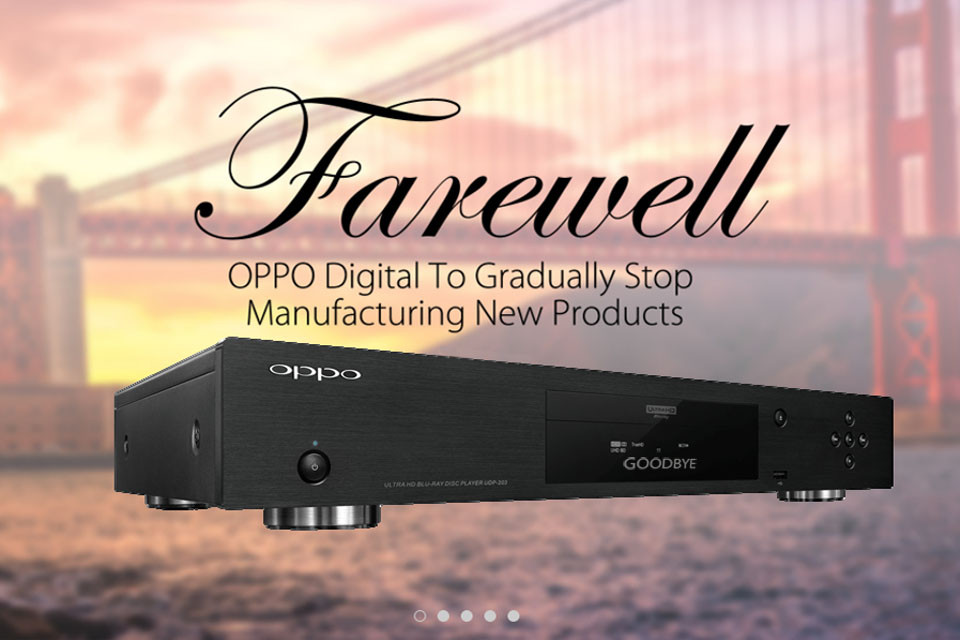 Ironically, this news may be the inevitable culmination of the Blu-ray format's high quality. In the past, optimal interfacing of DVD (which was designed around the interlaced TV technology of the 1990s) to higher resolution displays required savvy processing. Extracting the best quality from the venerable red-laser disc format centered mostly on well-programmed film mode detection algorithms for film material, and good quality diagonal interpolation for video content.
On the other hand, Blu-ray Disc, with its native Full HD progressive video, was designed for modern displays. It required no special processing to display optimally on the 768-line and 1080-line LCD and Plasma displays common around the time of its launch. Even with today's 2160-line Ultra HD displays, the progressive format used by the overwhelming majority of standard Blu-ray movies requires only basic processing to upscale – with the new UHD discs obviously requiring none at all. OPPO's players handily outperformed the competition with 1080i interlaced content, but this is extremely rare on Blu-ray so was a moot point.
As such, quality differentiation between Blu-ray Disc players was relegated to much more subtle aspects of performance, such as chroma upsampling – an area in which Panasonic has long reigned supreme, although we stress that the practical difference is best seen with synthetic content like animation, and on very large screens. In the earlier days of the format, Sony's Playstation 3 games console produced absolutely perfect playback of 24p Blu-ray movies, and to the best of our knowledge, still does. In most cases, any poorly performing Blu-ray Disc players on the market were poor performers because they had intentionally been designed with objectionable video processing features, like undefeatable noise reduction or image sharpening, without a working "opt-out" switch.
Probably as a result of well-performing cheap players, OPPO's design strategy shifted somewhat with the launch of its Blu-ray machine. After waiting out the ridiculous format war with HD DVD, their seminal Blu-ray player featured sleeker menus, better build quality, and was aimed at a higher price point than their well-performing but plainly designed upscaling DVD players (one UK print publication mentioned that the menus in OPPO's DVD players looked as if they came "straight out of a Shenzhen bargain bin"). This heightened build quality, combined with their ongoing support and quality, allowed OPPO to successfully reposition themselves as a high-end manufacturer.
To add a personal touch to this story: via its European branch in Sweden, OPPO was the first manufacturer that I worked with, improving product performance around 2007. I have fond memories of skipping boring university lectures to create test patterns for their engineering team, which highlighted issues in 2-2 film cadence detection for PAL discs. I was consistently impressed with how OPPO took the feedback on board, and worked with their chipset provider (Mediatek) to improve performance wherever possible. They even acted on my request to add a manual deinterlacing mode selection to their DV-980H upscaling player, which resulted in guaranteed full-resolution PAL DVD playback. At the time, this player's combination of clean, ring-free scaling and full-resolution playback was a rarity, especially in cheaper players which used an all-in-one chip design. The company's commitment to improving its products at every price point has been second to none for a long time. The best rival brands were offering, if they read your feedback at all, was a vague hope that they'd address issues in next year's model. OPPO was a pioneer in releasing meaningful and frequent firmware updates via its web site, which were fed to its earlier DVD players via a USB memory stick, years before BD-Live introduced internet connectivity to players.
But, back to the present: we can only speculate what factors have influenced today's decision. We suspect that the saturation of the market with cheap Blu-ray players (which, as we mentioned, more often than not do a highly serviceable job), plus the added expense and difficulty of supporting the various new HDR formats, have played their part. Engineering support for UHD Blu-ray playback requires support for the mandatory HDR10 format, and OPPO went one step further with the addition of the Dolby Vision system as well – some time before the majority of their competitors.
Consider also the increasing multi-purpose nature of BD players. Users today expect various networking and streaming features to compliment the core function of playing optical media. Unlike some of its previous units, the company's UDP-203 and UDP-205 UHD Blu-ray players notably lacked any built-in apps for the likes of Netflix, Amazon Prime, Hulu, Vudu, BBC iPlayer, and so on. OPPO's solution was instead to provide an HDMI input on the player, allowing the user to connect a secondary set-top box of their choice, for further refinement by the company's lauded image processing.
Is there still a market for premium disc players? Panasonic seems to think so. Its DP-UB9000 player was unveiled at the company's European convention in February, with sights quite obviously set on OPPO's market share in this competitive niche (engineers explained to us that its price/performance ratio was aimed to sit inbetween OPPO's 203 and 205 units, with performance targets closer to the latter). It could be that the Japanese giant's entry into this space was enough to serve as the writing on the wall.
For the above reasons, OPPO's presence in this field will be missed. But home theater enthusiasts shouldn't despair: rather than mourning the loss of a high-quality boutique manufacturer, we should celebrate the fact that the picture and sound quality offered by even cheaper Blu-ray players today is beyond what the richest home theater owners could have dreamed of in the DVD era. Thanks to the design of the format, near-cinema quality picture and sound are no longer exclusively the domain of the wealthiest users (as far as playback devices go, that is).
To go back to my personal note, this is what my earlier memories of OPPO are tied to: making the most of the hardware at hand, and enabling new levels of fidelity at all price points. Granted, owners of OPPO units are unlikely to embrace the cheaper build quality of everyday players, but we imagine that other manufacturers will step up to fill the void (Panasonic being the most obvious example).
OPPO promises to continue fully supporting their existing players with ongoing firmware updates, and will honor all warranty requests. It's not yet clear for how long this will be the case, and whether OPPO players will gain support for the upcoming addition of HDR10+ to the UHD BD format. We've reached out to OPPO for more information, and will update you as soon as we know more.
Source: OPPO Digital
Update (April 3rd, 2018): Jason Liao, CTO of OPPO Digital, took the time to respond to HDTVTest's questions regarding this news, and has clarified several important points. He stresses that while OPPO will not be introducing any new products, it is not disappearing, and will continue to support its existing customers and range of disc players, headphones and speaker.
When asked what prompted OPPO's decision to stop product development, Jason noted that no single reason influenced the decision. However, he stated that it was carefully chosen to come at a time when development of its UHD disc players had already been accomplished.
Regarding future improvements, OPPO mentioned that a firmware update to support Dolby Vision with Sony TVs is currently being tested by Dolby, which suggests that it has largely been completed. Support for the upcoming HDR10+ standard is being investigated, and hinges on whether or not the current hardware is capable of decoding the metadata and passing the information on to the display. OPPO assures us that if the hardware can do it, support will indeed be added by firmware.
To us, HDR10+ support being added to OPPO's players seems likely. The company's renowned customer service, close relationship with Mediatek, and the engineering ingenuity we mentioned earlier in the article, all give us confidence. Additionally, our current understanding is that the HDR10+ metadata is carried via the existing SEI message feature that is already part of the HEVC video standard, suggesting that changes on the playback side should be minimal. Of course, we'll have to wait and see what ultimately transpires.
Although we've seen the last of new hardware from the company, it sounds that OPPO fans still have a lot to look forward to.
Disclaimer: David Mackenzie, the author of this article, encodes and authors films to Blu-ray for various publishers.