Sony this week announced that its "3D Experience" video-on-demand (VoD) service has smashed the ten million downloads barrier, reaching an important milestone in a relatively short space of time. According to data from the Japanese consumer electronics manufacturer, over ten million pieces of 3D content have been viewed on the "3D Experience" channel in the past six months on a global basis.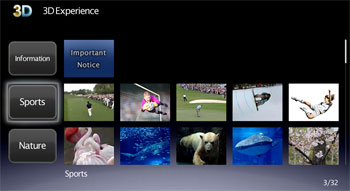 Sony's free "3D Experience" VoD service hits 10m views
3D Experience is a free on-demand streaming service from Sony, which customers can access via the company's 3D-capable Bravia LCD HDTV models, Blu-ray disc players and home theatre systems. Viewers can enjoy a range of exciting extra-dimensional content through the use of this service, which launched in five countries in July 2011. It is now available in fifty eight countries, and boasts over fifty titles to choose from. There are plans to expand this to around one hundred titles in spring of this year.
Viewers are able to look at a variety of promotional video clips through the Sony 3D Experience channel, and also watch trial content which includes music, sports, movies, documentaries and games. Highlights from unreleased blockbusters from Sony Pictures Entertainment (such as The Amazing Spider-Man and Arthur Christmas) can also be previewed via the 3D Experience service, something that is very popular amongst users.
Sony's home entertainment category development manager Edd Uzzell said that consumers these days are not only looking for innovative electronic devices, they also want to enjoy great entertainment and viewing experiences. He added that the company is in the perfect position to provide these to consumers, and has made it easy, fast and convenient for viewers to discover and enjoy a variety of tri-dimensional material. Sony plans to add to its content in order to "provide an environment where users can actively discover and enjoy a variety of 3D content to further enrich their 3D entertainment experience".