Sony has unveiled 27 new Bravia LCD TV models at the Consumer Electronics Show (CES) 2011 in Las Vegas this week, with a heavy focus on 3D capabilities and integrated web connectivity. Some mid-range and all higher-end models will sport the ultra-stylish Monolithic design, and be protected by Gorilla Glass (sourced exclusively from Corning Incorporated) which is renowned for its thinness and durability.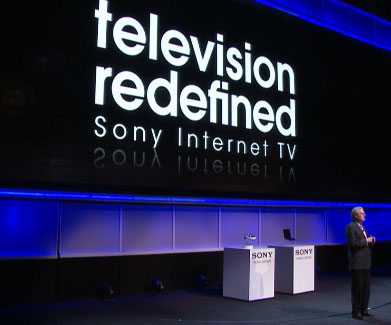 Acknowledging the rising popularity of IPTVs (internet-protocol televisions), the Japanese TV manufacturer went so far as to devise a "Television Redefined" campaign to build public awareness of its internet-connected offerings. Last year the company introduced the Sony Internet TV – the world's first to be powered by Google TV – as well as launched its Qriocity video-on-demand service, which was later supplemented by the Music Unlimited cloud-based music streaming service initially in the UK and Ireland.
But of course, a Sony press conference these days wouldn't be complete without frequent mentions and demonstrations of 3D TV technology. In fact, in his presentation Sony USA CEO Sir Howard Stringer referred to 3D and Internet TV as the company's "battle pair" in its very ambitious quest to become the leading TV maker in the US by 2013.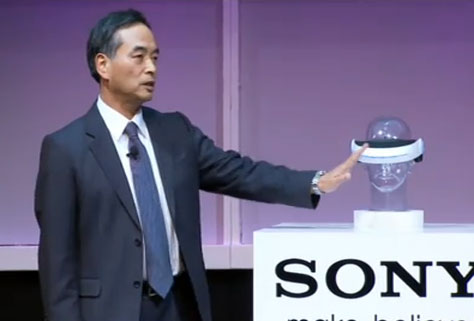 During the press event, 3D-glasses-donning media journalists were treated to a 3-dimensional movie trailer of The Green Hornet 3D, a 3D game teaser for Uncharted 3: Drake's Deception with cinematic cut scenes and some gameplay footage, and a futuristic 3D HMD (head-mounted display) prototype.
Coming back down to earth with its 2011 range of Bravia 3D TVs, the good news is that they now ship with 3D sync transmitters built-in (last year consumers had to buy the signal transmission unit separately to watch 3D content on their 3D-ready HDTV sets). Sony claimed to have boosted the response time on their 3D LED-backlit LCD televisions to reduce crosstalk, and redesigned their active-shutter 3D glasses to be lighter and more comfortable for prolonged use during 3D viewing.