Last week, we reported that the men's and women's singles finals from the Wimbledon 2011 tennis tournament will be broadcast in all their 3-dimensional glory for the first time ever on BBC HD. Now, further details have emerged regarding the role Sony will play in this groundbreaking event which may usher in a new dawn for 3D home entertainment (at least from the content point of view).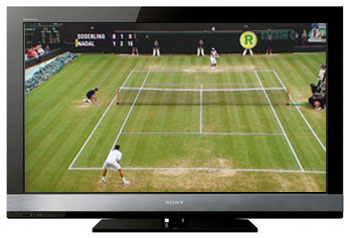 In association with the All England Lawn Tennis Club (AELTC) where the Wimbledon Championships is held, Sony will provide the professional broadcast video cameras and necessary expertise to capture every live tennis action – ranging from the fastest ace to the sweetest passing shot – in full HD 3D. This is another feather in the cap for the Japanese consumer electronics giant who now boasts a wealth of experience in the production of live 3D sports broadcasts, having delivered extra-dimensional footages from the FIFA World Cup 2010 football matches, the Ryder Cup 2010 golf competition, as well as last month's UEFA Champions League final between Barcelona and Manchester United.
The quality of the 3D feed is then checked on Sony's range of 3D-capable HDTV displays to ensure the best possible tri-dimensional viewing experience at home. The company's 2011 range of Bravia 3D TVs include the EX723, NX723, HX723, HX823, and of course the flagship HX923 series that features local-dimming LED backlight technology. Obviously proud to be involved in the inaugural Wimbledon 3D broadcast, Sony UK's managing director Gildas Pelliet stressed that the company has developed proficiency in each stage of the 3D process from content production to end-user display hardware, hence establishing Sony as a frontrunner in the 3DTV revolution.
The 3D Wimbledon 2011 broadcast will be screened on Saturday the 2nd of July and Sunday the 3rd of July on the BBC HD channel across various high-definition platforms including Freeview HD, Freesat, Sky and Virgin Media. Those who do not have a 3D TV in their households can still watch these finals in the third dimension at selected Vue, Odeon, Apollo and Showcase cinemas nationwide.