2012 has marked a spectacular return to form for Sony as far as its Bravia HDTV lineup is concerned, with the flagship HX853 series scooping up awards after awards in various publications and industry events – the 55-inch KDL-55HX853 we reviewed back in June remains the best LED LCD TV we've seen this year. Not content to rest on its laurels however, the Japanese brand is seeking to establish itself as the de facto leader in the movement towards the next step-up in picture resolution, namely 4K which boasts four times the pixel count of regular full HD 1920×1080 content.

Although several television manufacturers have unveiled 4K TVs at this year's IFA consumer electronics show in Berlin, Sony is adopting a more holistic approach towards the resolution revolution, which is hardly surprising given that the firm is heavily involved in almost every step of the video chain, ranging from content creation and post-production to film distribution and end-display. (Incidentally, we believe this is the reason why Sony's flat-screen TVs always handle 24p signal from Blu-ray discs flawlessly without introducing judder nor motion interpolation).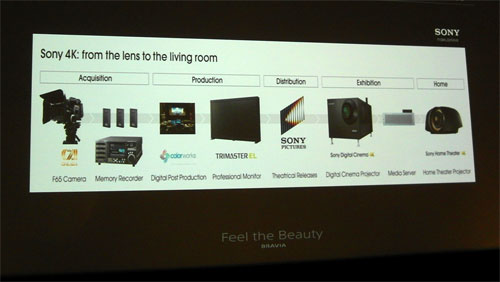 Preferring to pave the way rather than to play catch-up later, Sony has put a lot of effort into building its presence in various facets of the 4K ecosystem. Last year, it launched the world's first native 4K digital motion picture camera in the form of the Sony F65 CineAlta, which has since been used to shoot Taylor Swift's "We Are Never Ever Getting Back Together" music video, as well as two of next year's Hollywood blockbusters: After Earth starring Will Smith; and Oblivion starring Tom Cruise. The company is also active in 4K post-processing through its ColorWorks digital intermediate facility, and in the professional cinema display market via its SRX-T range of 4K projectors.
Despite this, Sony has not forgotten about the home theatre market. First unveiled at Japan's CEATEC trade show in October 2011 as the world's first true 4K home cinema projector, the Sony VPL-VW1000ES has been released in the UK this year, garnering critical acclaim aplenty in the process. Now, the Japanese giant intends to build upon its success by offering a direct-view display aimed at the (luxury) home entertainment sector.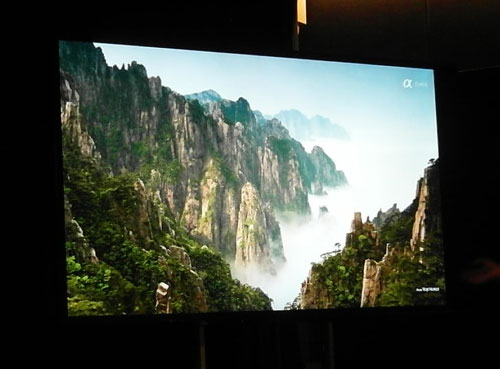 Sony goes big on 4K with 84-inch KD-84X9005 LED TV
We first laid eyes upon the Sony KD-84X9005 84-inch 4K LED LCD TV in the bright showhalls of IFA Berlin some six weeks ago, and were impressed by the sheer resolution on exhibit. Earlier this month, we were given the opportunity to get a glimpse of the gargantuan screen again – only this time in a more cinema-like setting in London – as well as the underlying "4K X-Reality Pro" video processing engine.
The key selling point on the Sony 84X9005 is undoubtedly its native ultra-high-definition (UHDTV) screen resolution of 3840×2160, which is capable of delivering an immersive viewing experience where individual pixels simply dissolve into a mesmerising showcase of super-realistic images. From 6 feet away (a viewing distance that is half of what we would typically adopt for watching full HD content on, uh, an 84-inch screen), it was still impossible for us to tell where a pixel ended and another began, and as a result the picture took on a silky, almost 3D sheen (in a good way).
The LCD panel implemented on the KD-84X9005 is of the IPS variant, illuminated by edge LEDs mounted along the top and bottom of the screen. Given that three TV makers (Sony, LG and Toshiba) had launched 4KTV models – every one of them 84-inchers no less – at IFA 2012, and only one of them is a major IPS vendor, it's easy to work out who is supplying the LCD panels, even though none would be willing to go on record to confirm the speculations. As expected for an IPS display, black level was unflattering in a dimly-lit viewing environment, and there were some patches of backlight unevenness (which is unusual for an IPS-based panel, but then again, maybe not at this screen size). Sony reassured us that the backlight uniformity issues were limited to the pre-production sample (which was one of only two available in the United Kingdom), and that production models will be better in this regard.
The base refresh rate on the Sony KD-84X9005 4K LCD TV panel is 100Hz, which can be boosted to simulate 800Hz using the company's proprietary MotionFlow MCFI (motion-compensated frame interpolation) technology. From a brief football clip we saw, the X9005 certainly acquitted itself well in this area, depicting clear motion without any significant interpolation artefacts.
To give you an idea of just how rare native 4K content is (not to mention the challenges facing the mass-market adoption of UHDTV), all the 4K material screened on the 84X9005 during our demo session had to be served from a PC. Appreciating that the majority of the content watched on the gargantuan television is still going to be regular HD (if not SD… shudder!), Sony has collated years of R&D data to come up with a 4K upscaling algorithm, culminating in what the firm calls the "4K X-Reality Pro" super-resolution video processing engine.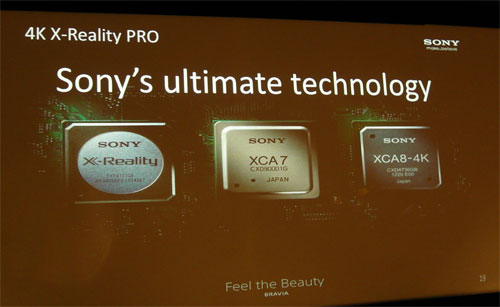 At its core, 4K X-Reality Pro comprises three image processing chips. The first is the Sony X-Reality engine which is responsible for cleaning up noise in the input signal, be it compression artefacts or dot crawl. The second chip, known as XCA7 (denoting the seventh generation of Extreme Creation Architecture), performs standard-definition upconversion through a two-pronged process of multi-frame analysis against a large database of movie and video images, as well as super bit-mapping (i.e. extending 8-bit info to mimic 14-bit gradation). Together, the X-Reality and XCA7 chips make up the X-Reality Pro engine found on high-end Sony Bravia HDTVs like the HX853.
To upscale 1080 content to 4K resolution, obviously a third processor is needed. Enter the aptly-named "XCA8-4K" chip that works pretty much in the same manner as the XCA7 (by comparing input signal against image database, then enhancing the video for display). We did not have the time nor tools to test this in depth, but Blu-rays did not look soft nor excessively edge-enhanced on the Sony X9005 when viewed from 10-12 feet away.
For us, the biggest benefit of 4K televisions is the exciting prospect of finally being able to receive full HD 1080p image in each eye over passive 3D, effectively eliminating the current limitations of active-shutter (flicker; glasses need syncing/ battery/ charging) and passive (halved vertical resolution resulting in softness, jaggies and visible scan lines) 3D display technology in one fell swoop.
In fact, Sony was at pains to point out that the tri-dimensional image delivered to each eye by the KD-84X9005 actually has a higher resolution than conventional "Full HD 3D": only the vertical resolution is halved to 1080 single-pixel lines; the horizontal resolution remains intact at 3840 pixels. This was certainly borne out in real-world viewing – putting on a pair of polarized glasses to watch a 3D trailer of The Amazing Spider-Man on the Sony 4KTV amounted to by far the most engaging extra-dimensional experience we've had on a direct-view display. Amazingly textured depth and layering, immersiveness from the big screen filling our visual field, no flickering, negligible crosstalk – it was total 3D bliss.
The Sony KD-84X9005 is up for pre-order at a cool price of £25,000, with delivery scheduled in time for Christmas. With such an eye-watering price tag there won't be many takers, nevertheless the 84″ mammoth represents a powerful statement of intent from the Tokyo-headquartered conglomerate with regards to its 4K aspirations. And from what we've seen, it's a pretty convincing one, if only because of the awesomeness of full-resolution passive 3D.