We had first proper glimpse of Sony's much-heralded 4K Ultra HD media player back in April, when the company stated that the service would be rolled out sometime this summer. Now, the Japanese manufacturer has finally clarified the exact launch details, saying that the device is set to hit US stores on the 15th of July, alongside the launch of a new 4K movie download service exclusively for Sony customers.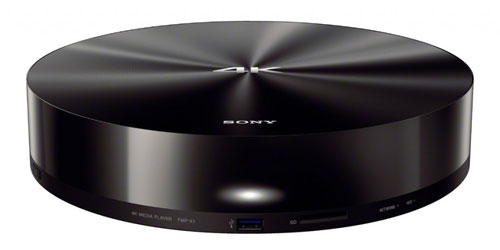 Known as the Sony FMP-X1 4K Ultra HD (UHD) Media Player, the device is said to be available for pre-order online starting today, while those who prefer to buy their hardware in person can run along to the shops in a couple of weeks time. As for the actual content, the media player will come with ten super-high resolution, 4K movies pre-installed, with more expected to launch on Sony's new Video Unlimited 4K network later this year.
The initial batch of 4K films are all fairly well-known Hollywood hits, nothing special by any means but certainly a decent taster of what's to come for anyone who's already got their hands on a 4K TV. The titles including The Amazing Spiderman, Battle: Los Angeles, The Karate Kid, Bad Teacher, The Other Guys, Salt, Total Recall 2012, That's My Boy, The Bridge on the River Kwai, and Taxi Driver. Once the Video Unlimited 4K download service goes live later this year, we can expect to see a much wider selection of movies available, and with any luck, perhaps some hit television shows thrown into the mix.
The Sony FMP-X1 UHD 4K Media Player looks like a decent machine, but as far as pricing and compatibility goes we can't help wondering if the Sony PlayStation 4 might prove to be better value, seeing how the PS4 is capable of doing the same things plus much more. The FMP-X1 will cost a hefty $700 (about £460), with a $200 discount thrown-in for Sony 4KTV owners (the company claims the device is exclusively compatible with its Bravia X9 4K TVs).
Compare that with the cost of the PS4, which is set to hit stores later this year with a £349 price tag, and Sony's console would seem to be a far superior option for all but the most ardent video game-haters. As for the downloads, these will also be fairly pricey with film rentals available at $7.99 (approximately £5) for 24 hours, or $30 (around £20) to buy the full movie.
Specs-wise, the FMP-X1 comes with a chunky 2TB of storage and a nice range of connectivity options, including two HDMI ports, an Ethernet port, one USB 3.0, one USB 2.0, plus and SD card expansion slot. No word yet on UK and European availability or pricing, but we'll be sure to bring you news if the 4K media player is ever released on these shores.
Source: Sony Store USA