It looks like HDTV Test has to hold its hands up and admit to being ever so slightly presumptuous. Last week we reported how Sony was close to launching its FMP-X1 4K media player complete with a cloud-based library of Ultra HD movies available to download, with the devices set to go on sale in the USA first before hitting the shops elsewhere.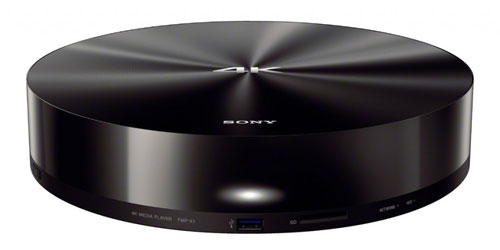 Sorry to say that now Sony has made it quite clear that its 4K media player as well as 4K movie download service will be "US only" for the time being. This was confirmed by none other than Paul Gyles, Sony UK's head of home entertainment, to British magazine What Hifi during the Wimbledon tennis tournament last week, when he stated the company has no plans to launch the device in Europe at this time.
Strangely, Gyles refused to comment on why this is the case – considering how hard Sony has been pushing 4K this year, most analysts presumed it was a foregone conclusion that we'd see the media player arrive in the United Kingdom. It's thought that potential roadblocks could be content licensing issues in Europe or simply a lack of demand or infrastructure for ultra high-definition (UHD) content, but for now this is just speculation as Sony remains tight-lipped.
Those who possess a Sony Bravia X9 4K TV will no doubt be disheartened by the news, considering the scarcity of native Ultra HD content at the moment. Sony's 4K media player seemed to be the answer they were looking for (though the Japanese brand's upcoming PS4 next-generation console might prove to be a superior alternative). The device boasts a whopping 2TB of storage, comes with ten starter movies, with the ability to download infinitely more content via Sony's "Video Unlimited 4K" service, with titles starting at $7.99 for a 24-hour rental, or $30 to purchase.
Despite this disappointment, Gyles insisted that Sony remains the best bet for 4K devotees in the UK, stressing that the firm would offer full support for its customers in the event that changes are made to the 4K standard at a later date. According to Gyles, such a standard might not be possible with existing, first-generation 4K models, but in any case Sony would step in with a solution.
"Our sets are future-proofed," stated Gyles. "Sony values its customers and will ensure that a solution is in place so that those who have bought our 4K sets will be able to access future 4K content services once they come available."
All very well and good, but as for when that 'support' might actually be needed is anyone's guess…
Source: What Hifi