4K is pretty damn amazing, and OLED is quite simply superb. So you can imagine how great it would be if someone was to put the two display technologies together and come up with the world's first 4K OLED TV.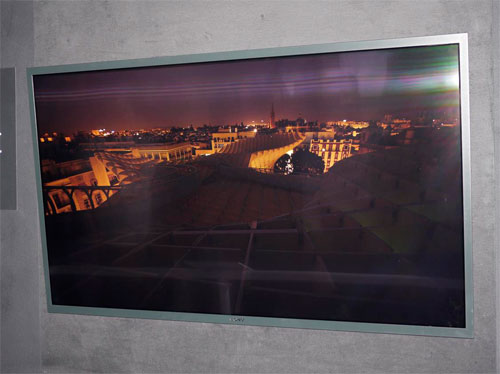 Sony unveils 56-inch 4K OLED TV & ultra HD delivery system at CES 2013
Sony has done just that, wowing the audience at CES 2013 with its revolutionary prototype Ultra HD television using organic LEDs, just as we've previously said the company would do. Given the fact that neither 4K nor OLED are actually anything new (designs of both were revealed last year), Sony's effort is without doubt the most innovative concept we've seen at this year's CES.
Boasting a 56-inch screen, Sony's new telly is admittedly a bit on the small side compared to some of the other Ultra HD 4K TVs we've seen in Las Vegas this week, but by OLED standards it's about as big as it's possible to get right now. In order to pack the humongous number of pixels into the display necessary for 4K, Sony teamed up with AU Optronics (AUO) to overcome the challenge of designing pixels that are small enough.
The announcement didn't quite go to plan though. While Sony CEO Kazuo Hirai was in the middle of his introductory speech, the screen on the new 4K OLED suddenly went blank, being replaced by an 'error' screen, which brought more than a few chuckles from the watching audience.
At least the 4K OLED TV at Sony's booth was working fine though, and to the eyes of watching journalists the general consensus was that the image quality was as good as anything they'd seen so far on a display that size. Even so, it looks like OLED screens will need to grow somewhat until they can steal the show in the same way as Samsung's 4K Monster did earlier.
In what is proving to be a busy week for Sony, the company also gave up some vague details about a planned new "Ultra HD 4K Delivery System" to accompany its new lineup of 4K-capable X9000A Series UHDTVs. According to Sony, its mysterious delivery system is set to go live sometime this summer, and will mean that Bravia X90 Series owners will be able to enjoy feature-length content from both Sony and other partnering content providers. We're not entirely sure how this ultra high-definition content delivery system will work, but Sony also said it will introduce a dedicated 4K media player, so we can presume that it must be planning some kind of download service.