Hot on the heels of LG Electronics who two days ago announced its plans to showcase a gigantic LED LCD TV with 84-inch screen size and 4K resolution at the IFA consumer electronics trade show in Berlin next week, it appears that Sony may be about to do the same, if an anonymous source who tipped respected technology website CNet is to be believed.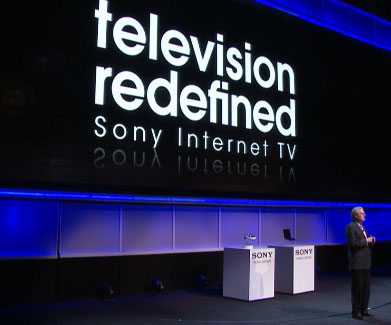 Sony may unveil 84-inch 4K LED TV at IFA 2012
According to the source, the Sony 84-incher will boast a native screen resolution of 3840×2160, delivering four times the number of pixels available on regular 1080p HDTV. The LED backlight technology is supposedly of the edge-lit variant, in keeping with the Japanese manufacturer's decision to omit full-array local-dimming models from its 2012 lineup of Bravia televisions. As with most edge LED TVs, we expect to see an ultra-slim profile, as well as frugal power consumption.
Aesthetically, the humongous ultra high-definition television (UHDTV) is said to sport a "reimagined retro-style appearance", but "with a modern twist". The speakers on the set is purportedly detachable, perhaps catering for those going for a minimalistic integration (really? an 84″ TV?) within their viewing environment.
Should this 84-inch TV be unveiled at IFA 2012 come Wednesday 29th August (the date of Sony's press conference and booth opening), it will be another feather in the company's cap as it seeks to establish an ecosystem of 4K-compliant products, ranging from the VPL-VW1000ES 4K projector to the BDP-S790 4K upscaling Blu-ray player. That said, it may not be enough to steal the thunder of LG's like-for-like offering, the 84LM960V, which seems to be in a more advanced stage of development, having made its first public appearance at CES 2012 back in January this year.
Source: CNet