We have recently reported that Sony is set to provide 3D coverage of this year's Wimbledon event, which will bring the tennis tournament into many people's homes, enabling them to view it in a way that they have never been able to before. For those who are unable to go to see the matches in person, having access to the 3D broadcast will create a unique viewing experience, and this is something that the Japanese TV manufacturer is keen to promote.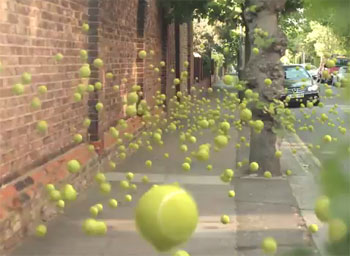 In an effort to promote this extra-dimensional coverage, Sony has commissioned a new "Balls" television commercial which runs along the same lines as the iconic ad for Sony Bravia HDTV displays, where thousands of different coloured balls were shown bouncing and cascading through the streets of San Francisco. In this present-day update, which has been created by London-based digital agency Crayon, there are still thousands of balls bouncing around and cascading through the streets – except this time they are quite clearly tennis balls, and the streets they are bouncing through are in Wimbledon.
A national press campaign will also run alongside the advertisement together with radio campaigns and events such as ten thousand branded tennis balls being dished out in London. There will even be a competition where users can collect virtual tennis balls from web pages and stand to win prizes such as a range of Sony 3D products and tickets to the Wimbledon finals.
Clearly excited about the launch of the campaign, Sony UK's general manager of brand marketing Matt Coombe expects the new advert to be a hit, partly because it is linked to the original "Balls" TV spot which aired to critical acclaim back in 2005/2006. In association with the All England Lawn Tennis Club (AELTC) where the Wimbledon 2011 Championships will be held, Sony will film the men's semi-finals and final, as well as the women's final in full HD 3D, but only the finals will be broadcast in the third dimension on BBC HD across Freeview HD, Freesat, Sky and Virgin Media.