Sony has launched a new range of Bravia OLED TVs at the company's press conference at the CES consumer electronics trade show in Las Vegas this month. It is the AF8 series (otherwise marketed in the USA as the A8F), comprising a 55-inch KD-55AF8 and a 65-inch KD-65AF8. The Sony A1/ A1E will continue as the Japanese manufacturer's flagship OLED for 2018.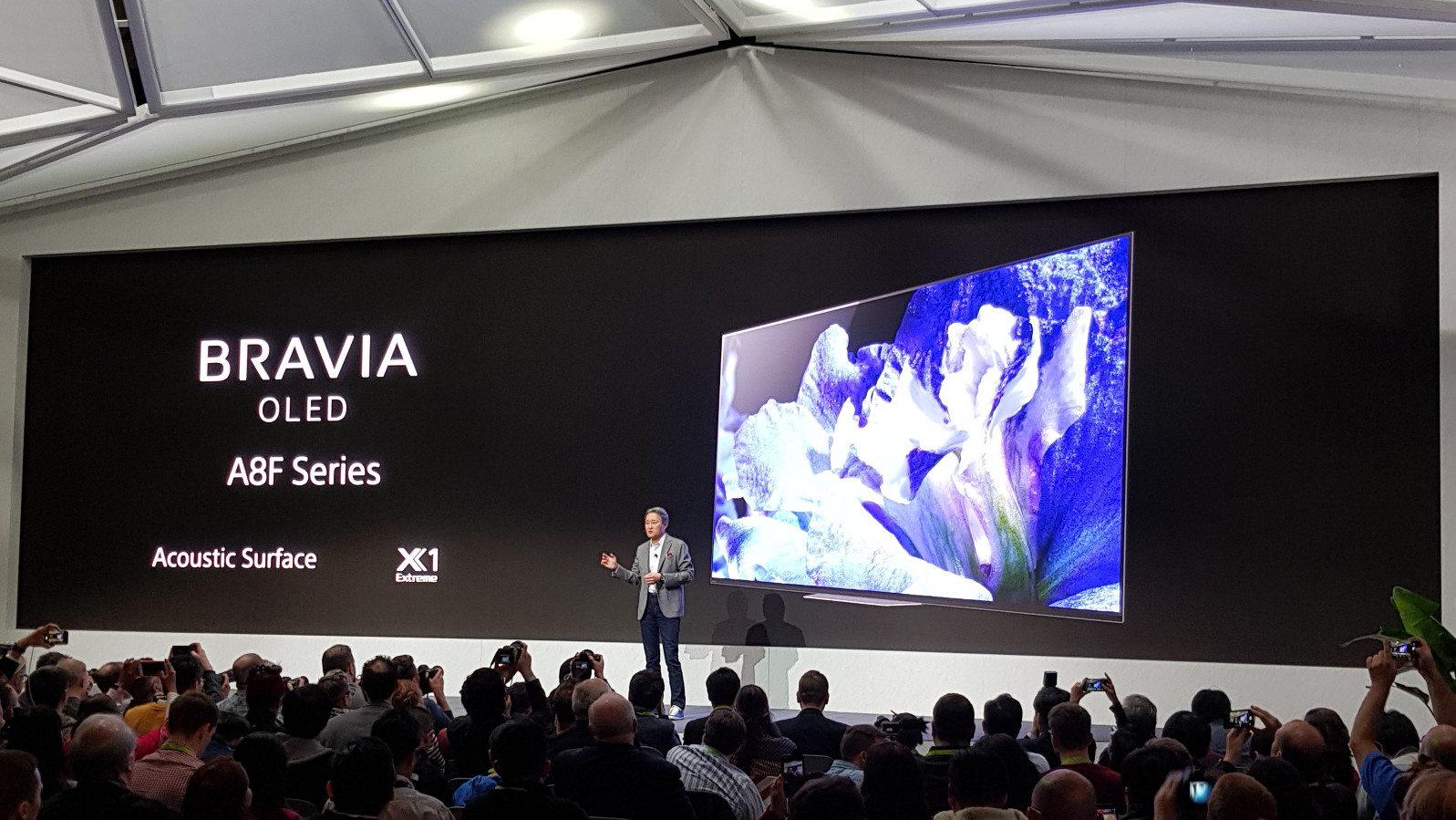 The key difference from last year's critically-acclaimed Sony A1 OLED is the design. The Sony AF8 will still use Acoustic Surface technology which uses the screen to transmit sound, but the A1's tilt-back design is now gone. The OLED panel on the new Sony KD55AF8 and KD65AF8 will sit upright on a central stand which is extremely low, so the panel will almost be touching the surface on which the TV is placed, contributing to a similarly minimalistic design sans backwards tilt. The footprint is smaller than the A1's, and the screen will not protrude as much for wall-mounting.
Processing-wise, the Sony AF8 will use the same X1 Extreme chipset, Triluminos Colours and Android Smart TV platform. HDR formats supported are the open-standard HDR10, broadcacst HLG (Hybrid-Log Gamma) and Dolby Vision (pending firmware update).
Looking through the rest of Sony's 2018 TV range, no replacement was announced for the best-in-class HDR powerhouse Sony ZD9/ Z9D at CES. The next highest-ranked LED LCD television seemed to be the Sony XF90 which is the successor to last year's XE90, with no successor in sight for the dual-edge-lit XE93 or full-array local dimming (FALD) XE94. At least the Sony XF90 will use full-array local dimming (FALD) direct-lit LED backlighting, and feature the Japanese brand's current top-end X1 Extreme processor, as well as an innovative X-Motion Clarity technology to maintain brightness during backlight scanning.
At CES, Sony also showcased a prototype X1 Ultimate processor that has twice the power of the X1 Extreme. In combination with Sony's LED LCD backlighting knowhow, the processor is used to drive an 85-inch 8K HDR prototype display that's capable of 10,000 nits of peak brightness, fulfulling the ceiling specified in the ST.2084 PQ (perceptual quantisation) standard.
Sony's 2018 Bravia TVs will start shipping from March. Prices remain unconfirmed, but we'll bring you details once we find out.