Sony has today announced the imminent addition of the BBC News app to its Sony Entertainment Network portal that is available on its 2011 UK range of web-enabled Bravia HDTV displays. This is the second video-on-demand (VoD) application from the Beeb to grace the Japanese manufacturer's internet-connected platform, following the introduction of the ever-popular BBC iPlayer to what was then known as the Bravia Internet Video service back in 2010.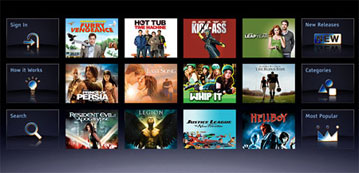 Sony adds BBC News app to UK Bravia Internet TVs
The BBC News app will allow owners of selected Sony Bravia TVs that feature internet connectivity to access UK and global news right in the comfort of their living rooms via a button click on the remote control. The news content will be edited and updated by a dedicated newsroom team 24 hours a day, 7 days a week, so that viewers can constantly keep up to date with the latest current affairs around the world.
Designed to deliver an on-demand television news experience to users, the application will present the BBC videos and text in an easily digestible, TV-friendly format. These content will be provided by BBC news operations both in the United Kingdom and abroad.
Sony's category development manager Edd Uzzell said that the BBC News app represents another innovative method through which people can find out what's going on around the world whenever they want to. He added that the company is committed to delivering value for its customers by adding "new and exciting partners to the Sony Entertainment Network".
The BBC News app will be available on all Sony 2011 Bravia Internet TV models, including the KDL-32CX520, KDL-32CX523, KDL-40CX523, KDL-22EX320, KDL-32EX523, KDL-40EX523, KDL-32EX723, KDL-40EX723, KDL-40NX723, KDL-46NX723, KDL-40HX723, KDL-46HX723, KDL-46HX823, KDL-55HX823, KDL-46HX923 and KDL-55HX923.