Sony has announced a rather enticing promotion that it hopes will boost sales of its flagship HX8 series of Bravia LED LCD TVs, wherein anyone who snaps one up will be entitled to claim a free 'Bond 50 Box Set' containing Blu-ray discs of all 22 James Bond films.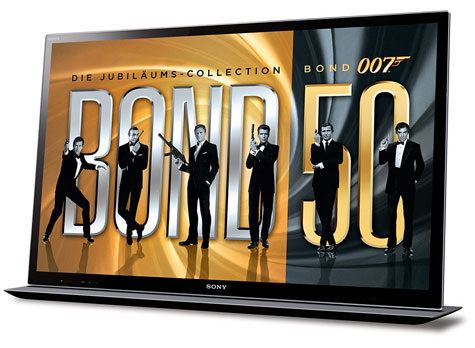 Sony offering free Bond 50 Blu-ray boxset for HX8 TV buyers
It's a timely move for Sony, which has been devastated by miserable television sales across the globe over the last few years, even though the company recently reported an upturn in financial fortunes for the latest available quarter. Japan's leading brand clearly needs to take drastic action in order to recover some of its market share, which has slowly but steadily been eaten up by Korean firms like Samsung and LG Electronics. For fans of the James Bond movie genre at least, Sony's top-end HX853 HDTVs will surely be all the more appealing because of this promotion.
The James Bond 50 Blu-ray box set, which has been timed to mark the release of Skyfall, contains all 22 hit Bond movies currently available to buy, and can be had for no additional cost by anyone who buys Sony's HX8 LED TV.
As well as the movies, the box set features a staggering 130 hours bonuses and added extras, including hours of never-before-seen content from the James Bond archives. The boxset also brings nine James Bond movies to Blu-ray for the first time, including Octopussy, Goldeneye, The Living Daylights, The Spy Who Loved Me, You Only Live Twice, Tomorrow Never Dies, A View to a Kill, Diamonds are Forever and On Her Majesty's Secret Service.
We're expecting more than a few takers for Sony's latest offer, but it may not appeal to everyone, given that the Blu-ray collection has to be redeemed rather than it just coming with the television set. To take advantage of the offer, all new buyers will have to download and fill in a claim form, before dispatching it to Sony within 28 days of their purchases, either by mail or email.
The offer is open to new buyers of the Sony KDL-40HX853, KDL-46HX853 and KDL-55HX853, and runs until 30th of January next year, so Christmas shoppers should be able to take advantage of it. However, die-hard Bond fans may not want to wait until the festive season if they're truly determined to get their hands on all 22 movies, as the offer is only open as long as stocks last.