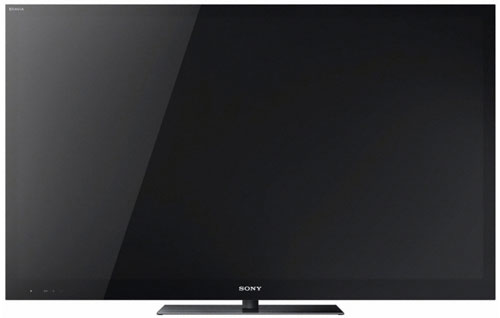 No less than 27 new Sony Bravia LCD HDTV displays were launched at the Consumer Electronics Show (CES) 2011 in Las Vegas this week. As with last year's models, the company's 2011 top-of-the-line Cinematic range of HDTVs – which focuses on delivering the best picture quality – is denoted by the HX prefix. And sitting at the pinnacle of this year's pile is the flagship HX923 series of 3D-capable LED-backlit LCD TV, which comes in three screen sizes:
| | | |
| --- | --- | --- |
| Screen Size | UK Model Number | US Model Number |
| 46-inch | KDL-46HX923/ KDL46HX923/ KDL46HX923U | XBR-46HX929 |
| 55-inch | KDL-55HX923/ KDL55HX923/ KDL55HX923U | XBR-55HX929 |
| 65-inch | KDL-65HX923/ KDL65HX923/ KDL65HX923U | XBR-65HX929 |
All three 3D TV models are equipped with rear-mounted local-dimming LED backlight technology (dubbed "Intelligent Peak LED" by Sony), Motionflow XR 800 (frame interpolation which purportedly renders motion at a rate equivalent to 800 frames per second), the new X-Reality Pro image processing chip, and USB-HDD recording functionality. Aesthetics-wise, the Sony HX923 LED TV sports the elegant Monolithic design, and is fronted by an OptiContrast panel made from Gorilla Glass.
Seeing that internet-enabled television (IETV) is all the rage at the moment, it's hardly surprising to find Sony incorporating a host of web-connected features on the KDL-46HX923, KDL-55HX923 and KDL-65HX923. Users can watch YouTube videos, catch up on missed TV programmes through BBC iPlayer, social network with Skype, Facebook and Twitter, stream video and music on demand via the Qriocity and Music Unlimited services, and even surf the internet using the integrated Opera web browser – all directly on the flat-screen HD TV as long as it's connected to broadband internet. There's build-in wireless connectivity to reduce cable clutter too.

Unlike step-down models, the HX923 series of 3D LED-backlit LCD TVs ships with two pairs of the newly updated Sony TDG-BR200 rechargeable active-shutter 3D glasses (said to be lighter and more comfortable), plus a webcam and microphone for Skype calling.
X-Reality seems to be the next evolution of the various incarnations of Bravia Engine we've come to know over the years. The X-reality Pro image processing engine implemented throughout the Cinematic range of Sony LED-based 3D TVs is not to be confused with the X-reality engine found on lower-end or mid-range models. The former is a dual-chip video processor which the company claims to be capable of upscaling even low-resolution online videos to near-HD quality thanks to its 14-bit multi-frame analysis and processing, whereas the latter only employs a single chip.
The Sony KDL-46HX923 and KDL-55HX923 should go on sale in May 2011, while the largest KDL-65HX923 is scheduled for an August release. UK prices have not been announced yet.