On-demand video streaming specialist Netflix and Japanese technology giant Sony has today jointly announced the addition of the former's service on the latter's Sony Entertainment Network (SEN) web-connected portal, which will grant owners of Sony's 2012 internet-enabled devices instant access to a huge selection of television programmes and movies.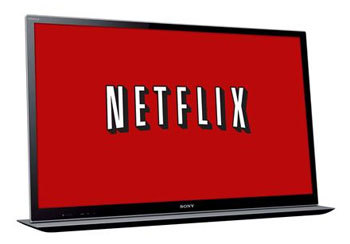 Bravia TVs get Netflix app on Sony Entertainment Network
Previously operating in part under the moniker of Qriocity, Sony Entertainment Network is the company's internet-connected platform that delivers a variety of digital content (ranging from music, films and video games) to users. The portal is accessible through selected Sony Bravia connected HDTV displays, Blu-ray players, network media players, as well as the Playstation 3 (PS3).
The launch of the Netflix app on Sony Entertainment Network will add even more variety to the content users can enjoy on their Sony internet-connected products. Armed with an impressive library of television series and movies, Netflix's video streaming service provides both value and convenience for viewers who can choose what they want to watch at a time and place that suits them, all for an affordable subscription fee of £5.99 per month.
Commenting on the application's launch on Sony Entertainment Network, Netflix's vice president of product development Greg Peters explained that the company is always seeking for new avenues to deliver its movie streaming service which lets consumers enjoy an unlimited number of films and TV programmes streamed over the web. Sony's category development manager Edd Uzzell added that Netflix is an exciting addition to the firm's SEN portfolio, and will provide more valuable content and a better home cinema experience for Sony product owners.
Sitting alongside other popular services on the Sony Entertainment Network such as BBC News, YouTube, Video Unlimited and Music Unlimited, the Netflix app will be available from today on all 2012 SEN-equipped Sony Bravia TVs, Blu-ray players and home theatre systems.