In what's believed to be both a technological and sporting first, Sony has announced plans to stream the FIFA World Cup final live in 4K Ultra HD to Westfield's Vue Multiplex cinema in London. With limited ticket availability, only a lucky few footy fans will be able to see the action, which will be delivered live via satellite link direct from the legendary Maracana stadium in Rio de Janeiro .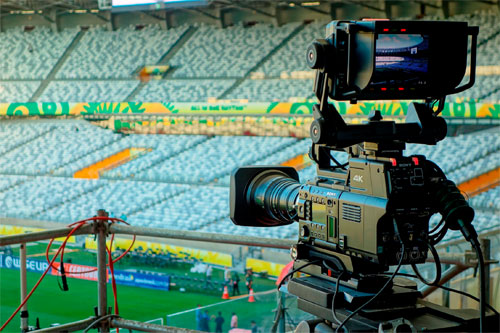 As well as the final, Sony will also beam one quarter-final match live to the same London venue in what will be its first-ever public broadcast of a 4K stream, coming at a time when consumer interest in the new display technology is said to be growing rapidly. With Sony promising four times the resolution of standard High Definition, it's perhaps fitting that England crashed out of the tournament early – preventing the chance of England fans experiencing four times the disappointment.
4K streaming is a bit of a bleeding edge technology at the moment, and to make it possible Sony's had to team up with several partners, including IDC, Eutelsat and DSAT Cinema. The footage will be filmed in native 4K using Sony's cameras, and beamed to the UK by Eutelsat in UHD HEVC at 60fps. Meanwhile IDC and DSAT Cinema have been brought onboard to help take care of the decoding and projection side of things, with the footage to be displayed on a special Sony 4K projector.
"These live 4K screenings mean we're able to bring an entirely new viewing experience to the world of football," said David Bush, Head of Marketing and Business Development, Sony Europe.
Sony hasn't given details on how or where to buy tickets for the two screenings, which will take place on July 4th and July 13th respectively. However, it does state that "plans are currently being finalised by the companies involved" to give a few lucky fans the chance to watch the action, so those who're desperate to see it need to keep their eyes and ears open.
For those who don't make the screening, Sony is also planning to release a 4K highlights show of the World Cup shortly after the tournament concludes. This show will be screened over the summer at various cinemas around Europe. British consumers can also catch ultra high-definition (UHD) footage from the FIFA World Cup 2014 in Brazil on Sony Bravia X9 4K TVs in select retail outlets around the country.