At this year's CES (Consumer Electronics Show) where the Koreans are falling over themselves to join the curved screen bandwagon, Sony is steadfastly bucking the trend by sticking to what it does best: flat-panel televisions. The Japanese manufacturer has announced its 2014 lineup of Bravia LED TVs at CES, and there's not a curve in sight.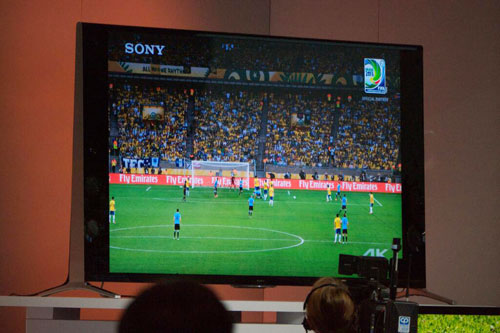 Having been the trailblazer for the 4K Ultra HD movement, it's hardly surprising for Sony to expand its ultra high-definition (UHD) display offerings for the year ahead. Succeeding the old X9 will be the new Bravia X9 series with an unusual "Wedge" design (the bottom of the panel enlarges to improve stability and accommodate bigger speakers), X-tended Dynamic Range pseudo-local dimming from edge LED backlight, and the same "Magnetic Fluid" speakers by the sides. They will come in the usual 55″ (Sony KD-55X9005B) and 65″ (KD-65X9005B) sizes, and also as a new 79-inch beast (KD-79X9005B). The Sony KD-55X9005 and KD-65X9005 will feature active-shutter glasses (ASG) 3D; whereas the KD-79X9005 will be passive 3D.
Above the X9 sits the range-topping Sony X95 series which truly whet our appetite, due to the presence of full-array local dimming LED backlighting in the guise of X-tended Dynamic Range PRO. The Bravia X95 will be available in two screen sizes, namely 65″ and 85″ (KD-85X9505), although only the larger 85-incher will be released in the UK. It seems the British market is being marginalised again, following precedents where another locally-dimmed LED television, the Sony HX950/HX953, as well as the slim-bezelled Sony X8 4KTV never made it to these shores.
Beneath the 2014 Bravia X9 sits the Sony X85 series of 4K UHD LED LCD televisions. They lack pseudo-local dimming and the side speakers, and comes in 55-inch, 65-inch and a more manageable 49-inch sizes.
All of Sony's 2014 4K LED models will feature the company's quantum-dot-based Triluminos Display technology, 4K X-Reality Pro video processing engine, HDMI 2.0 with support for 4K@50p/60p, MHL 3.0, inbuilt HEVC/H.265 decoder capable of 4K@60fps playback from the likes of Netflix, and the Japanese firm's new "One Flick Entertainment" Smart TV interface. They are scheduled to go on sale in Europe from Spring 2014, though pricing remains unknown.