Following a change in its management team back on the 1st of April 2012, Sony Corporation has now announced that it will be implementing a number of new strategic initiatives, some of which concern the future of the company's flagging television business.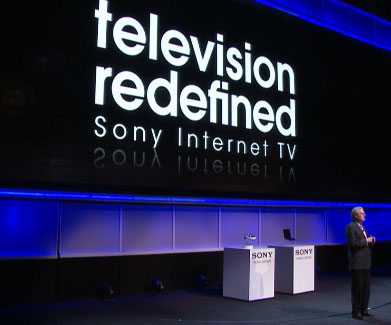 Sony to cut Bravia TV models by 40%, but digs OLED & 4K
The aim of the initiatives is to strengthen the foundations of Sony's entertainment and financial service operations, whilst generating greater value for its customers by growing and revitalising its whole electronics business. The initiatives will draw upon the collective strengths (dubbed "One Sony") of the Japanese consumer electronics manufacturer's diverse range of businesses, and will involve a rapid decision-making approach.
By the end of its 2014 fiscal year on the 31st of March, Sony is hoping to have returned its TV business to profitability. The firm is already working to achieve this following its announcement on the 2nd of November last year of a comprehensive TV profitability improvement plan, which going forward it intends to accelerate.
One of the measures taken by Sony to reduce its panel-related costs was the sale of its shares in a joint venture with Samsung to manufacture LCD TV panels. The technology giant is also looking to reduce its Bravia HDTV product model lineup by around 40 percent by 31 March 2013 in an effort to increase its design engineering efficiency. This will effectively cut operating cost by 30 percent, and fixed TV business cost by 60 percent by the end of the company's 2013 financial year.
In addition, Sony revealed that it will not only be looking at improving the integration of TVs into its mobile product range along with movies, music and other content, but also work towards the development and commercialisation of Crystal LED, OLED TV and other next-generation display technology. The Tokyo-headquartered conglomerate will also be aggressively promoting 4K technology – which delivers over four times the resolution of full HD – by drawing on its comprehensive experience and expertise in developing class-leading audio-visual products.