Sony has this week released a free firmware update that adds a number of advanced functionalities to the company's Bravia line of LCD TV displays. After upgrading their sets, owners will be able to make internet voice and video calls via Skype, use their smartphones as a remote control, as well as access social networking services like Facebook and Twitter on their television sets.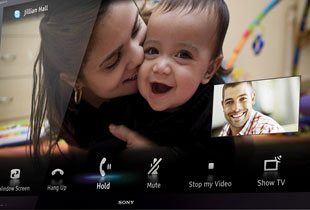 Skype is one of the most popular VOIP (voice-over-internet-protocol) software platform in the world, which lets its users (more than 650 million in 2010) conduct voice calls, internet messaging and video conferencing at no charge over the web. Some TV manufacturers such as Samsung and Panasonic has introduced Skype capabilities on their HDTV models as early as last year, but it is only now that Sony has joined the bandwagon.
Any Sony flat-panel TVs that are connected to the internet will be automatically updated with the latest firmware which among other things enables Skyping functionality on the Bravia Internet TV portal. However, to fully partake in voice calling and video conferencing, users will first need to buy the Sony CMU-BR100 webcam and microphone accessory kit which costs around £90.
The firmware upgrade will also make HDTVs from the Japanese brand controllable via smartphone devices or the Remote Keyboard function on Windows-7-powered VAIO laptops, making it much less difficult to input text compared to using a standard remote. The corresponding Media Remote app can be downloaded for free on Apple iPhone and iPad, as well as Android smartphones to interact with the Bravia LCDs.
Finally, with the firmware update, Sony Bravia TV owners can access their Facebook and Twitter accounts directly on their television sets without needing to leave their sofas or reach out for another electronic gadget. The easier process of typing text on screen via the Media Remote app or Remote Keyboard function will certainly come in handy for tweeting and updating Facebook statuses.