It looks like Sony has finally fulfilled its promise of bringing more types of 4K content to the home, with the launch of its new FMP-X10 4K Ultra HD Media Player alongside this year's lineup of Bravia ultra high-definition (UHD) TVs.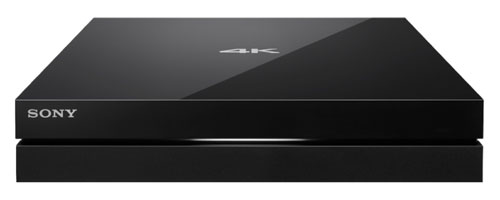 Sony's main pitch is that the FMP-X10 gives viewers access to more than 200 4K movies available through its Video Unlimited 4K content library, but that's not all this new piece of hardware (which looks eerily similar to a PS4) is capable of. Besides Sony's own content offerings, the FMP-X10 will allow Sony Bravia 4KTV owners to access 4K streaming from Netflix via the machine's inbuilt app for the first time. That opens the door to enormous possibilities, given that Netflix has big ambitions to take the lead in 4K content delivery.
Specs-wise the Sony FMP-X10 seems pretty beefy, coming with 1TB of built-in storage space for viewers to store their favourite movies, with the option of adding an external drive. Most importantly though, Sony says it's compatible with "any Sony 4K Ultra HD TV", which makes it something of an essential purchase for anyone with a 2013 X9 model who wants to enjoy more 4K media, such as Netflix's House of Cards Season 2 in Ultra HD 4K, or 4K videos from a USB device.
Up until now, it hasn't been possible for Sony's 2013 X9 televisions to stream 4K programmes from Netflix, even though the Japanese firm started issuing a HDMI 2.0 firmware update back in November of last year. That's because last year's X9s lacked the necessary HEVC decoder to unscramble Netflix's 4K signals. Now, the FMP-X10, which comes with inbuilt HEVC decoding, appears to be Sony's solution to that particular problem.
When it launched its 4K streaming app last year, Netflix stated that "several" major brands would be launching compatible UHDTVs sometime this year. However, the FMP-X10 appears to be the first external device that's also capable of supporting its app, something that raises the likelihood of other brands jumping on the bandwagon too. It's unknown if Sony's British and European customers will get to see the FMP-X10, given that its FMP-X1 predecessor was only ever released in the US.
HDTVTest will be attending a Sony 4K press event in London next week, and we're keeping our fingers crossed that Sony will be announcing a 4K Ultra HD media player for the UK and Europe – the USA isn't the only nation of couch potatoes who can afford a shiny new 4K TV, after all.
The FMP-X10 will be available sometime this summer, though Sony is yet to announce a price.
Source: Sony