Sony has launched its new FMP-X5 4K Media Player in the United Kingdom and Europe at a press event in London today, bringing HEVC/ H.265 decoder support to legacy Bravia X9 4K Ultra HD TVs, therefore allowing owners to access Netflix 4K streaming for the first time.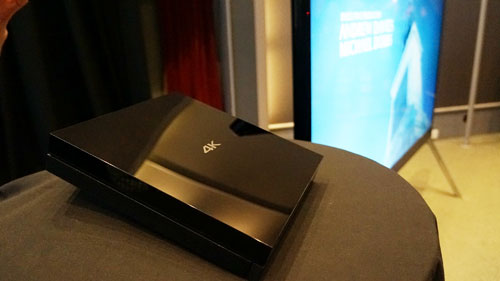 When Sony released their 84-inch KD-84X9005 in late 2012, and the 55-inch KD-55X9005A and the 65-inch KD-65X9005A last year, these UHD (ultra high-definition) televisions lacked several key next-generation specifications when it comes to playback of native 4K content. Although the Japanese manufacturer has begun issuing a HDMI 2.0 firmware update for these displays to support 4K resolution at higher frame rates (50Hz and 60Hz), HEVC decoding remained absent until now.
An external media box – which looks like a more compact version of the company's popular PlayStation 4 (PS4) machine – is Sony's solution. Connecting the FMPX5 to 2012/2013 Bravia Ultra HD 4K televisions will enable playback of HEVC video codec – such as the one used by Netflix to stream its House of Cards Season 2 in ultra high-definition – over HDMI. There is also a USB input on board for playback of HEVC material from an external USB device.

Unlike the FMP-X10 launched in the USA, the Sony FMP-X5 doesn't come with any internal storage, and so won't be compatible with the brand's Video Unlimited 4K download service
(which still hasn't been rolled out in the UK and European markets in any case). Support for Sony 4K projectors like the VPL-VW500ES and the VPL-VW1000ES, as well as rival VP9 codec used by Google for YouTube 4K, remains under consideration, a company spokesperson said.
The Sony FMPX5 will launch in August at a retail price of £350 (or €300 in European countries). The TV maker's 2014 lineup of Bravia 4K LED TVs including the X85, X90 and X95 feature inbuilt HEVC decoding, and so won't need this external decoder for Netflix 4K streaming.