Japanese consumer electronics giant Sony has announced the launch of a new free service called the 3D Experience that offers on-demand streaming to let users access a variety of extra-dimensional video clips and trial content, including highlights of this year's Wimbledon tennis tournament which was shot and broadcast in 3D for the first time.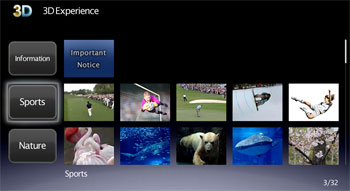 Sony 3D Experience service
The 3D Experience portal is available on Sony Bravia HDTV models (and soon 3D Blu-ray players plus home theatre systems) that feature 3D capabilities and the manufacturer's Bravia Internet Video web-connected platform. Owners do not need to register to access the service which is rolled out in selected countries including the UK, Germany, France and the United States to start with.
There are many genres that consumers will be able to enjoy when using the new 3D Experience service, with instant access to a huge collection of clips and trial content. Users can enjoy everything from music and sports to movies and documentaries.
Around thirty titles will be available at launch, ranging from movie trailers of The Green Hornet and Monster House in 3D to 3-dimensional music video clips as well as games trailers in the third dimension. Whilst the portal begins life with thirty titles, Sony is looking to expand this service and give users the opportunity to see more of the company's 3D content, which it will showcase via the service.
Edd Uzzell, Sony UK's Proposition Development Manager, said that the move demonstrates the company's commitment to creating high quality content with full HD 3D. Designed to work alongside other services on the Bravia Internet Video platform such as YouTube, Facebook, BBC iPlayer and Lovefilm, the 3D Experience portal will enable users to enjoy a variety of tri-dimensional content delivered direct to the home through their Bravia 3D TV for optimum entertainment and viewing experience.