Sony has unveiled its 2016 lineup of Bravia televisions at its annual spring trade show in the company's Weybridge headquarters earlier this month. HDTVTest was invited to an indepth briefing of the TVs, and here are six key takeaways.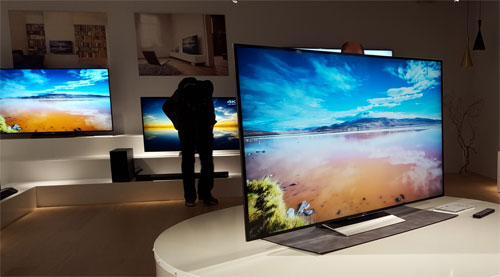 4K HDR vs UHD Premium
As we previously covered at CES, Sony's new Ultra HD TVs won't be carrying the "UHD Premium" certification from the UHD (ultra-high definition) Alliance. However, the Japanese TV manufacturer confirmed that its higher-end XD93 and XD94 series (as well as last year's excellent X94C) do indeed meet the required UHD Premium specifications of 10-bit panel, 90% DCI-P3 gamut coverage, and a peak brightness/black level of 1000/0.05 nits.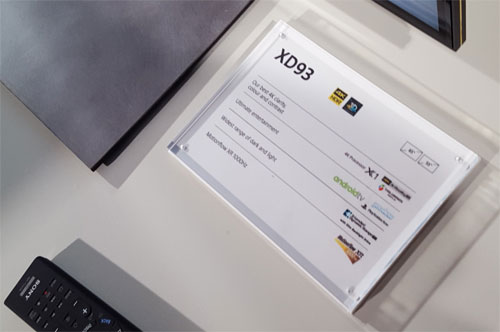 Naturally, Sony was grilled at a roundtable by the attending media as to why it decided to not obtain accreditation from the UHDA despite certain models fulfilling the specs. Unfazed, a Sony spokesperson explained the company is thinking beyond mere televisions, and would like to extend its own "4K HDR" branding to cover more high-quality products (for example projectors, cameras, camcorders, etc.) from its 4K Ultra HD ecosystem.
Inner Workings of "Slim Backlight Drive"
Introduced for the first time on the Bravia KD-55XD9305 and KD-65XD9305, Sony's new "Slim Backlight Drive" technology aims to provide the best of both worlds between the slim aesthetics of edge-lit LEDs, and more precise local dimming allowed by direct-lit FALD sets. What the firm's engineers have done is to stack two rows of edge-mounted LED modules along the sides of the LCD panel, and place separate light guide plates for each LED module to illuminate different zones. This allows for more zonal control over a conventional edge-lit LED LCD, while maintaining slim form factor.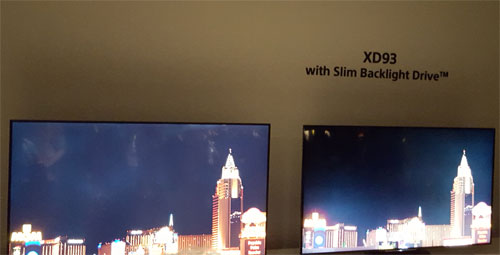 At the trade show, Sony set up a KD65XD9305 beside a KD65XD8505 (which isn't equipped with Slim Backlight Drive), and indeed, the XD93 exhibited deeper blacks in darker scenes, although we still observed some halos in the shape of rectangular grids around brighter objects against a darker backdrop. To be fair, even the best FALD (full-array local dimming) LED TVs with more than 100 independently dimmable zones will suffer from haloing to a certain extent especially off-axis, since the size of each zone is larger than that of the few pixels that light up in dark scenes.
No Android TV on 1080p Bravias
The implementation of Android TV on 2015's Sony TVs has not been without its problems, but this year the Android TV platform will be limited to the 4K models, namely the XD85, SD85, XD93 and XD94 series. While the company is currently focusing on continued stability improvements to the Android 5.0 (Lollipop) operating software found on its Android televisions, it will eventually upgrade to Android OS 6.0 (Marshmallow).
3D on XD93 & XD94 Only
As more and more TV makers abandon the failed format, it turns out that 3D capability will only be available on the high-end KD55XD9305, KD65XD9305 and KD75XD9405 for the year ahead, so if you're one of the few 3D enthusiasts remaining, you'll have to plump for the more expensive models. Given that the Sony XD93 and XD94 use VA-type LCD panels, we expect their 3D to be of the active-shutter glasses (ASG) variant, though whether the company will bother including 3D glasses with each purchase remains to be seen.
New "Slice of Life" Design
Those with limited living room space (and their own dedicated sound system) will breathe a sigh of relief that Sony has finally done away with the "elephant ear" side speakers on its 9 series Bravia televisions. Gone too are the supporting metal feet, replaced by a central stand with warm silver tone.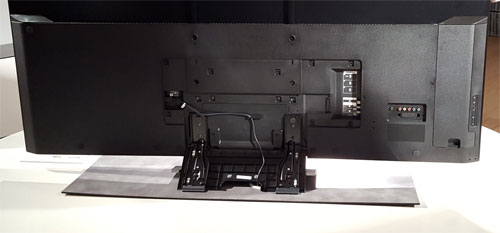 The Sony SD85, XD93 and XD94 will be marked by a champagne gold separation band around the outer frame (as if it's gluing two slates together), whereas the step-down XD85 and WD75 will sport a more understated silver one. Most ranges will also feature a cable management system round the rear for a clean look.
Sony 4K Blu-ray Player Incoming
Sony has confirmed that it will launch an Ultra HD Blu-ray player during this financial year, but because the Tokyo-headquartered conglomerate's financial year ends on the 31st of March, it could mean any time from now until March 2017. In any case, Samsung will be first out of the gate with its UBD-K8500 UHD BD player within the next few weeks (at least in the USA).
Sony's new range of Bravia TVs will start arriving in UK shops from March in spring 2016. We'll update this article with prices as soon as they're confirmed.
Update 21 March 2016: Sony has announced that the launch prices of the KD-55XD9305, KD-65XD9305 and KD-75XD9405 will be £2000, £2800 and £5000 respectively.