Update: Since this article was published, Sony has clarified that the company has not issued a full product recall on all existing display models and boxed units from Sony Centres and independent dealers, and is carefully investigating the batch that has been affected (which is confined to a small number of stock).
It's been barely a fortnight since UK customers started receiving their pre-orders for Sony's flagship HX923 series of Bravia LED-backlit LCD TVs, but now the Japanese manufacturer has initiated investigation on existing display models and boxed units from Sony Centres and independent dealers, following complaints from KDL-46HX923 and KDL-55HX923 owners about a physical defect on the LCD screen.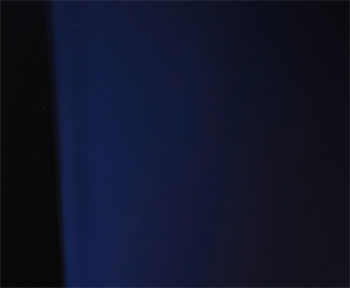 Anecdotal reports started surfacing on several popular home cinema forums (not only in the United Kingdom, but also in Europe and the USA) last week, describing the presence of a vertical line situated approximately 1cm from the left or right screen borders of HX923 TV sets. Dubbed "creases" in these reports, the vertical lines appeared slightly darker than the rest of the on-screen image, and were particularly noticeable over a solid colour background. Posting photos to back up their claims, concerned owners of these premium 3D-capable HDTV displays understandably expressed their dismay to Sony in the hope of a swift resolution.
Communicating through its website forum, a Sony official confirmed that the company is aware of the issue which has since been investigated by its Product Quality engineers at the manufacturing plant. It is thought that only the initial batch of Sony HX923 televisions are affected, which explains why the TV maker is placing a hold on present stock from dealers while waiting for the arrival of a fresh batch that will hopefully be crease-free.
The Bravia HX923 series is one of the most eagerly anticipated HDTV range for this year, owing to some mouthwatering features that include full-array local-dimming LED backlight technology, Motionflow XR 800 motion-compensated frame interpolation (MCFI), X-Reality Pro 14-bit video processing engine, elegant Monolithic design, and OptiContrast panel made from Gorilla Glass. Partly as a result of the earthquake and tsunami disaster that struck Japan a few months ago, stock of these HDTVs arrived in the UK later than scheduled, and remained scarce on the ground. With this investigation in place, potential buyers may face further delays in getting their hands on a 46-inch Sony KDL46HX923 or 55-inch KDL55HX923 3D TV.