The biggest announcement to come out of this year's IFA so far? Well, if you're talking purely about "size", then Sony's new KD-84X9005 84″ 4K Bravia TV takes some beating. With its 84-inch LCD panel displaying 3840 x 2160 pixels, the X9005 marks Sony's first foray into an ultra high-definition television (UHDTV) niche that is looking increasingly likely to become the most prestigious battleground among TV makers in the months ahead.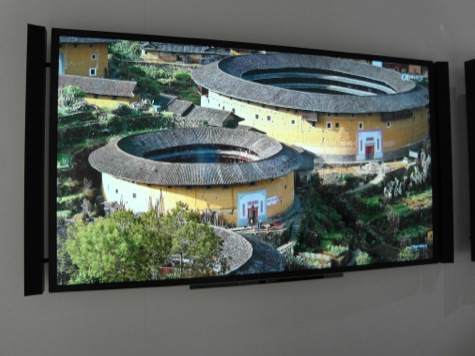 Sony goes passive 3D for its KD-84X9005 84-inch 4K TV
Much like LG's own 84-inch beast that we expect to see later this afternoon at its IFA press conference, Sony's new offering boasts a resolution that's four times superior to Full HD, but differs in that it features passive 3D (which will be full HD 3D, we're assured) as opposed to the ASG (active-shutter glasses) version that was standard in the firm's earlier 3D models. Other impressive specs for the KD84X9005 include a 60° viewing angle, a pixel density of 52 pixels-per-inch, and an optimised version of Sony's unique X-Reality PRO picture engine. In addition the TV also incorporates a new 4K upscaling chip to boost screen resolution from all content sources – ranging from low-resolution internet videos to Blu-ray and HDTV digital broadcasts – vitally important considering that native 4K content is currently so rare.
Audio wise, the Sony KD-84X9005 is just as impressive, incorporating a 10-Unit Live Speaker system on the sides of the TV. Fully removable, the sound system boasts a total output of 50W, whilst audio can be directed to any corner of the room thanks to its side positioning. The flat-screen TV also employs S-Force Front Surround 3D and Clear Phase audio technologies, which combine to create a virtual 5.1 channel surround sound field capable of "enveloping the viewer in a wide range of position-orienting tones", according to Sony.
Looking past the corporate speak, essentially what they're saying is that the new Sony KD84X9005 is a beast of a TV that's visually stunning to look at, coupled with crystal-clear, 3D sound of a previously unheard of quality.
The most exciting feature of Sony's biggest and most beautiful TV has to be its X-Reality PRO picture engine – a piece of hardware that is able to alter different types of content into different resolutions, so that everything from Blu-ray discs to even the lowest quality YouTube clips can be optimised for its humongous 84-inch screen.
Sony's biggest promise is that you'll never again notice another pixel – it says that the images on screen will be "breathtakingly realistic", even if you sit right up close to the screen.
There's more to come from Sony as well – the company said that it's striving to improve all of its BRAVIA range of products with the addition of high-resolution technology seen on its large screen 4K TV, while it also plans to work on the development of TV cameras capable of shooting the kind of high resolution content that'll be needed to use the TVs to their full potential.
The company hasn't said anything about the pricing of the KD-84X9005 just yet, all we know is that it's set to be released in time for Christmas. Hopefully we'll be able to get one in for review!