We've had a look at 3D TV offerings from Panasonic and Samsung, but now it's time for Sony's entry-level 3D display to go under close examination. The Sony KDL40HX803 is an edge-lit LED LCD TV, and is also a "3D Ready" set, meaning that although it ships without any out-of-the-box 3D functionality, this can be unlocked with a little bit of additional expenditure. You'll need to add a pair of the Sony TDGBR100 3D shutter glasses (at £99), and surprisingly also a Sony TMRBR100 3D Sync Transmitter module (at approximately £50) if you'd like to experience 3D on the Sony KDL40HX803.

On the other hand, you can enjoy the built-in Freeview HD tuner (DVB-T2), the "Deep Black Panel" screen coating, and the Motionflow 200hz PRO technology straight out of the box. Our test results and impressions on the performance of the Sony KDL40HX803 follow…
Note: The specific model we tested was the Sony KDL40HX803U, i.e. the 3-pin-plug United Kingdom version. The same HDTV may be advertised by retailers and etailers as Sony KDL40HX803, Sony KDL-40HX803 or Sony KDL40HX803U; and we may use these terms interchangeably throughout this article to refer to the same model. While we did not review the 46-inch Sony KDL46HX803/ KDL46HX803U, there shouldn't be any drastic difference in picture performance.
Our Sony KDL40HX803 review sample featured an SPVA LCD panel, manufactured by Sony/Samsung's facility. We were expecting this model to feature one of Sharp's UV2A panels instead. This difference has no significance for the majority of buyers, but we include the information for LCD enthusiasts keeping track of any potential "panel lottery" situation.
Design
If we rated HDTVs based on their design alone (fortunately we don't!), the Sony KDL40HX803 would get an almost perfect 10. With its thin bezel, one segment of which has a brushed steel style, the Sony KDL40HX803U is one of the best looking displays we've seen lately. Unfortunately, the other three strips are styled in gloss black, and the TV ships with protective plastic over these areas, suggesting that they will soon become scratched. We can only imagine how perfect the Sony KDL40HX803's aesthetics would be had the entire bezel been styled with the brushed steel look.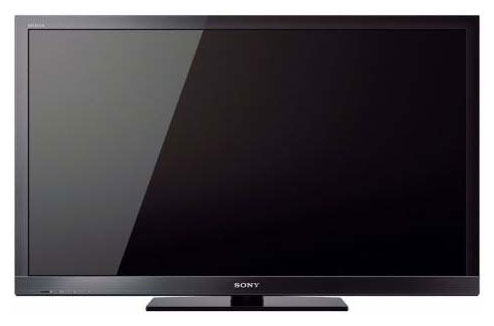 Build quality is good: unlike a cheaper Sony LCD television we reviewed, the brushed steel bottom panel doesn't feel as if it could be pulled off easily. The Sony KDL-40HX803 can swivel left and right by a generous amount on the included tabletop stand (which is, you guessed it… gloss black).
The Sony KDL40HX803 also features a Standby switch, as well as a complete shutdown switch (labelled "Energy Saving Switch"), on its right side.
Connections
The Sony KDL40HX803U features no unusual connectivity interface. There are 4 HDMI inputs in total, with 2 of them being on the recessed side panel. There's also a USB port for accessing media files, and a network (Ethernet) port for hooking up to the web. A single RF input feeds the tuner, which is capable of receiving terrestrial and cable broadcasts (although here in the UK, the latter capability is of no use).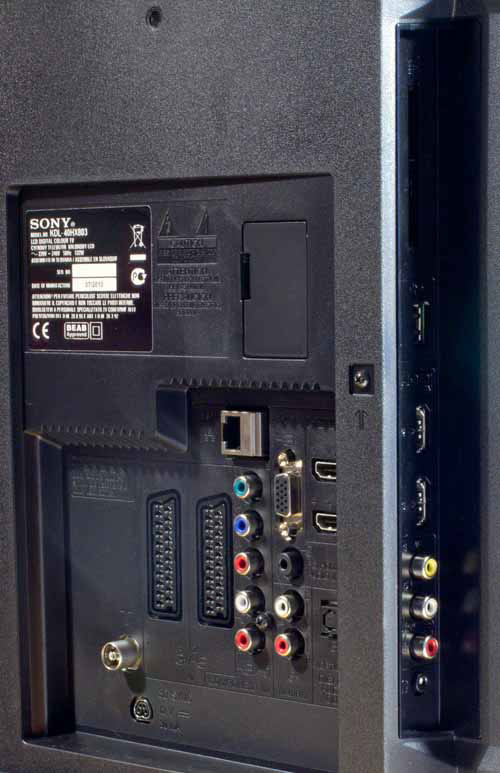 Rear: 2 x HDMI, VGA, Component, 2 x Scarts, aerial, ethernet, audio outs, 3D Transmitter jack
Side: 2 x HDMI, USB, Common Interface, Composite Video, Headphones
Operation
Unsurprisingly for a modern Sony HDTV, the KDL40HX803 uses the XMB (Xross Media Bar) user interface, which I'm not personally a huge fan of. Some of the useful controls can take a while to reach, and all of the available options are not displayed on screen at once, although these are fairly minor complaints.
More important is the amount of control given over video. After selecting "Cinema" from the "SCENE" button on the remote (there's no need to use any of the other modes, except for the "GAME" mode), the [Display] > [Picture] screen acts as a starting point for full setup. All of the basic options act as expected, with "Motionflow" being the first Sony-specific option, which we'll investigate later when we test the KDL40HX803U's motion resolution.
Strangely, one of Sony's [Colour Temperature] (Greyscale) modes is called "Neutral", and it promises to "give white colours a neutral tint". Sony's definition of "neutral" must be a little off-kilter, because this mode produces very blue-tinted pictures! "Warm2" is in fact the most correct setting.
The [Advanced Settings] submenu contains several redundant controls, but the useful ones include a [Gamma] adjustment, and [LED Dynamic Control], which is an attempt at implementing a local-dimming-like feature on a side-lit panel. There is also a user-accessible Greyscale calibration menu called [White Balance]. Shockingly for such an expensive display, there are no proper colour management controls at all, so it would appear that Sony has some confidence (perhaps too much?) in its preset modes.
The remote includes Sony's usual orange "THEATRE" mode button. This is essentially a shortcut to selecting the "CINEMA" picture mode. We used this picture mode for everything (except gaming), to get the highest quality picture at all times, so we had no use for this button.
[Picture] menus
Sony tucks its 3D settings away in a more difficult to locate [3D Menu], which can be accessed by pressing the "OPTIONS" button on the remote, then selecting the relevant option. (The "3D" button on the remote control simply toggles the Sony KDL40HX803 between 2D and 3D display modes).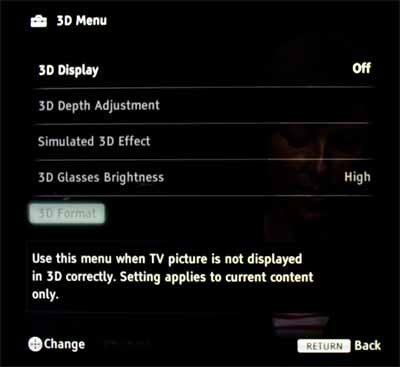 3D Menu
[3D Display] replicates the functionality of the remote control button, switching between 2D/3D drive mode. [3D Depth Adjustment] controls the depth of genuine 3D material, whereas [Simulated 3D Effect] can be set to "Low", "Medium" or "High" to control the intensity of 2D-to-3D conversion. [3D Glasses Brightness] can be set to three different modes; we used "High" to minimise the light loss imposed on 3D images by the shutter glasses. This option seems to largely change the Sony KDL-40HX803's Colour Temperature (by default, it emphasises Blue to make the image appear brighter), as well as the shutter synchronisation of the 3D glasses themselves. As usual for our 3DTV reviews, we will be performing 3D calibration on the Sony KDL40HX803 through the 3D glasses to offset any unnatural colour shifts.
Finally, the [3D Format] can be switched between "Side-by-Side", "Over-Under" or "Simulated 3D". With "Full HD 3D" content such as 3D Blu-ray Discs, there is no need to select this option, since the Sony KDL40HX803U automatically switches to 3D mode in this case.
2D Calibration
Note: Our Sony KDL40HX803 review unit was calibrated using Calman Professional, the industry-leading video calibration software.
2D Mode Greyscale
After performing basic calibration work on the Sony KDL-40HX803, which involved shutting off the "Adv. Contrast Enhancer" and "LED Dynamic Control" systems, we measured the TV's output: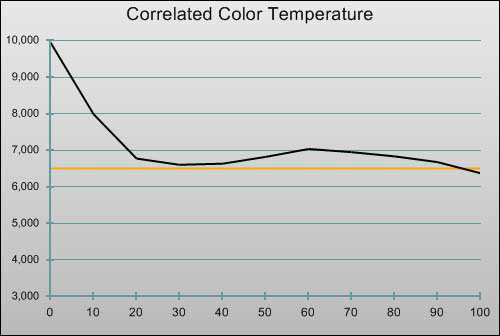 Pre-calibration CCT in [Cinema] mode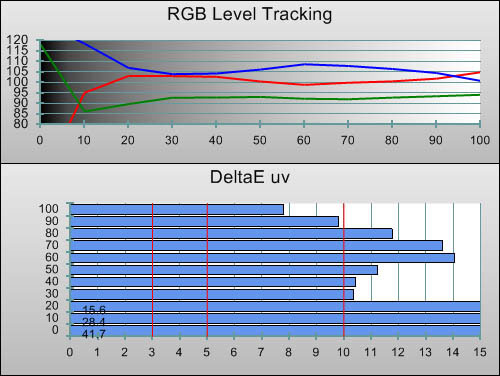 Pre-calibration RGB tracking and delta errors (dEs)
This is certainly not the best attempt at an uncalibrated preset mode that we've seen from Sony; some of their previous (traditional back-lit) LCD sets have actually managed to achieve near-perfect accuracy without any adjustments. With LED-lit sets, though, this seems to be a thing of a past.
First, the top-most Correlated Colour Temperature chart shows that the overall temperature is too high (the orange line indicates the ideal position). A more detailed breakdown can be seen in the "RGB Level Tracking" chart, which shows that sure enough, the colour of Grey contains excess blue at all points, leading to slightly steely-looking, cold images. We used the Sony KDL40HX803's [White Balance] menu to fine-tune Greyscale tracking as best we could with the help of Calman Professional software and a Klein K10 measuring device, and managed to bring about this improvement, to give readers some idea of what the Sony KDL40HX803U is capable of at its best: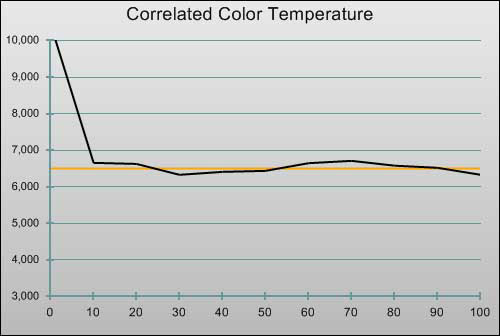 Post-calibration CCT in [Cinema] mode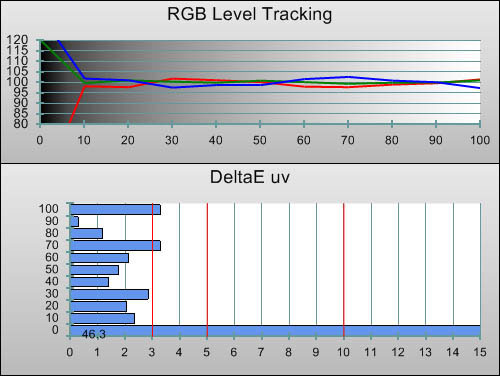 Post-calibration RGB tracking and dEs in [Cinema] mode
The Greyscale tracking quality that we obtained from our first calibration attempt on the Sony KDL40HX803 wasn't the most even that we've ever seen (that accolade would go to Samsung's current standard LCD TVs with their 10-point White Balance control), but it did not produce blatant errors on screen. However, instead of measuring 20% and 80% brightness for the low-end and high-end sections respectively, we tried again, this time measuring 10% and 90% instead. This allowed us to remove a visible blue tint in the 10% area, without adversely affecting Greyscale quality elsewhere.
You may notice that there appears to be a thresholding error at the 100% position on the chart, where the amount of blue takes a small dip downwards. Normally, this is the result of having a display's white level control (usually "Contrast") set too high. This was not the case with our 40HX803 review sample – although the TV does come with a much more visible red contamination in bright parts of the picture, we eliminated errors at 100% as best we could.
| | |
| --- | --- |
| | |
| Gamma curve in [Cinema] mode | Corresponding gamma tracking |
We didn't need to make any adjustments to the Sony KDL-40HX803's basic [Gamma] control to achieve good performance in this area. Overall gamma measured at 2.14, producing slightly too much proportional brightness in lighter parts of the picture. We did try reduce the [Gamma] control to -1, but this resulted in lessened shadow details, so we left it as-is.
2D Mode Colour
The only adjustment we have to control the colour reproduction on the Sony KDL40HX803 is the single [Colour] control. There is also a control called [Live Colour] which masquerades itself as an "Advanced" video option, but in reality this has much the same behaviour as turning up the basic [Colour] control, simply increasing the Luminance of all of the on-screen colours together rather than individually. In other words, it is basically useless, since it does nothing to allow us to control specific colours. With this limitation in mind, we simply set the [Colour] control to reduce errors with Red (although we could just have easily done this for Green or Blue, since perfection won't be possible anyway).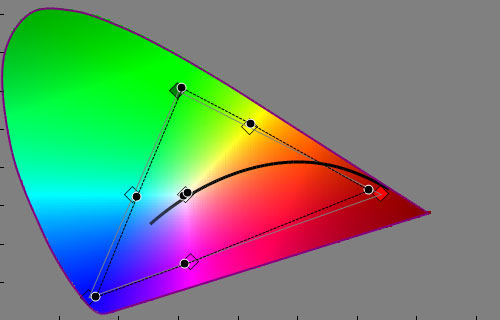 Post-calibration CIE chart with reference to HD Rec.709
Since no individual control is given over the Hue or Saturation (chromaticity) of the colours at all, it is fortunate that there are no drastic errors in this area. Like LED-based LCD sets we're reviewed from Samsung and Toshiba, the Sony KDL40HX803U also has difficulty in fully saturating red (although not to the same extent as Toshiba's effort). Blue is also somewhat incorrect, appearing very slightly more purple than it would on a fully accurate screen.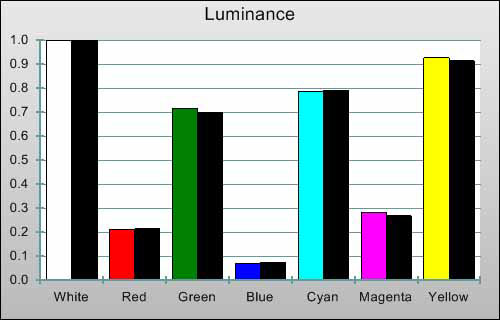 Post-calibration colour luminance (coloured bars = targets; black bars = measured values)
We are unsure exactly how many of the errors are intrinsic to the hardware (white LEDs as a light source are not renowned for their accuracy), but fortunately, none of them present a serious on-screen problem without a perfectly accurate screen nearby. Still, we wonder if we could have squeezed just a little more accuracy out of the Sony KDL40HX803 had we been given the chance. Sony would be well advised to step up and add Colour Management controls at the first opportunity, given that rival brands' mid-range models now include these.
3D Calibration
As usual for the uncharted waters of 3D display calibration, we began by measuring the Sony KDL-40HX803's Greyscale and Colour accuracy with the TV set to 3D mode, but without placing the glasses in front of our calibration meter's lens. This acts as a control of sorts, and allows us to see if the Sony KDL40HX803 has any trouble producing linear Greyscale and accurate colours when its 3D driving mode is engaged. In other words, it gives us a rough idea of what to expect once the 3D glasses' own colour tint are factored in.
It is worth noting that, at present, there are no specific calibration guidelines for home 3D displays. We calibrate displays in 3D to the same standards as for 2D, in lieu of any orders to do otherwise.
Fortunately, Sony appear to recognise the need for separate 2D and 3D calibration to get the most out of a 3D TV. In 3D mode, the KDL40HX803U applies separate picture settings for all the basic video adjustments, as well as [White Balance] (some other, less useful options are disabled in 3D mode). Panasonic's TX-P50VT20 did not account for this, meaning that we had to manually switch to a different picture mode manually for 3D material, in order to get the most realistic image.
Here are the measurements on the Sony KDL-40HX803 3D TV with the 3D glasses attached:
3D Mode Greyscale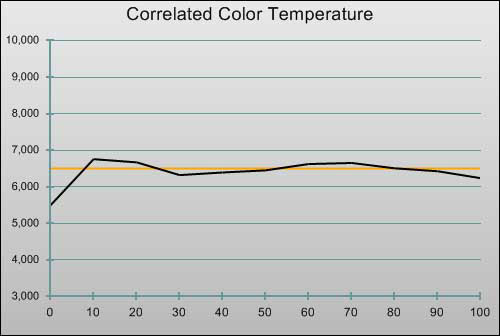 3D CCT in [Cinema] mode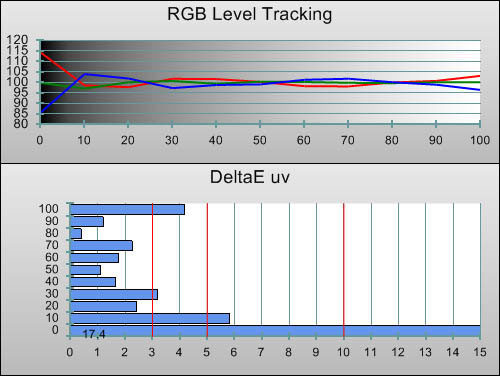 3D RGB tracking and dEs in [Cinema] mode
You might be wondering, "where are the 3D Greyscale measurements from BEFORE calibration?" As it happens, the Sony KDL40HX803's performance in this area was almost completely accurate out-of-the-box. We only reduced the "R-Gain" control by one click to achieve marginally more accurate high-end Greyscale tracking. As a result, we have omitted the "3D Pre-calibration" charts to avoid clutter.
To say that we were stunned by this excellent performance is an understatement. At first, we wondered if the Sony KDL40HX803U was using our 2D calibration work as a basis, and then intelligently offsetting for the 3D glasses' own colouration, so we went back to 2D mode and cleared our Greyscale calibration work to test this theory. Yet, there was no difference with the 3D performance: we were astonished to see that the Sony KDL40HX803's pre-calibration Greyscale performance was better in 3D than it was in 2D! In any case, the fact that Sony has matched a D65 white point with its default 3D settings could perhaps be taken as a sign that the content production community will eventually settle on a D65 white point for 3D in the home.
This is the best Greyscale tracking we have seen yet from a 3DTV display. In fact, it makes the uncalibrated 3D pictures of Panasonic's VT20 Plasma (which produced a very off-coloured, red-tinted image) look very unnatural by comparison. Even after calibration – which at present is very difficult to do for 3D displays – the Panasonic VT20 Plasma had some difficulty in maintaining linear Greyscale characteristics at the higher panel refresh rate. We'll give our impressions of how Sony's impressive accuracy impacts the KDL-40HX803's 3D picture quality later on in the review.
| | |
| --- | --- |
| | |
| 3D Gamma curve in [Cinema] mode | 3D Corresponding gamma tracking |
3D Mode Colour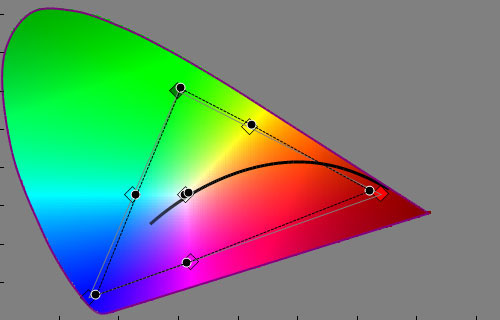 3D Post-calibration CIE chart with reference to HD Rec.709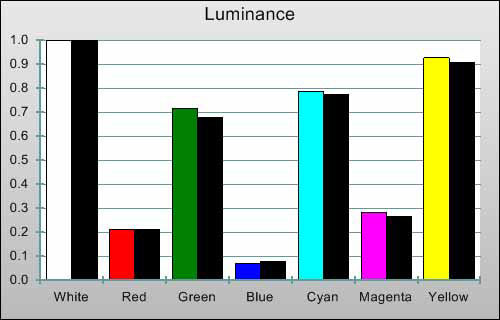 3D Post-calibration colour luminance (coloured bars = targets; black bars = measured values)
There is little to discuss in terms of colour performance in 3D mode, but like 3D Greyscale quality, the 3D colour is every bit as good as the decent 2D performance. Some colours are not as bright as they ideally would be (most notably, Green) but this is not surprising given that a) the colour performance on the Sony KDL40HX803 was not perfect even in 2D, and b) the active shutter glasses impose a loss of brightness on their own.
Benchmark Test Results
| | |
| --- | --- |
| Dead pixels | None |
| Screen uniformity | Brighter corners visible in dark room, very obvious non-uniformity in 3D mode |
| Overscanning on HDMI | 0% with [Display Area] set to "Full Pixel" |
| Blacker than black | Passed |
| Calibrated black level | 0.05 cd/m2 (0 cd/m2 with LED dimming on full black screen) |
| Black level retention | Essentially stable: auto-dims after 7 seconds of full black |
| Primary chromaticity | Very good |
| Scaling | Very Good |
| Video mode deinterlacing | Very effective jaggies reduction |
| Film mode deinterlacing | Excellent: Passed 2:2 PAL and many NTSC cadences |
| Viewing angle | Very Good: slight loss of contrast and tint from sides |
| Motion resolution | 800 with [Motionflow] set to "Clear", 300 without |
| Digital noise reduction | Defeatable noise reduction |
| Sharpness | Defeatable edge enhancement |
| Luma/Chroma bandwidth | Full Luma, Full Chroma in all picture modes |
| 1080p/24 capability | Accepts 1080p/24 video signal; no telecine judder |
| Input lag | 31ms in "Game Mode" compared to lag-free CRT |
| Full 4:4:4 reproduction | Yes, full colour resolution, but only in "Game" mode |
Power Consumption
| | |
| --- | --- |
| Default [Normal] mode (2D)* | 68 watts |
| Default [Normal] mode (3D)* | 132 watts |
| Calibrated [Cinema] mode (2D) | 78 watts |
| Calibrated [Cinema] mode (3D) | 86 watts |
| Standby | 1 watt |
* The default picture settings adjust LED light intensity relative to the brightness of the on-screen pictures. These measurements were taken with a 50% grey screen.
Picture Performance
Black Level
Those who pay close attention to the LCD performance of different panel types will know that Sony and Samsung SPVA LCD displays have been renowned for their unusually good contrast performance for many years. We weren't surprised at all to see the black level on the Sony KDL40HX803 measuring at just 0.05 cd/m2, because when viewed with just a little ambient light in the room, blacks appear rich and deep to the eye (with the usual LCD proviso that the user is required to sit on-axis and not view the screen from the sides). Sony's promotional material mentions that the KDL40HX803U features a "Deep Black Panel", which refers specifically to the screen's anti-glare coating. Thanks to this coating's effectiveness, black levels were actually best experienced with a little ambient light present, due to the way our eyes perceive light in a darkened room.
The Sony KDL40HX803 also features a [LED Dynamic Control] setting, which dims the intensity of the LED light sources to correspond to the amount of lightness in the video signal. Although this will allow the Sony KDL-40HX803 to produce deeper black levels during fully dark scenes, it comes at the expense of shadow detail and overall contrast. Consider the example of white text placed on top of a fully black background: with this feature enabled, the white text would become greyish so that the screen could make the black area appear deeper. Unfortunately, we can't have the best of both worlds on a side-lit LED TV (for this, you need a local-dimming LED TV, or an emissive display such as a Plasma television).
Additionally, this feature affects Greyscale tracking in an unpredictable way, making calibration and accuracy essentially impossible. For these reasons, we turned the [LED Dynamic Control] feature off on the Sony KDL40HX803 – the TV's "natural" black level is nothing to sniff at, anyway (at least, it's not after adjusting the [Backlight] control to match our usual standards). Sony should be commended for providing control over this feature, unlike Samsung who have been forcing users to tolerate visible light fluctuations on their LED LCD TVs for some time now.
Screen Uniformity
Like many sidelit LED TVs, the panel uniformity on the Sony KDL40HX803U was average. From a direct sitting position, we noted that the middle of the screen was quite visibly darker than the sides when we displayed a full 10% grey test screen. In a dark room, the edges of the screen also appeared quite distinct from the middle. With actual TV material, the issues are naturally much less visible, but fast camera movements across an otherwise static scene revealed the fault. Fortunately, uniformity errors were much less visible with brighter shades, and typically didn't appear with real-world content.
Motion Resolution
Using the tried and tested FPD Benchmark Software Blu-ray Disc, we investigated the Sony KDL40HX803's ability to portray clear motion. Unsurprisingly, with [Motionflow] turned off, the moving chart appeared very blurred, with the KDL-40HX803 managing to resolve only about 300 lines of resolution, which is standard for a "normal" LCD panel.
There are various [Motionflow] modes to help alleviate blurred motion. As well as the option to turn the system off completely, users can select "Smooth", "Standard", "Clear", and "Clear Plus" settings. With the scrolling resolution test chart, we observed different effects with each. "Smooth" and "Standard" both caused the thin lines in the chart to flicker upon movement, whereas "Clear" caused a very subtle "ghost image" of the thin lines to appear as the chart scrolled. The "Clear Plus" option uses some sort of method which severely cuts light output from the screen, so we used the standard "Clear" setting.
We also did some subjective testing comparing the Sony KDL40HX803 to a mid-range Plasma HDTV (Panasonic TX-P42G20) with both displays running the same content (a high-motion, 60-fields-per-second sample video from Panasonic's own VIERA promotional disc, which is obviously intended to showcase the benefits of a Plasma TV). With the [Motionflow] setting on "Clear", Sony's LCD display was actually not appreciably worse than the Plasma. The Sony KDL40HX803U displayed the usual LCD trait of black-on-white pixel changes leaving black/grey smears in the picture, but these were small, and the Plasma was hardly innocuous either: it displayed yellow/green streaks instead due to the uneven phosphor decay times. Both displays produced clear motion with small side-effects, meaning that for many users, the choice will come down to individual preference.
Since MCFI (motion-compensated frame interpolation) systems like Motionflow incur an extra processing step, they are not ideally suited to all types of content. For example, we often talk about MCFIs introducing an unnatural "soap opera effect" to low-motion film material. Sony's HDTVs have a [Film Mode] option which does more than most other manufacturers' similarly-named controls. In addition to controlling Film Deinterlacing, it can also be configured to minimise the possibility of film material being adversely affected by the Motionflow system. Sony's documentation mentions that the "Auto2" film mode setting will reproduce the film content without further revision, although strangely, with some 24p Blu-ray material, we noticed some tearing at the top of the screen during camera pans, which "Auto1" fixed. In any case, artefacts are quite rare, and if they become troubling, the Motionflow system can be shut off entirely.
Standard Definition
The KDL40HX803 continues Sony's track record of delivering overall good Standard Def performance. While the Sony KDL40HX803U doesn't produce the crispest SD images we've ever seen, users are unlikely to ever notice a performance shortcoming. The Sony KDL40HX803 is highly capable of disguising jaggedness in material such as TV broadcasts, and also (usually) detects film content "wrapped" in an interlaced video signal properly, so as not to damage its clarity.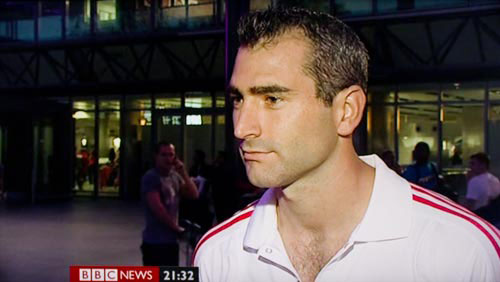 We input a standard-def PAL resolution test to the Sony KDL-40HX803, to see how its built-in video processor upconverts SD material to the HD LCD panel. The performance here was consistent with other Sony HDTV displays: it's good, but there is room for improvement. All of the details from the SD source were sufficiently captured, but the image still appeared a little soft. The grey lines in the bottom-right corner of the chart appeared slightly faint as opposed to appearing as strong black, and the small text in the chart didn't appear as crisp as it does with the best upscalers. However, this is more than adequate given that most Standard Definition sources don't contain a huge amount of detail.
Earlier in the Motion Resolution section, we described the working of Sony's [Film Mode] control, and how it should be set to avoid introducing "fake" motion into film-based material. During tests with PAL DVD material, we caught it introducing some tearing and other unusual image artefacts during panning shots in the Film-based version of Spirited Away. This wasn't surprising, and we had expected some level of artefacts to arise from the use of Motionflow.
The Sony KDL40HX803 does also feature an [MPEG Noise Reduction] control, but as usual, this does more harm than good and simply destroys genuine detail in the image, making it look akin to a watercolour painting. For this reason, we chose not to use it when watching over-compressed SD TV channels.
High Definition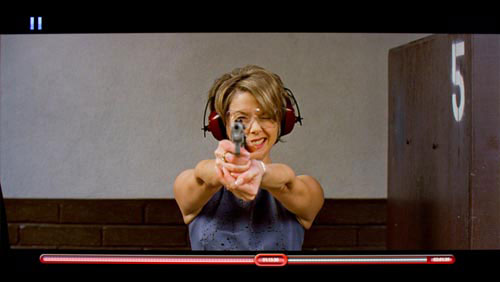 There is no denying that, when viewed face-on, the Sony KDL-40HX803 can produce beautiful images. The slight colour saturation deficiencies (which we speculate are imposed by the white LED light source) were not terribly apparent on their own, and needed an accurate reference to become notable – although this is still a picture inaccuracy that ideally wouldn't be here.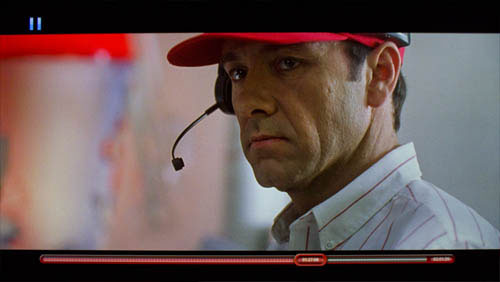 We ran a variety of our favourite Blu-ray Discs through the Sony KDL40HX803, and had no complaints beyond what we'd already learned about the panel's own limitations. Full detail was reproduced cleanly without any additional aliasing, moire or blurring, and the Greyscale and Gamma qualities of the calibrated KDL40HX803U allowed the image to appear suitably natural, with a great sense of depth. High-frequency film grain textures were rendered cleanly with no selective motion averaging (an issue that some other LCDs have suffered from), resulting in faithful video reproduction.
3D Material
When we first flipped the KDL40HX803 into 3D mode, it was immediately apparent that Sony are using a very different high-refresh panel-driving method to Samsung's. When we reviewed the Samsung UE46C8000, we noticed that its 3D mode appeared to place a "dither" over some parts of the image. We theorise that Samsung's method is to only drive every second pixel in certain areas in an attempt to speed up response time, but we would love to hear any other thoughts or concrete explanations of what's going on. Sony's method does not cause a visible dither in the same way as Samsung's, but does appear to introduce static noise specks into the picture, particularly in darker gradation areas. Neither method is hugely troublesome, and for completeness, we should also mention that Panasonic's 3D Plasma featured a much higher amount of Plasma panel noise (PWM noise) in its 3D mode.
Putting technicalities aside, how did the Sony KDL-40HX803 fare with 3D content by eye? Thanks to the accurate Greyscale, the image looked remarkably natural, without any strange colour tints (provided users keeps their heads level with the KDL40HX803U, that is – the 3D glasses add a colour tint if users move their heads to one side). It is pretty remarkable to see 3D images looking this "clean": it was literally possible to flip in and out of 3D mode and observe the same natural white balance with both 2D and 3D images.
Unfortunately, we couldn't entirely forget the inner workings of 3D TV and become fully immersed in the experience, because like all LCD-based 3D TVs on the market so far, the Sony KDL40HX803 suffers from crosstalk. Crosstalk is the strange "double image" effect that tends to appear around bright objects on dark backgrounds (or vice versa), and occurs when a 3D display's motion rendering abilities aren't up to the task of displaying then clearing images from the screen under the very rapid time constraints that 3D demands. The end result is ghostly "after-images" which are typically highly distracting and do a lot to spoil the sense of depth that 3D TV is supposed to give. Out of all the 3DTV sets we've tested so far, Panasonic's 3D Plasma TV (unsurprisingly) featured the lowest amount of crosstalk, so for its other faults, it still produced the most satisfying 3D viewing experience.
That's not to say that 3D Blu-ray content on the Sony KDL40HX803U looked bad – not by a long shot – but we have a hard time imagining an artefact as glaring as 3D crosstalk being tolerated on a 2D display. It is an unsightly blight on an otherwise very compelling experience.
Everything we've discussed so far relates to Full-resolution 3D material from 3D Blu-ray. Much of what we say here will relate nearly as well to lesser forms of 3D, such as the "Side-by-Side" format which is being used by Sky in the UK. "Side-by-Side" signals use the exisiting 2D encoding and transmission systems to (quite literally) squash the Left and Right eye images into one HD frame, which limits the horizontal resolution (and thus the resulting picture clarity). Fortunately, the Sony KDL40HX803 handled Side-by-Side signals wonderfully. When we reviewed the Samsung UE46C8000 3D TV, we noted how poor its video processing for Side-by-Side material was, so we are glad that Sony has not fallen into the same trap (we also hope that Samsung have a fix in the works). For comparison, have a look at how these two competing TVs handle 3D Side-by-Side broadcasts: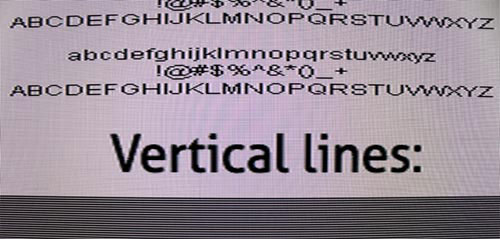 Sony KDL-40HX803 3D Side-by-Side mode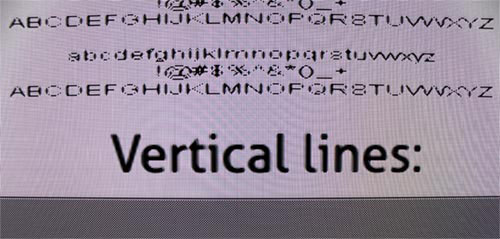 Samsung UE46C8000 3D Side-by-Side mode
As you can see, fine details from Side-by-Side 3D signals were displayed clearly on the Sony KDL40HX803, without appearing "eroded" as they did on the Samsung UE46C8000. In this regard, Sony's Side-by-Side implementation is on par with Panasonic's, making it suitable for use with Sky's 3D TV channel.
2D-To-3D Conversion Mode
Like Samsung, Sony also have a feature which takes ordinary 2D video signals and attempts to convert them to 3D – something that they have kept surprisingly quiet about. When you consider the differences between these companies, this starts to make sense. Sony owns a Hollywood film studio and, like Panasonic, a Blu-ray Disc authoring facility. Unlike Panasonic, Sony also has a computer games division (we're sure Panasonic would rather nobody mentioned their attempt at breaking that particular market). Samsung has neither of these content bases, so it makes sense that they have been especially preoccupied with 2D-to-3D conversion.
Ultimately, our opinion of Sony's conversion is the same as it was for Samsung's: it probably won't make any lasting impression, but it's fun for a short while. In fact, it doesn't seem to have complicated inner workings – it seems that taking a 2D image, shifting it in each direction, then sending the two shifted signals to each eye goes a long way in creating at least some sense of depth – phony or not.
We engaged the 2D-to-3D conversion on some plain old Digital TV broadcasts, and were relieved to see that unlike Samsung's 3D TVs, the Sony KDL40HX803 doesn't add any jerkiness to 50hz video, scoring it yet another point for its superior 3D implementation.
Console Gaming
Gaming was largely enjoyable on the Sony KDL-40HX803 thanks to 31ms of input lag, which will either be relatively unnoticeable, or very slightly irritating, depending on the reflexes required by the game (and your familiarity with how it plays on a totally lag-free screen).
We also took this opportunity to try some of the 3D game demos from the Playstation Network Store. After connecting the PS3 directly to the Sony KDL40HX803U (connecting through pre-3D AV receivers is a no-go), we gave Motorstorm a spin. Frankly, the experience was not really eye-popping. While we certainly did observe the extra depth, it was only when we went back and played the game in 2D that we began to appreciate it. With that in mind, we wonder how the public will react to the technology, and if 3D gaming can convince consumers to part with their hard-earned cash. Certain types of games (first person shooters in particular) seem like a natural fit for 3D treatment, but as it stands, none of the racing games seem to be the "killer app" 3D gaming needs.
One thing we did find incredibly interesting was that when we enabled the 2D-to-3D conversion mode with a 30fps video game (in this case Halo: Reach), motion appeared much, much smoother when we wore the 3D glasses. This is without the TV performing any motion interpolation trickery. It appears that feeding slightly offset images to our Left and Right eyes also gives the perception of much smoother motion.
Unfortunately, the "Fake 3D" mode upped input lag to around 47ms, meaning that we don't advise it for fast-paced, competitive online games.
Online Functions
Hook up a LAN cable to the port on the back of the Sony KDL40HX803, and you'll be able to access select internet video services through the HDTV. All of the services – which include BBC iPlayer, Demand Five, LoveFilm.com, and some other providers from across Europe – are integrated into the Xross Media Bar menu.
The image quality from these services is, more often than not, absolutely terrible, although this is no fault of the Sony KDL-40HX803, but that of overdone (and poorly done) video compression used by the content providers. In particular, the so-called "HD" trailers from the LoveFilm service might as well be used by the Blu-ray Disc Association as a shining example of why high-definition movies deserve to be on disc, rather than "in the cloud". Of course, this was a particularly shocking example: other services provided image quality that could be described as "just below broadcast TV" (how's that for a ringing endorsement?). Nevertheless, these features could be useful for catching up on less worthy programmes that you've missed on TV.
Unfortunately, we couldn't get the BBC iPlayer feature to work due to poor interface design: each time we tried, we were told that the Sony KDL40HX803 required a software update, and were instructed to leave the service and enable the TV's "Automatic Software Update" feature – which we eventually found out was already turned on anyway. Why not simply have a button allowing users to download the new software immediately?
Conclusion
Although our last couple of Sony LCD TV reviews have been largely positive, the company's LCD line has been fighting to stay relevant in recent times, given that Samsung have been implementing similar LCD technology with marginally better colour accuracy and crucially, lower prices. Although Sony is still lagging behind in terms of accuracy due to their lack of colour calibration controls, the Sony KDL40HX803 LED-powered LCD TV shakes things up a little, because it is superior to Samsung's most recent efforts – especially when it comes to 3D.
Compared to the Samsung C8000 (and by design, we assume also the C9000) models, the differences are in the details: Samsung's 3D implementation introduces judder with 24p films and especially also with 50hz material such as UK TV signals… and Sony's does neither. Samsung's features a lack of detail and pixellation with Side-by-Side broadcasts (eg Sky's 3D channel), Sony's does not. For both 2D and 3D, the Sony KDL40HX803 has clearly superior viewing angle performance, with the image still looking somewhat natural and rich when viewed from the sides.
Unfortunately, as we expected from an LCD-based HDTV, its 3D images are still marred by a moderate amount of crosstalk. This is a pity, because if it weren't for this, the Sony KDL40HX803 would have been the best 3D performer yet. The Greyscale accuracy of our KDL-40HX803 review sample's 3D mode was absolutely excellent, meaning that for once, there was no unwelcome yellow-green tint to the image after putting the 3D glasses on (they still make the picture somewhat darker, though). This means that, in spite of featuring superior Greyscale tracking, the Panasonic VT20 Plasma is still a superior 3D performer thanks to its relative freedom from distracting crosstalk. We are glad to see that the competition is catching up, though, and hope that the next generation of LCD-based 3DTV displays will reduce the crosstalk somewhat.
This all puts the Sony KDL40HX803 in a pretty favourable position. The Sony KDL40HX803U can be found online for around £1300, and although this is slightly high for a 40″ display, we think that its 3D Ready-ness and overall high image quality make it just about worth the money.