We have at times struggled to understand the philosophy behind Sony's NX series of Bravia LCD TVs, which is sandwiched between the affordable EX (ESSENTIAL) range that appeals to those on a budget, and the HX (CINEMATIC) range that offers the best in picture quality from the Japanese TV manufacturer. Depending on which press release you read, over the past couple of years Sony has defined the NX moniker as PRESENCE (with an emphasis on design aesthetics) or NETWORK (focusing on connectivity). Either way, the Sony NX range has proved popular among television buyers, and its latest incarnation comes in the form of the NX723 series.

The HDTV we're reviewing today – the Sony KDL-40NX723 – brandishes the company's distinct Monolithic design, edge LED backlight technology, 100Hz motion, 3D capabilities, integrated Freeview HD tuner, and built-in wireless connectivity among its list of impressive specifications. Having never tested a Sony NX television to date, we're obviously keen to find out how the LED LCD TV will fare in terms of picture performance.
Design
Tastefully sculpted in the mould of an enigmatic black slab, the Sony KDL-40NX723 is a beauty to look at even when switched off. A single sheet of Gorilla glass overlies both the LCD screen and the bezel, bestowing the TV with a breathtaking frameless design. Its minimalistic appearance is further enhanced by the sub-3-cm slenderness afforded by edge-mounted LED backlighting.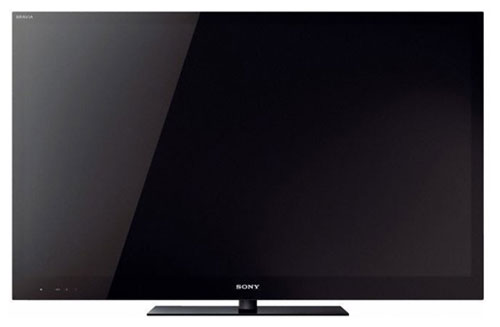 The illuminated Sony logo (when the KDL40NX723 is powered on) at the bottom of the panel is a classy touch. A swivelling pedestal stand featuring a brushed metallic finish is included within the shipping box – assembly is easy and straightforward (particularly when compared to Samsung's LED TVs this year). Owners can also choose to spend an extra £180 on an opulent SU-B401S brushed aluminium stand that allows the TV to be reclined at a 6° angle, although the accessory's most useful benefit comes in the form of an embedded 2.1 audio system with subwoofer to compensate for the utterly flimsy and soulless sound put out by the NX723's on-board speakers.
Connections
Because of the slimness of the chassis, breakout adaptors are supplied for component and SCART connections. The infrared 3D sync transmitter is now built into the KDL-40NX723 (an improvement over last year's 3DTV models from Sony), but users will still need to purchase a pair of compatible active-shutter 3D glasses (for example, the Sony TDG-BR100 or TDG-BR200) for extra-dimensional viewing.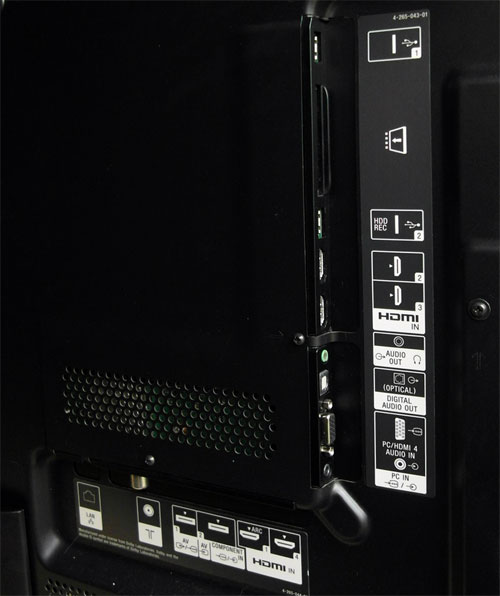 4 x HDMI, VGA, Component, SCART, aerial, ethernet & audio outs