For a short time in the mid-2000s, Sony (which was transitioning away from CRT televisions) was one of the top names in LCD performance. Using panels produced in a joint venture with Samsung (who, at the time, were still inflicting questionable picture "enhancement" on their own HDTVs), buying a Sony LCD TV guaranteed the happy combination of a high-contrast Samsung LCD panel coupled with Sony's taste in design, and video processing know-how. A lot has changed in 7-8 years though, and the competition is now tougher than ever (that's our polite way of saying that Samsung HDTV displays have improved by an astronomical amount since then). So, with all that in mind, do Sony BRAVIA LCD TVs still have a place in the market?

Today we have a Sony KDL-55HX823 in for thorough analysis, so we can find out. The HX823s are high-end displays, sitting just one rung below the top-end HX923 models. They include a 1080p LCD panel with LED side-lighting as a light source, 4 HDMI inputs, and the company's Motionflow XR 400 motion processing for fighting the dreaded LCD motion blur. Unlike the step-up HX923 models, the KDL55HX823 doesn't ship with any 3D glasses (or Skype webcam unit) in the box, and doesn't feature any local dimming technology for improving black level performance in dark scenes (in fact, Sony appears to have given up on local dimming LCD by choosing not to announce any new models using this method at CES earlier last month). Let's see if this ultra-slim LED LCD TV can find its place in the market, and in the homes of video enthusiasts…
Note: The specific model we tested was the Sony KDL55HX823BU, which denotes the 3-pin-plug United Kingdom version. While we did not review the smaller, 46-inch Sony KDL-46HX823, there shouldn't be any significant difference in picture performance given similar specifications.
Design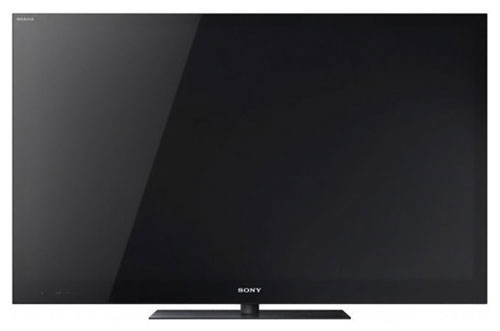 Like many edge LED TVs, the Sony KDL-55HX823 is incredibly slim, and features an attractive "one sheet of glass" design (although it's not actually traditional glass, but lighter and sturdier "Gorilla Glass"), meaning that the front of the unit is completely flat with no protrusions. The design is nowhere near as distinctive as Sony LCD televisions of the past (we're thinking back to older high-end displays like the X3500), the new look being sleek, stylish and inoffensive, rather than bold. A blue-white illuminated "SONY" logo is the only real point of note; Sony has definitely gone for an understated design. The supplied table-top stand is equally sleek.
Connections
The Sony KDL55HX823 features 4 HDMI inputs, which is fairly standard now, as well as inputs for Composite, Component, SCART, and analogue VGA ("PC") interfaces. Of course, there's an aerial input for the Freeview HD tuner, two USB inputs for media features, and an Ethernet socket for connecting to the internet. Fortunately, it also has a wireless receiver built in.
Rear: 4 x HDMI, VGA, Component, SCART, aerial, ethernet & audio outs
Operation
Like most (or all?) of the company's displays, the KDL-55HX823 uses the XMB (Xross Media Bar) interface. We think Sony should do a total overhaul of this next year, because while there is not much wrong with the XMB design in theory, the interface is inconsistent and worse still, is often slow to respond to user input. Turning the HX823 on and attempting to jump quickly to an HDMI input can often be a frustratingly slow endeavour, for example.
An example of why we think a re-design is in order: pressing MENU shrinks the TV image and adds horizontally scrollable icons to the bottom of the screen, and then adds additional sub-options, which are navigated vertically, at the right of the image. That's all well and good, but selecting one of these options will either display more options, this time in the middle of the screen, or in the case of picture setup controls, at the left of the screen, returning to the interface used on 2010-era models. If you're like us and will only really use these menus when first configuring the TV, this scatteredness or slow operation might not bother you too much, and will only really affect hopping channels and changing inputs. It has more serious ramifications for the plentiful network/internet features that Sony provides on its HDTV sets – given how painfully slow the user interface can be, it doesn't really make us want to actually use them. As for the built-in web browser… using it is frankly like pulling teeth.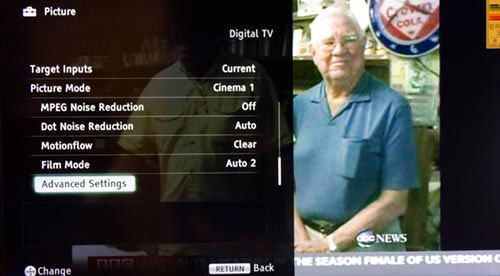 [Picture] menu
Like the user interface, Sony's picture modes can appear somewhat complicated, and from our view as enthusiasts who just want to see accurate, high quality pictures, we'd say this is unnecessarily so. Pressing the SCENE button on the remote displays a gaggle of different viewing modes which change the picture and sound output in various ways. Within these modes, the [Picture] menu houses a separate [Picture Mode] function which often contains a choice of two sub-modes, making more subtle adjustments. The two useful [SCENE] modes are "Cinema" (which produces the most accurate image) and "Game" (which cuts out extra processing to reduce input lag). From our view as video enthusiasts just wanting to see film and TV content as-intended, the rest of the modes are redundant.
There are a number of useful controls within the [Picture] menu, some of which are unique to Sony. There are noise reduction systems for smoothing analogue-type moving noise, as well as an MPEG compression reduction system which attempts to reduce visible block edges in overcompressed digital TV material. There's also a [Dot Noise Reduction] system which reduces the "crawling ants" effect which appears with old-fashioned Composite video material (which often re-appears even on today's Digital TV, in repeats of older shows).
Moving on, [Reality Creation] is somewhat similar to Toshiba's "Resolution+" feature, and is basically a combined Sharpness and Noise Reduction control. [Smooth Gradation] is a nice feature which detects contouring (most frequently found in grain-free digital animation) and, making use of the TV's high bit-depth video processing, smooths over coarse tones in the image, returning them to their pre-compressed smoothness.
For motion clarity, there are several [Motionflow] modes, and an "Off" switch. The most relevant to us was "Clear", which combines a barely noticeable amount of motion interpolation with LED backlight scanning, in order to improve motion sharpness. The other options are "Clear Plus", which causes a more pronounced darkening of the picture for almost no gain in motion clarity, as well as "Standard" and "Smooth", both of which use fairly high amounts of motion interpolation but don't increase motion sharpness as much as "Clear".
The Advanced Settings sub-menu contains a Greyscale calibration screen ("White Balance"), as well as [LED Dynamic Control]. Enabling this instructs the Sony KDL-55HX823 to dim its LED lights in areas of the screen which contain black, or nearly black video, in order to improve the black depth. Like all LED side-lit LCD TVs, though, it's a very approximate form of local dimming, with not many zones controllable. There's control over the [Gamma] curve (see the calibration section for an explanation), [Clear White], which distorts whites towards blue (no thanks!), [Live Colour], which enables non-standard colour reproduction for a more punchy, but less accurate picture, plus [Detail Enhancer] (which sharpens textures) and [Edge Enhancer] (which sharpens edges). We're all for control, but it seems that with these options and the other two previously mentioned, Sony has no less than four sharpness controls on the HX823!