Time for a 2012 Sony HDTV to pass through our test room! Today we're reviewing the 55-inch version of the Bravia HX853 series, which is the Japanese manufacturer's highest-specced LED LCD TV for 2012. The Sony KDL-55HX853 is an edge-lit LCD display, and features the company's X-Reality PRO video processor, as well as built-in wireless access, and a sleek stand which features an integrated sound system.
Naturally, the television is also 3D-capable. In fact, the specs promise "Ultra-smooth action with 4x High Speed 3D Panel", suggesting that the panel driving has been worked on. Hopefully, this will reduce artefacts we've seen in extra-dimensional images on some LCDs in the past.
Sony makes a lot of promises regarding the X-Reality PRO engine's ability to "enhance" colours and details. We have no interest at all in abstracting the colour of properly mastered content, but the latter should be interesting to see with standard-definition content. Let's find out if the KDL-55HX853 can deliver high quality, accurate images, and remind us of the Sony glory days.
Note: The specific model we tested was the Sony KDL55HX853BU, which is the 3-pin-plug British version. While we did not review the smaller, 46-inch Sony KDL-46HX853, there shouldn't be any major difference in picture performance given similar specifications within the HX853 range.
Design
Upon unboxing the KDL-55HX853, we were struck with a feeling we hadn't experienced since around 2006: pulling the sleek brushed silver stand out of the box, we had the feeling that we were unboxing a Sony TV. The design is sleek, and somehow manages to stay so while being distinctive, in an era where Samsung has stolen the show in terms of aesthetically pleasing HDTVs. Sure, it means that the entire assembled unit will take up more room, but if making a statement is your thing, you'll almost certainly love this. After some minor assembly steps, we lowered the LCD panel onto the stand, and plugged in the cable which connects the integrated speakers.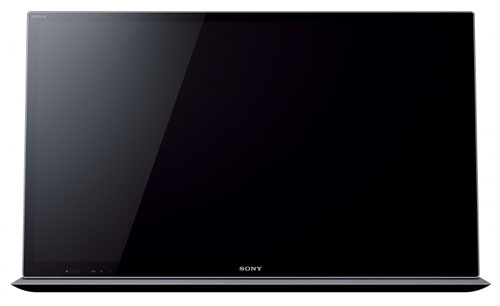 The television itself, sadly, doesn't remind us of the old (2006-era) BRAVIA flat-screen TVs, which somehow managed to look extravagant, technological, and tasteful, all at once. The modern Sony displays are much plainer, but the Bravia HX853 still looks good. In fact, with its flat front, curved edges, thin bezel and silver trim, it looks almost identical to last year's Panasonic VT30 Plasmas. It sits at a slight angle backwards on the stand, and as far as we could tell, can't be locked forwards, but we didn't find the effect disturbing.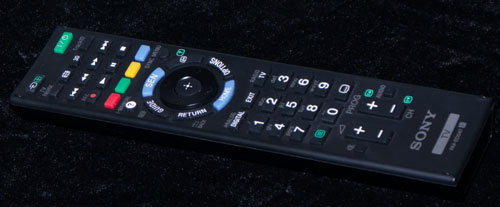 The remote control has been redesigned, and although it doesn't feel high-end, that's better than it being needlessly complicated, and we're happy to say that it's pleasing to use. It fits nicely in the hand, and unlike Panasonic's 2012 remotes, it's not nonsensically styled in gloss black, so it won't get covered in fingerprints after a few minutes in the hand.
Connections
4 HDMI inputs
1 shared Component/Composite input
1 SCART input
1 PC "VGA" input
Aerial input (DVB-T2 / "Freeview HD")
2 USB inputs
Wired Ethernet port
Built-in wireless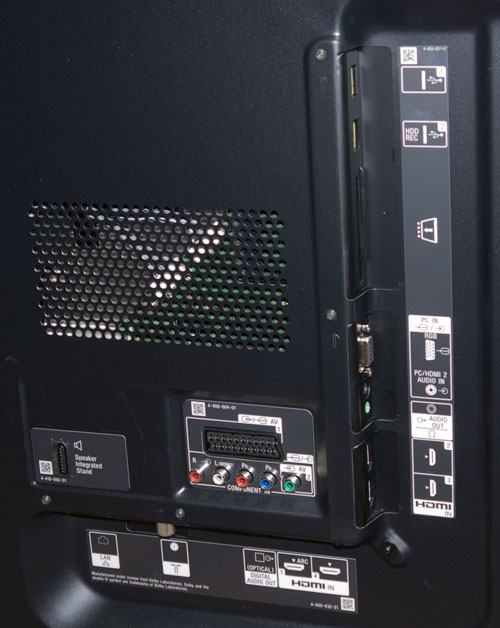 Rear connections on Sony KDL-55HX853
Operation
We were wondering if Sony would have dismissed the well-intentioned, yet clunky and inconsistent XMB (Xross Media Bar) menu system. It's still here, and we still have our gripes with it (most of all the irritating sound which plays with every key press, which can be disabled in the menu). However, pressing the OPTIONS button on the remote brings up a quick, simple shortcut menu to the most frequently accessed pages, which alleviated a lot of our concerns, to the extent that we almost totally ignored the slower main menu.
The menus on the Sony KDL-55HX853 are labyrinthian – or at least, the interface makes them feel that way. There are many controls which affect image quality scattered throughout them in sometimes not obvious places. As usual, the top-level picture adjustment is called "SCENE". There used to be a dedicated remote button for this, but now it's accessed through the OPTIONS button. There are no less than 10 different AV modes which affect the picture and sound output in some way. The default is "Auto", and there's an "Auto (24p Sync)" option, which will go into a nearly-accurate "Cinema" mode when a 24p input is detected – the apparent thinking being that 24p input will almost certainly be film content, so it deserves more accurate imaging than other modes. We only want to see high quality, accurate pictures with all content, regardless of whether it's a film or not. Accordingly, we ignored any auto-switching modes and selected the "Cinema" mode, since this is the mode which is most accurate starting point.
The one exclusion to this is the "Game" mode, which cuts down picture processing to decrease input lag. We'll use that when we test the console gaming experience on the Sony HX853 later in the review.
With "Cinema" selected, we were on the road to high quality video, but the KDL-55HX853 was producing visibly overcooked colours. A visit to the [Picture] menu allowed us to select the "Cinema 1" [Picture Mode], which is the more accurate of the two. Both are totally adjustable, though, and we imagine that Sony has included "Cinema 1" and "Cinema 2" to mimic the "ISF Day" and "ISF Night" branding on some high-end models from other TV makers which include full image calibration features.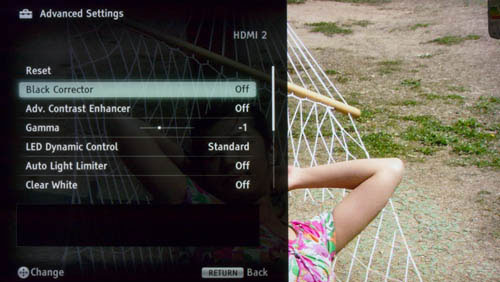 [Advanced Settings] menu
We won't go through every single item in the KDL-55HX853's picture menu, since the basic functionality (Backlight, Contrast, Colour, etc.) is all in place. More specific to Sony is a [Dot Noise Reduction] feature, which attempts to remove one of the chroma/Luma crosstalk artefacts, called "Dot crawl" (see this good Wikipedia explanation). Most digital TVs come with filters for removing dot crawl, but only for Composite video sources. Sony's version actually attempts to remove dot crawl in all video types, which means that it will be able to deal with this video artefact if you're watching Composite-sourced material that's been broadcast on Digital TV without the dot crawl filtering being taken care of by the broadcaster. For that reason, we left this feature on on the digital TV input, but shut it off for feeds from Blu-ray and game consoles (it's not impossible that it could confuse some high detail textures for dot crawl, although we never saw it). The settings are per-input, so you don't need to switch back and forth.
[Reality Creation] includes [Resolution], which applies subtle high frequency edge enhancement, and [Noise Filtering], which is gentle temporal smoothing. We left both off, because again, we just want to see the video without abstractions. If you know for a fact that you're watching a compromised video transfer of a film, for example, you might find some joy in turning the [Resolution] control up, but if you're watching a recent Hollywood blockbuster which will have been transferred on high-end film scanning equipment (or shot entirely digitally on high-end digital cinema cameras), then don't bother. [Smooth Gradation] is a nice feature which can make a subtle improvement to a compromised source. All of our consumer video sources (even Blu-ray Disc) are 8-bit, which means that if you're watching an all-digital CG animation, for example, or even some digitally shot live action footage, you might see some static contouring in areas like skies or sunsets, because the limited number of steps 8-bit video provides isn't always enough to produce entirely smooth gradients. Good video compressionists will add gentle static noise (called dither) into the image here to alleviate this issue, but not all Blu-ray Discs have had this much care put into them, and this trick relies on high quality encoding and high bit rates to preserve the dither noise, meaning that it won't work on mushy digital TV broadcasts.
Sony's [Smooth Gradation] control attempts to detect contouring and smooth it out, since the HX853's internal video processing operates at a level higher than 8-bit (apparently 14-bit). We tried [Smooth Gradation] with the 8-bit gradient ramp on the AVSHD test disc, and found that it worked very well. As a type of spatial filter, remember that [Smooth Gradation] can possibly blur out genuine picture details, especially tiny details in dark areas. For that reason, there are three different levels of severity as well as the Off switch. Our advice is to leave it Off for most Blu-ray Discs unless you can clearly see contouring, in which case try "Low" or "Middle". The Middle setting is probably a good bet for Digital TV broadcasts. We did see this feature clip near-black shades into black when we tried it out with one Blu-ray Disc.
Next, [Motionflow]. There's an Off switch, and [Smooth] and [Standard] options which we're not interested in, because they perform obvious motion interpolation, which causes films to look hyper-smoothed. [Clear], [Clear Plus] and the new [Impulse] setting are all interesting; we'll discuss these during the Motion Resolution section. There's also a [Film Mode] feature with Off, Auto1 and Auto2 options. "Auto1" is the one you want: it has some (but not total) protection against the motion-smoothed "soap opera" appearance, when used in conjunction with the three aforementioned [Motionflow] modes.
Most of the [Advanced Settings] have little use; the useful controls are [Gamma] (more on that during calibration), [LED Dynamic Control], and [White Balance], which is a basic 2-point Greyscale adjustment menu.
There are other controls that affect image quality which are hidden in the (poorly laid out) menu. Outside of the picture menu, [System Settings] > [Eco] harbours the [Power Saving] and [Light Sensor] options, which are both on by default, and will no doubt escape many users and calibrators. Make sure both are off if picture quality is the priority: the power consumption of a calibrated Sony KDL-55HX853 will not be high.
With that in mind, let's move on to a scientific assessment of how well the Bravia KDL55HX853 is doing in terms of accurate colour reproduction.