Amid all the hoo-ha surrounding Sony's newly unveiled 84-inch 4K LED LCD TV with 4K Bravia X-Reality Pro upscaling engine and ten speaker units, we nearly missed the equally as important (in our eyes anyway) news that the Japanese television manufacturer has decided to resurrect full-array local-dimming LED backlight technology on its flagship HDTV range.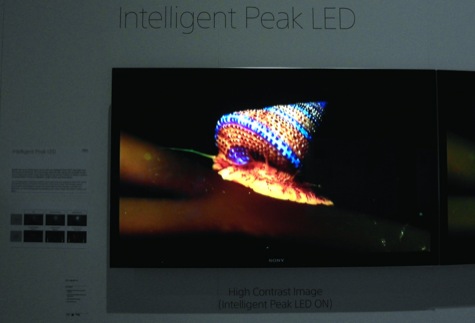 Sony showcases KDL-55HX953 local-dimming LED TV at IFA 2012
In the United Kingdom, the Sony Bravia flat-screen television 2012 lineup currently tops out at the HX8 series. However, we've spotted a few KDL-55HX950 paraded at the company's booth at the IFA consumer electronics trade show in Berlin today. With some luck, hopefully these TVs will make it to our shores, probably as the Sony KDL-55HX953 (due to the inclusion of Freeview HD DVB-T2 tuner).
Details are sketchy at the moment, but from the labels displayed at the booth, the Sony HX950/ HX953 will be equipped with "Intelligent Peak LED" technology which is the firm's moniker for full-array local-dimming LED backlighting. The Bravia TV will also feature Motionflow XR 800Hz motion-compensated frame interpolation, "Super Resolution" image processing engine that caters for HD, 3D and even web videos, as well as the brand's internet-connected platform.
Although the majority of the LED TVs on the market are edge-lit (consumers at large like them due to their super-slim aesthetics; TV makers prefer them because of manufacturing cost advantage), local-dimming variants are still held in higher regard by film enthusiasts, since the latter allows more precise control of LED arrays (or dimming zones) to deliver deeper blacks and brighter whites simultaneously. We will bring you UK pricing and availability updates regarding the Sony KDL55HX953 as soon as we receive them.