After battling our way through the uncharted territory of 3D TV lately, it's a bit of a relief to sit back down with a good old 2D HDTV. Today we're inspecting one of Sony's "cost-conscious" Bravia LCD TVs for 2010, namely the Sony KDL40EX503.

The KDL40EX503 is part of Sony's "Essential" range, which promises to deliver high performance at a low price. As with almost every new display on the market today, the Sony KDL40EX503 features a Full HD 1920 x 1080p resolution panel, a DVB-T2 capable tuner (meaning that it can receive Freeview HD here in the UK), and it also features a 100hz motion compensation engine, in this case, Sony's Motionflow. Let's see how this Sony TV all comes together!
Note: The specific model we tested was the Sony KDL40EX503U, i.e. the 3-pin-plug United Kingdom version. High street stores like Comet, Currys and John Lewis, and online retailers such as Amazon and Dixons may sell this LCD TV as the Sony KDL40EX503, Sony KDL-40EX503, Sony 40EX503, Sony KDL40EX503U or Sony KDL-40EX503U… all referring to the same panel. While we did not review the 32-inch Sony KDL32EX503/ KDL32EX503U or the 46-inch Sony KDL46EX503/ KDL46EX503U within the Bravia EX503 range, there's no reason to suspect that they will perform differently given that they share nearly identical specifications.
Design
There was a time where Sony's press releases actually drew attention to the fact that their TVs did not feature gloss black design elements (the reasoning being that this placed unnecessary attention on the bezel rather than on the screen), but it would appear that Sony has succumbed to peer pressure: three out of the four edges surrounding the Sony KDL40EX503 LCD screen are styled in shiny black. A strip along the bottom, however, has a brushed steel finish, which looks utterly gorgeous. We can only imagine what a looker the Sony KDL40EX503 would have been had it featured this finish exclusively. Gloss black is overused to the point of being clichéd and additionally, is impractical from a cleaning point of view.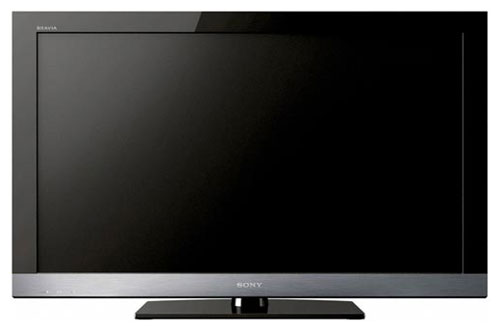 The Sony KDL40EX503 is supplied with a square, gloss-black stand, which is easy to assemble. The LCD panel itself is easily fitted to the stand, and can swivel left and right once installed.
Sony's unique new remote control design also makes an appearance here: it's a little larger than most remotes, and interestingly, has a hidden battery compartment, features a power button on its back, and curves inward slightly. It's good to see that in the face of ruthless cost-cutting, Sony can still make a design statement, without sacrificing functionality.
Connections
The Sony KDL40EX503 LCD television features 4 HDMI inputs, 2 SCART terminals, a PC "VGA" input, Component video inputs, and a Composite video input for prehistoric AV devices. Of course, there is also an aerial input, to feed the DVB-T / DVB-T2 capable tuner with. This tuner will receive whatever digital TV service is available in your area — in the UK, it can pick up Freeview and Freeview HD channels (where available). The Sony KDL40EX503U also has a Common Interface card slot.
There is also a single USB port and an Ethernet port for accessing BRAVIA-branded online services. Unlike a few select Sony models, there is no satellite support.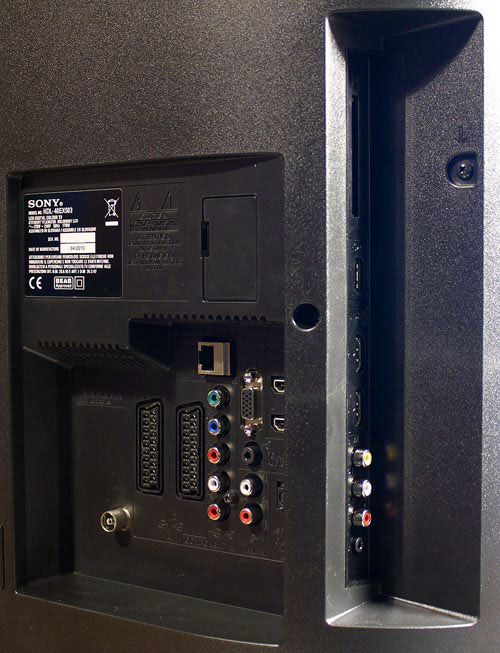 Rear: 2 x HDMI, VGA, Component, 2 x SCART, aerial, ethernet & audio outs
Side: Common Interface slot, 2 x HDMI, USB, Composite video, headphones
Operation
The KDL40EX503 features Sony's Xross Media Bar menu design, which, to be honest, doesn't really enthuse us. There are far more important things than a TV's menus, of course, but after a few years of exposure to it, we're mildly irritated by the occasional slowness with which it responds (relative to other HDTV models with simpler menus, that is), and the "sprawling" feeling it lends to the menus.
Like the previously reviewed KDL-32EX403, the Sony KDL40EX503 places all of the most important controls relating to image quality into one [Display] subcategory on the XMB menu. Before we get into those, it's worth mentioning two other image-altering aspects of this LCD TV. First, there is the "SCENE" menu. Depending on the input, the user can select one of 8 different picture styles: Cinema, Sports, Photo, Music, Game, Graphics, General, and Auto. These controls supplant the already unnecessary modes such as "Standard" and "Vivid", and are really just another layer of confusion (except for the "Game" mode, which serves a legitimate purpose which we'll explore later). Secondly, there is the orange "THEATRE" button on the remote control, which is a shortcut to selecting the "Cinema" scene mode.
Sony's inclusion of these modes seems to indicate that they expect users to change the "scene mode" of the KDL40EX503 relative to the genre of the programme they're watching, which makes almost no sense at all, given that all professional HDTV content is mastered to the same standards. However, it is at least an effort (albeit a slightly muddled one) to promote high quality, accurate video — at least some of the time.
There are few surprises in the [Picture] menu, with [Backlight], [Contrast], [Brightness] and [Colour] present. Towards the bottom of the list, we have a temporal smoothing [Noise Reduction] control, which smooths out analogue-style background noise, and an [MPEG Noise Reduction] control which applies a spatial filter to the image and attempts to remove the blockiness of digital TV pictures (but in the process, removes some genuine detail, too). [Motionflow] can be set to "Standard", "High" or "Off", and there are two [Film Mode] controls, as well as an "Off" switch (we'll investigate "Film Mode" later).
| | |
| --- | --- |
| | |
| [Picture] menu | [White Balance] menu |
Meanwhile, [Advanced Settings] has controls which are mainly designed to give the illusion of practicality, but are largely superfluous (best example: a control called [Clear White] which distorts high-end Greyscale tracking towards blue). However, the diamonds in the rough here are a [Gamma] control, and a [White Balance] menu which allows users who have a measuring device to fine-tune the TV's Greyscale tracking for a more realistic picture.
The [Screen] submenu also allows the user to prevent 4:3 programmes from being distorted to fit the 16:9 screen (by setting [4:3 Default] to "4:3" rather than the shipping condition, which is "Smart", a nonlinear stretching mode), and also to lessen or increase Overscan with an option called [Display Area]. Overscan is an outdated practice which involves cutting the edges of the picture off, and there is almost never a need for it today, so we're glad to see that it can be lessened with standard definition material. It is shut off by default when the Sony KDL40EX503 receives 1080i or 1080p HD content – a fantastic move from Sony that we hope more manufacturers will follow.
Calibration
Note: Our Sony KDL40EX503U review sample was calibrated using Calman Professional, the industry-leading video calibration software.
Greyscale
Some Sony displays we've measured in the past have had a very accurate out-of-the-box picture when set to the "Cinema" mode, so we were curious to see how the Sony KDL40EX503 performed: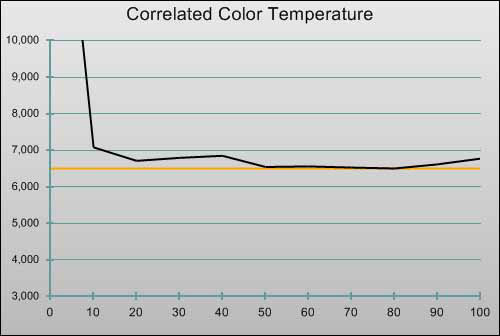 Pre-calibration CCT in [Cinema] mode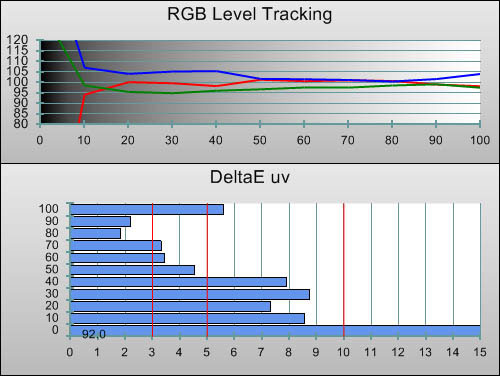 Pre-calibration RGB tracking and delta errors (dEs)
The result was decent, although it revealed that low-end Greyscale tracking had too much blue, giving dark scenes in particular a colour cast. Interestingly, tracking was much better above 50% stimulus.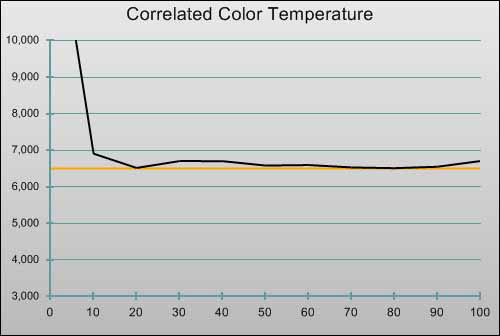 Post-calibration CCT in [Cinema] mode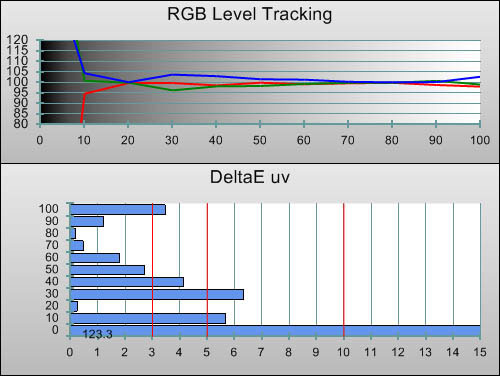 Post-calibration RGB tracking and dEs in [Cinema] mode
After calibration, most of the errors were resolved to a satisfactory standard, although as with many Sony LCD displays, we couldn't quite get rid of the subtle blue-ish tint in the very darkest parts of the picture.
We also raised the [Gamma] control to "+1" to bring Gamma closer to the desired target of 2.2. This meant that the distribution of  lightness from the darkest blacks and brightest whites was very accurate (see the "Gamma Y" chart below):
| | |
| --- | --- |
| | |
| Gamma curve in [Cinema] mode | Corresponding gamma tracking |
Colour
Colour reproduction on Sony displays has improved in leaps and bounds over the last five years. After the launch of the BRAVIA brand, Sony experimented with wide colour gamuts (seemingly tying in with its "colour like.no.other" ad campaign) which exaggerated colour at the expense of overall picture quality. Fortunately, those days are behind us, as modern Sony displays have been producing good colour performance.
Sadly, there is no colour management system on the Sony KDL40EX503, so the only controls we have to improve Colour are the [Colour] control and the very similar [Live Colour] control in the advanced menu.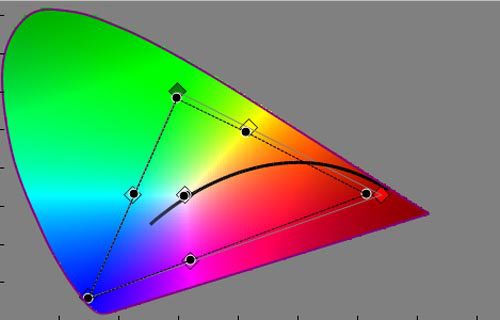 Post-calibration CIE chart with reference to HD Rec.709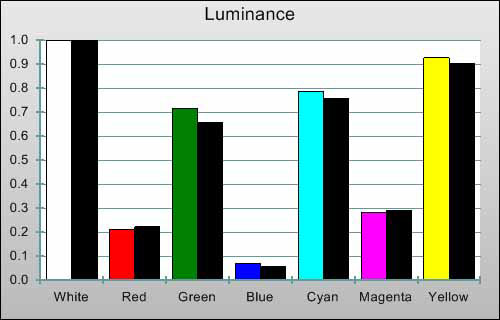 Post-calibration colour luminance (coloured bars = targets; black bars = measured values)
These results are overall good, but cast an eye to the right of the CIE triangle and you'll notice that red, yellow and green are all undersaturated. Normally, this is a limitation of the LCD panel itself, but in this case, it appears to be a design error on Sony's part. It is possible to fully saturate these colours if we raise the [Colour] control to an absurdly high value, but this is not practical, because it causes huge colour decoding errors, boosting the luminance of these colours to high levels. There is also a control called [Live Colour], which primarily controls the luminance of the colours, but does also have a small effect on saturation. We wonder if these results could be improved were Sony to include a Colour Management System. If so, there's always next year…
On the whole, Colour is good on the Sony KDL40EX503 HDTV. Despite the aforementioned saturation issues, the colours were mostly on-hue, and the on-screen look was good overall.
Benchmark Test Results
| | |
| --- | --- |
| Dead pixels | None |
| Screen uniformity | Very good, small "pinching" in top-right seen in dark room |
| Overscanning on HDMI | 0% with [Display Area] set to "Full Pixel" |
| Blacker than black | Passed |
| Calibrated black level | 0.06 cd/m2 |
| Black level retention | Stable with [Advanced Contrast Enhancer] off, except for 9+ seconds of black |
| Primary chromaticity | Very good after calibration in [Cinema] mode |
| Scaling | Good |
| Video mode deinterlacing | Below average, jaggies visible on HQV test sequence |
| Film mode deinterlacing | Excellent – Full resolution with 2:2 576i and 3:2 480i |
| Viewing angle | Very good for an LCD TV |
| Motion resolution | 600 with [Motionflow] enabled, 300 without |
| Digital noise reduction | Optional temporal smoothing ([Noise Reduction] control) |
| Sharpness | Defeatable edge enhancement |
| Luma/Chroma bandwidth | Full Luma and Chroma on 4:2:2 input (Blu-ray, etc) clean, 4:4:4 input blurred except in Game Mode |
| 1080p/24 capability | Accepts 1080p/24 video signal; no telecine judder |
| Input lag | 60ms in "Game Mode" compared to lag-free CRT |
| Full 4:4:4 reproduction | Yes, full 4:4:4, but only in "Game Mode" |
Power Consumption
| | |
| --- | --- |
| Default [Normal] mode | 97 watts* |
| Calibrated [Cinema] mode | 79 watts |
| Standby | 1 watt |
* Note: by default, the Sony KDL40EX503 has its "Ambient Sensor" function enabled. This detects the light in the viewing environment and adjusts Backlight intensity accordingly. In our dim test environment, the TV consumed 74 watts with this mode enabled.
Picture Performance
Black Level
Black level has long been the biggest strength of Sony and Samsung SPVA LCD panels, with the best examples being able to look fairly deep when compared against the best displays on the market. The Sony KDL40EX503U doesn't buck this trend, and indeed, its blacks are deeper than those seen on some cheaper Plasma TVs. After verifying the the black level calibration of our Klein K-10 meter, we measured the Sony KDL40EX503's deepest blacks as being 0.06 cd/m2, which is enough to provide rich, satisfying blacks in the majority of ambient lighting conditions. Of course, in an entirely dark room, the Sony KDL40EX503 revealed its LCD roots, and produced a less satisfying experience than a few similarly priced Plasma displays, but this is to be expected.
After 9 seconds of receiving an all-black video signal, the Sony KDL40EX503 quickly shuts off its backlighting to improve perceived black level (or perhaps to save power). Fortunately, unlike the auto-dimming seen on some recent Samsung TVs, this was not an issue for actual programme content, and we only ever saw this happen during particularly long Blu-ray Disc load screens. In a film, a long enough fade to black could turn this into a mild issue, but we can't think of many films which feature a 9+ second fade to black off hand. To counter this while we ran black level measurements, we had to keep our BD player's "Pause" icon in the top-left of the screen.
Viewing during the day is excellent, with the LCD panel fighting ambient light brilliantly. This is one of the strengths that a good LCD TV has over most Plasmas: while Plasmas still win for overall picture quality (especially in darkened rooms), only the more expensive models are suitable for use in very bright surroundings such as sunny conservatory rooms. (Our readers across continental Europe will probably be more experienced with the mysterious phenomenon known as "sunlight" compared to us here in the UK).
Viewing Angle
As is the case with any LCD television, the Sony KDL40EX503 is best experienced face-on. Fortunately, the overall contrast performance dips only very slightly when the TV is viewed from the sides. Keeping in mind that the last TV we reviewed was an LED-lit LCD which had below-average viewing angle, the Sony KDL40EX503 comes across as being comparatively excellent in this regard.
When viewed with an all-black screen in a darkened room, black level held up reasonably well off-axis. In these conditions, blacks appeared slightly purpley, especially when we stood up (from the sides, things held up much better).
Motion Resolution
We ran our usual battery of motion resolution tests on the Sony KDL40EX503U HDTV to see how well it could retain clarity during movement. The answer: fairly well. With the [Motionflow] control on its "Standard" setting, the horizontal scrolling test chart revealed approximately 600 lines of resolution. Upping this to "High" did not really improve the motion resolution, but did improve the aggressiveness of the motion interpolation during actual content.
As usual, the LCD panel resolved around 300 lines when the [Motionflow] system was shut off entirely. This is relevant, because like most manufacturers' 100hz/200hz systems, Sony's Motionflow does not give the user much control over its de-blur and de-judder variables. In fact, Samsung (and upcoming LG models) are the only LCDs we know of which offer this facility, and we wish more manufacturers would follow their lead. Fortunately though, even with the "Standard" Motionflow setting, films on the Sony KDL40EX503 do not look overly video-like, that is, they do not suffer from the "soap-opera look" too much. There are still small interpolation artefacts and moments where the system backs off and reveals the film's original look temporarily, but on the whole, this is one of the better 100hz LCD experiences we've had. Of course, we turned the system off entirely during movie watching so we could get the authentic film look — something which is not really a problem, since the 24fps rate of film does not really reveal LCD's motion resolution limitations anyway.
Standard Definition
When we ran our video deinterlacing (diagonal interpolation) tests on the Sony KDL40EX503, we were disappointed to see that the LCD TV was not doing a very effective job of suppressing jaggies during the deinterlacing process. In real world content, this would logically manifest itself as flicker. In reality, this is not as big an issue as it could have been, because most SD content has such low resolution (typically far beyond what standard def formats are capable of), which effectively hides any flicker which might have occurred due to this TV limitation.
Film mode detection worked very nicely on the Sony KDL40EX503. Sony provides three [Film Mode] controls: "Off", "Auto1", and "Auto2". Their documentation hints that "Auto1" includes motion smoothing whereas "Auto2" reproduces the content faithfully, but in all the tests we tried, both settings gave the same results. The KDL40EX503U managed to successfully deinterlace the PAL 2:2 test clip, making it good to go as far as movies from European SD sources are concerned. It also passed the NTSC 2:2 and 3:2 test clips, although this has little practical implication here in Europe (though it will be useful for playing Region 1 DVDs on non-upscaling players).
The clarity of the scaling to the 1080p panel was good, but not exceptional. Although none of the high frequency parts of the SD image were blurred to the point of being absent (such as on 480i/576i input from some older Panasonic TVs), the final scaled image was not quite as immediately sharp as the very best. The usual point applies, though: almost no SD content will reveal this, so all in all, the Sony KDL40EX503's SD performance, while not mind-blowing, is good enough given the quality of most SD material.
High Definition
When viewing high quality, native 1080p material on-axis, the Sony KDL40EX503 HD TV was simply gorgeous to look at. I popped in the unfiltered European Blu-ray Disc release of Minority Report, a heavily stylised film with a pronounced grain pattern, to see how well Sony's TV could reproduce it. Unlike Samsung's recent LCDs, the Sony KDL40EX503 left the grain texture alone, as intended, which is great. In fact, in previous press materials, Sony have demonstrated their understanding of film aesthetic, something which is no doubt helped due to the corporation's involvement in the film industry (and their brief involvement in Film-to-Video transfer machines).
The Sony KDL40EX503 displayed 24p material correctly, with absolutely no rhythmic motion judder. The mostly accurate (albeit slightly desaturated) colours and great greyscale and gamma properties — and the fairly deep blacks rendered by the SPVA LCD panel — meant that the experience was an enveloping one indeed.
When we ran the Chroma Bandwith test from the Spears & Munsil Blu-ray test disc, we noticed that the Sony KDL40EX503 was smudging the finest coloured details in the picture when we had the Blu-ray player output a 4:4:4 signal. We changed the player's output to 4:2:2, which solved the issue (additionally, enabling the "Game" scene mode, which bypasses some processing, also solved the issue). The effects of this are very subtle indeed, but videophiles will like to be in the know.
Console Gaming
Input lag on the Sony KDL40EX503 measured at an underwhelmingly high 60ms (in GAME "scene" mode). This is actually not as bad as it sounds, and I did have some fun gaming experiences with this TV. Unfortunately, first person shooters were not as enjoyable; the lag makes precise aiming very difficult. It really is a shame that input lag is getting worse on the current crop of HDTVs, because it is a serious problem for hardcore gamers (who currently have very few options for gaming-friendly TVs).
One benefit of [Game Mode] that became clear when connecting a PC was that in this mode, the Sony KDL40EX503 reproduces full chroma resolution with 4:4:4 input signals, with each coloured pixel being pin-sharp. Outside of game mode, the chroma is horizontally smeared.
In the interests of completeness, we feel that we should point out a very minor issue that's appeared on several Sony displays lately. If you look at the display up close, it is sometimes possible to spot small "rogue pixels" which occasionally pop up on screen and surround high contrast areas, such as on-screen text (even on the TV's on-screen menus). We've informed Sony of the issue, but must stress that this is invisible for the most part. (This occurs with all input signals, but we feel it's most worthy of being mentioned in this section, where users are likely to sit closer to the TV).
Conclusion
The Sony KDL40EX503 is a nice HDTV. Sony label it as being "cost-conscious", and since it can be had for around £750, it is actually comparable in price to the Samsung LE40C650. In fact, the two displays are very similar, warranting a small comparison. Both feature an SPVA LCD panel (arguably the best type of LCD panel for home cinema applications, due to its high contrast): Samsung's with a glossy coating, Sony's with a more matte finish which will be less reflective in brighter rooms. Samsung's TV features marginally better colour and greyscale performance, but you would be hard-pressed to spot the limitations during actual viewing. Samsung also provide slightly better "Motion Plus" processing, since they allow the user to completely avoid the "soap opera" effect while still improving motion clarity; Sony's "Motionflow" features some motion interpolation at all times. On the other hand, the Sony KDL40EX503 has a clear advantage over Samsung's for film fans, since it renders film grain cleanly and accurately, without attempting to remove it.
Comparisons aside, this is a solid display. Although input lag (which is on the higher end of the scale) is a potential annoyance for hardcore gamers, the Sony KDL40EX503's Greyscale tracking (after calibration) is largely excellent with few visible errors, and colours are very accurate indeed. Sony's budget-priced displays seem to be getting a lot of things right, so we look forward to checking out some of the premium offerings.