Sony's 2013 Bravia range of LED LCD TVs have impressed us, particularly when it comes to gaming responsiveness. Having reviewed the top-end W9 (well, as far as non-4K models go anyway), the step-down W8 and the midrange W6, it's time for us to turn our attention to the entry-level R47 series. We got the 40-inch Sony KDL-40R473A which is priced at below £450 into our test room, and gave it a thorough going-over. Will it deliver decent picture quality given its affordable price point, or is it just false economy? Read on to find out.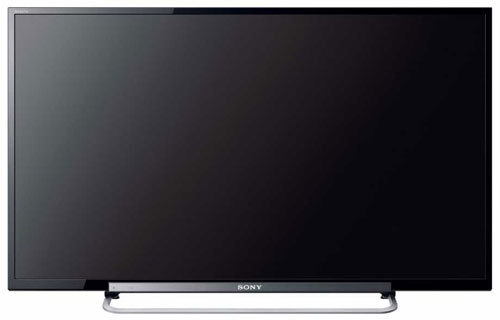 Note: The specific model we tested was the Sony KDL40R473ABU which denotes the 3-pin-plug United Kingdom Version. The same TV may be sold by high-street stores such as Argos, John Lewis, Currys and Richer Sounds, or internet retailers like Amazon as the KDL40R473.
Design
Fitted with direct-lit LED backlight technology rather than the more fashionable edge-mounted variant, the KDL40R473A's chassis is understandably bulkier than edge LED televisions. Nevertheless, Sony has managed to do a good job of keeping the set's polished black bezel reasonably slim. The LCD screen itself exhibits a semi-reflective gloss which may hamper daytime performance in brighter rooms, though as with all LCD-based televisions, you can simply crank up the brightness to overcome competing ambient light.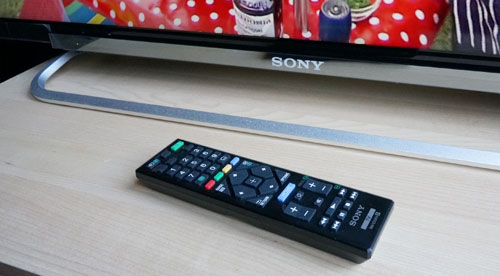 Just like the Bravia W6, the Sony KDL40R473 sits on a low-profile "wire rack" table-top stand that cannot be swivelled, only that the R4's is coated with a mostly matte silver finish, whereas the W6's is finished in gleaming chrome. Build quality is just a touch below the KDL-42W653, betraying its budget status.
Connections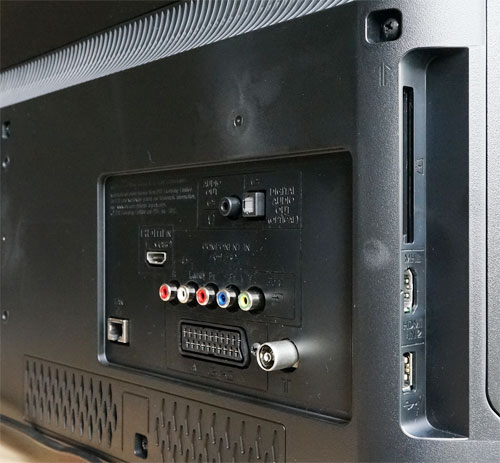 2x HDMI, USB, component, SCART, Freeview HD tuner, LAN, CI slot & audio outs.
Calibration
Note: Our 40″ Sony R47 review sample was calibrated using CalMAN 5, the industry-leading video calibration software.
The Sony KDL40R473ABU comes with neither white balance controls (not even a basic two-point one) nor colour management system, so our hands were basically tied in terms of advanced calibration. Based on our past experience with Bravia HDTVs, we switched [Scene Select] to "Cinema", thinking that it should be the most accurate out of the available picture presets.
Out of the box, the default [Backlight] value in [Cinema] mode was "Min", resulting in an surprisingly dim image whose peak white only measured 60 cd/m2. After dialling up [Backlight] such that peak luminance hit our usual target of 120 cd/m2, we measured away.
Greyscale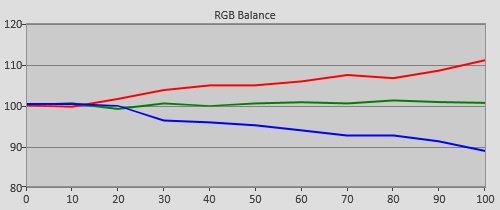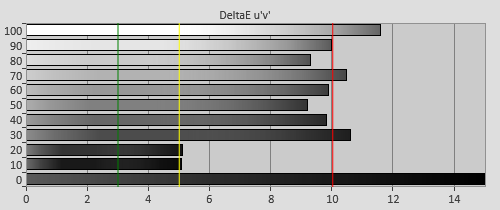 Pre-calibration RGB tracking and delta errors (dEs)
In [Cinema] mode, the Sony KDL40R473 exhibited an obvious red tint which got progressively worse as the picture became brighter. As explained earlier, there was no way for us to correct this due to the lack of white balance controls on the HDTV. Furthermore, we discovered that the [Advanced Settings] submenu (which grants access to more picture-affecting controls like [Gamma], [Live Colour] and others) is locked out in [Cinema] mode.
We therefore experimented with a few picture presets, and eventually settled on the "Custom" [Picture Mode] with [Scene Select] set to "General". In this configuration, the default [Colour Temperature] was "Warm", which still produced a red-tinted image, but at least delta errors (dEs) were lower than in [Cinema] mode.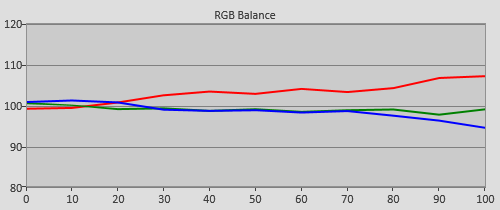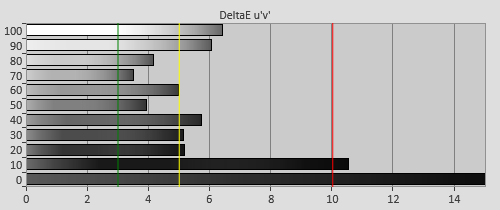 Post-calibration RGB tracking and delta errors (dEs)
Gamma
Using [Picture Mode] "Custom" also unlocks the [Advanced Settings] submenu, making it possible for us to calibrate gamma in line with our target of 2.4, the reference EOTF (electro-optical transfer function) recommended by the ITU (International Telecommunications Union) for flat-screen HD displays used in dark-room studio mastering.
| | |
| --- | --- |
| | |
| Pre-calibration gamma tracking (2.2) | Post-calibration gamma tracking (2.41) |
By default, overall gamma in [Custom] mode measured around 2.2. Dropping [Gamma] down to a value of "-2" brought it closer to 2.4, imparting an extremely gratifying contrast-rich appearance to on-screen images.
Colour
Sony Bravia flat-panel televisions typically don't feature an onboard CMS, so it's unrealistic to expect one to be implemented on the lowly KDL-40R473A. This essentially means that we're basically stuck with what we're provided with in terms of colours.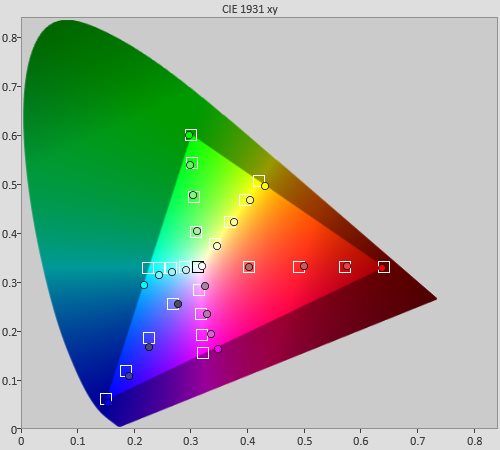 Post-calibration colour saturation tracking
The primary chromaticities were decent enough, with only blue being slightly off-hue. Secondary colours were more problematic: because of the overly warm greyscale, both magenta and yellow – which contain red as part of their colour mixture – were deviated towards red. The most serious errors occurred with cyan which was tilted towards blue. We could have adjusted [Hue] to bring cyan to spec, but then it would introduce more inaccuracies with magenta and yellow (particularly critical for flesh tones), so we left it be.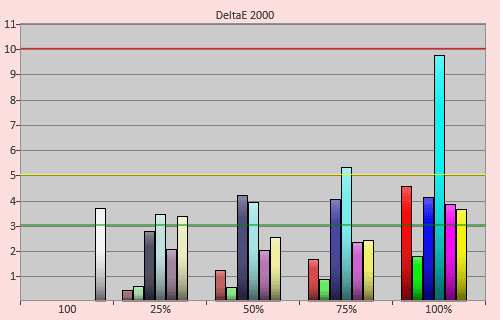 Post-calibration colour errors (<3 not appreciable to the eye)
Unfortunately when all is said and done, delta errors (dEs) exceeded 3 – commonly accepted as the perceptible limit for the human eye – on a number of colour points, directly affecting the KDL40R473's presentation of real-world content.
Benchmark Test Results
| | |
| --- | --- |
| Dead pixels | One stuck blue subpixel right-middle of screen |
| Screen uniformity | Very good for an LED LCD TV |
| Overscanning on HDMI | 0% if [Screen Format] "Full" & [Display Area] "Full Pixel" |
| Blacker than black | Passed |
| Calibrated black level (black screen) | LEDs shut off |
| Calibrated black level (ANSI checkerboard) | 0.056 cd/m2 |
| Black level retention | Auto-dimming with full black screen |
| Primary chromaticity | Blue off-hue |
| Scaling | Good, but occasional "junk pixels" |
| Video mode deinterlacing | Decent |
| Film mode deinterlacing | Passed 3:2/480i & 2:2/576i with [Film Mode] "Auto" |
| Viewing angle | Good for VA LCD panel |
| Motion resolution | 300 |
| Digital noise reduction | Optional; effective when engaged |
| Sharpness | Defeatable edge enhancement |
| Luma/Chroma bandwidth (2D Blu-ray) | Full luma; chroma horizontally blurred |
| 1080p/24 capability | Judder-free |
| Input lag (high-speed camera) | 31ms compared to lag-free CRT |
| Leo Bodnar input lag tester | 42ms |
| Full 4:4:4 reproduction (PC) | Yes, in [Game] mode |
Power Consumption
| | |
| --- | --- |
| Default [Standard] mode | 54 watts |
| Calibrated [Custom] mode | 51 watts |
| Standby | <1 watt |
Verdict
The KDL40R473A is outperformed in almost every aspect by the step-up Bravia W6 series. Although the VA panel on the Sony R4 was capable of reasonably convincing blacks (0.056 cd/m2) by LED LCD standards, greyscale and especially colours didn't look quite right judging from a variety of high-definition and standard-def material, owing to the absence of white balance controls and colour management system on the HDTV.
The single biggest reason to buy Sony's 2013 Bravia televisions is for their ultra-low input lag, but it seems that the KDL40R473 didn't get the memo. Regardless of whether [Game] mode was engaged or not, the Leo Bodnar input lag tester returned a figure of 42ms from our KDL40R473ABU review sample. Whilst not the slowest we've measured, this level of gaming responsiveness is sluggish compared with the chart-topping 15ms we extracted from the Sony KDL-42W653A.
We also found that enabling [LED Motion Mode] on the Sony KDL-40R473A did not reduce motion blur as much as doing the same on the W6. On the latter, motion resolution was boosted to 1080 lines; whereas on the former, there's only a minor improvement in the detailing of the blurred portions. On both sets, [LED Motion Mode] dimmed the picture significantly, which would have precluded its use for most viewers anyway.
On its own, the Sony KDL40R473 is a decent TV, with good contrast performance and native 1080p/24 playback without telecine judder being high points particularly at this price. However, stretch your budget by £150 more, and you can get a much nicer display in the form of the KDL42W653 that offers more accurate colours, lower input lag, integrated WiFi, as well as the Japanese manufacturer's Smart TV platform.
Note: If you're interested in buying this television or the Sony W6, please support us by considering making your purchase from established UK retailer Crampton and Moore who kindly loaned us a retail sample for review.