There was a time when it was easy to keep track of Sony's LCD TV ranges, because there were only two of them. Arriving late to the LCD party after abandoning attempts to produce its own flat panel technology, Sony famously partnered with the LCD experts at Samsung in order to get back up to speed. The resulting BRAVIA range has been a huge success, and there's now almost too many series and model variations to count.
The V-Series has actually been around since the beginning of BRAVIA in 2005, and has traditionally taken its place in the comfortable mid-range spot (the first V-Series BRAVIAs were featured prominently in the company's original memorable adverts). Although specifications have changed in order to move with the times, the same would appear to hold true today: the Sony KDL40V4000 features the now ubiquitous 1920x1080p LCD panel, but doesn't feature a 100hz system or some of Sony's fancier video processing or convenience features. Does this no-nonsense 40″ HDTV display do what it sets out to do well? Read on.

Update 25 February 2010: The latest incarnation of the V4000 range is the EX403 series in Sony's 2010 ESSENTIAL range of Bravia LCD televisions, for example the 32″ Sony KDL32EX403.
Design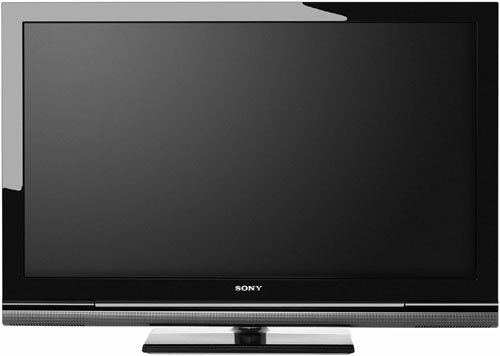 Like all but their most affordable displays, the KDL40V4000's design is unmistakably Sony. Resembling a slightly less prestigious W4000 series, the company's "Draw the LINE" design concept is in effect, visible as an indentation between the area below the screen and the dotted speaker grille. The indentation here is covered in gloss black plastic rather than the glass-like perspex of the W-Series model, but the result is still appealing, despite the inclusion of a glossy finish (which can be distracting and reflective in certain rooms).
The back of the chassis features recessed handgrips, which eased the process of unboxing the LCD HDTV, fitting it onto its stand, and finally placing it into position.
Connections
A single back panel houses two HDMI inputs (there's a third on the side), a set of Component video and stereo audio inputs, two SCART terminals (which can each accept RGB, Composite, and on the second input, also S-Video), an aerial input, and a VGA/PC input. In addition to the third HDMI input, the recessed side panel also features a Composite video input and accompanying stereo audio jacks. In common with several other recent European HDTVs, there is no traditional S-Video jack, but we can't imagine anyone really missing it. If you have S-Video equipment that you absolutely must use, you can do so by feeding it through the S-Video compatible SCART terminal with an adapter.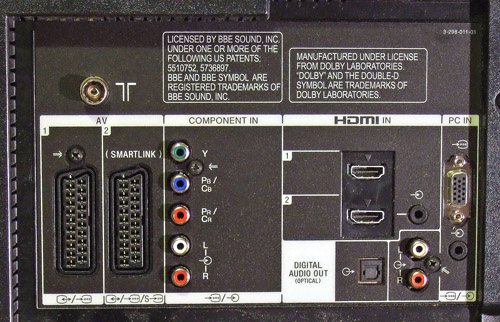 At the time of writing, this array of connections should leave almost nobody out in the cold.
Operation
On-screen User Menu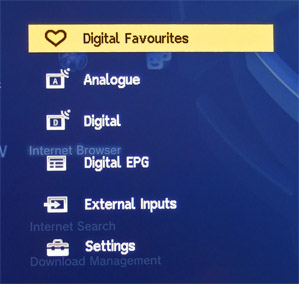 Unlike older Sony displays which have featured the blue and yellow "WEGA GATE" style menu, the Sony KDL40V4000 instead features elegant menus which resemble a slightly cut-down version of the premium "Xross Media Bar" design, which incidentally leaves out the Xross Media Bar in favour of a standard list. Whilst accessing menus, the entire screen is covered in transparent blue. Upon making a picture adjustment, the transparent blue gives way to reveal the TV picture below, allowing the user to see the effects of the change.
The top-level adjustment is the [Picture Mode], which can be set to either [Vivid], [Standard], or [Cinema]. The former two present a bright, blue-tinted, sharpened image, whilst the latter is more subdued and as such, was the basis for our evaluation and further tweaking.
From here, control is given over all the standard adjustments, including the important control over the Backlight. There's also a traditional [Noise Reduction] control, which combines both temporal and spatial NR methods to clean up pictures, and an [MPEG Noise Reduction] mode which was surprisingly useful for Digital TV broadcasts.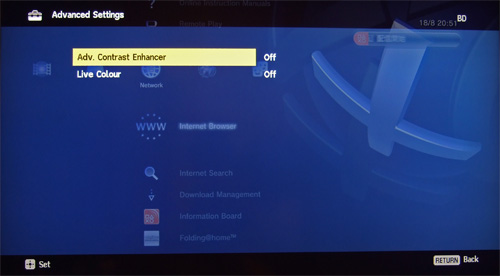 The [Advanced Settings] menu is much less crowded than on other BRAVIA TVs, but this is no loss because most of these features were best left off, anyway. All that remains here are the [Advanced Contrast Enhancer] and the [Live Colour] controls, both of which we disabled.
There are picture-altering settings scattered around the other menus, too. The [Features] menu includes a [Power Saving] function which decreases the backlight brightness further, and a [Film Mode] option which can be set to either detect and compensate for film cadences ("Auto") or force video deinterlacing mode ("Off"). Meanwhile, [Set-up] > [Screen Settings] houses control over the amount of Overscan applied to the picture (the setting is called [Display Area]). When the Sony KDL40V4000 LCD HDTV is fed a 1080i or 1080p source, this control lets you enable the 1:1 mapping mode (Sony call this [Full Pixel]).
Even although the "Warm2" greyscale preset isn't too offensively jaundiced, it's disappointing that Sony do not provide a user accessible greyscale adjustment (or a colour management system) to allow easy refinement of these features.
EPG (Electronic Programme Guide)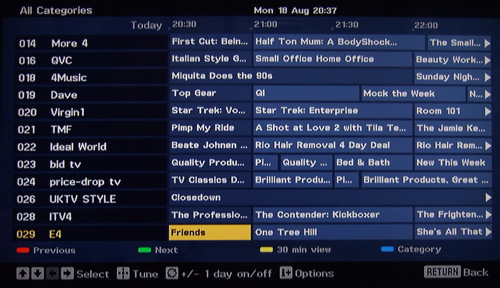 Sony's EPG design does not appear to have undergone any radical changes since the previous models, but this isn't a problem, because it's easy on the eyes, suitably responsive, and easy to use. The information banner is nice and small, and appears momentarily at the top of the screen after changing channels.
Remote Control
We're delighted to see that after losing their way slightly a few years ago, Sony have began reintroducing thin, sleek remote control designs to the BRAVIA range: the black and silver remote looks and feels gorgeous. It has a grooved back and a recessed grip for easy handling, the buttons are laid out logically, and certain locations on the remote feature a tactile dot, making it a breeze to quickly learn and use. The remote control design also makes extensive use of icons, which adds extra appeal over designs which clutter remotes up with cryptic abbreviations.
Calibration
Greyscale

[Colour Temp] "Warm 2" CCT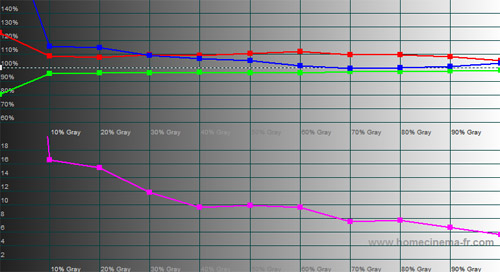 [Colour Temp] "Warm 2" RGB Tracking
As is often the case, the "Warm2" colour temperature preset gave the most accurate greyscale reproduction. Red remained too high consistently, with blue too high particularly in the lower tones. The end result is surprisingly non-offensive to a pair of eyes which is used to calibrated displays, but all the same, we have to ask why there's no user-accessible option to refine this further.
If you have the nerves for it (and/or a "procured" copy of the engineer's manual), then the Service Menu reportedly allows for Greyscale calibration, but this isn't for the faint of heart.
Colour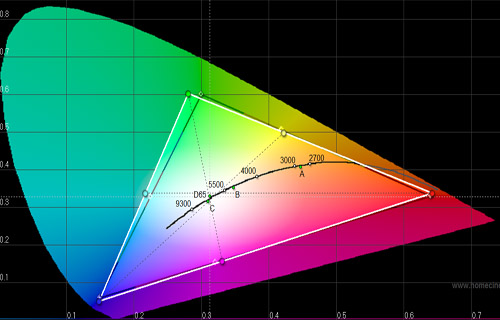 CIE chart with reference to HD Rec. 709
Colour accuracy was decent on the KDL40V4000. There were no dramatic shifts in hue, but Green, as usual, was the worst-affected colour. None of these slight inaccuracies proved to be distracting. Again, there's no Colour Management System to further fine-tune the colour reproduction.
Benchmark Test Results
| | |
| --- | --- |
| Dead pixels | None |
| Screen uniformity | Excellent |
| Overscanning on HDMI | 0% with [Display Area] set to "Full Pixel" |
| Blacker than black | Passed |
| Black level | Excellent |
| Black level retention | Stable if [Adv Contrast Enhancer] off |
| Primary chromaticity | Good with [Colour Space] "Standard" |
| Scaling | Good |
| Video mode deinterlacing | Average; limited jaggies reduction |
| Film mode deinterlacing | Poor; Failed 3:2/ 2:2 cadences in 480i/ 576i |
| Viewing angle | Good for an LCD TV (90°) |
| Motion resolution | 250-300 |
| Digital noise reduction | Acceptable at baseline |
| Sharpness | Undefeatable edge enhancement on 1080i/1080p |
| 1080p/24 capability (PS3) | Accepts 1080p/24 video signal; no telecine judder |
| Input lag | 0-10ms, very little |
Power Consumption
| | |
| --- | --- |
| Default | 235 watts ["Shop"], 196 watts ["Home"] * |
| Calibrated | 88 watts |
| Standby | 1 watt |
* the KDL40V4000 asks the user to choose the "Shop" or "Home" setting upon first power-up. These apply the either the [Vivid] or [Standard] picture mode respectively.
Black Level
The blacks produced by the Sony KDL40V4000 are gorgeous. Of course, they're not about to beat the lastest Pioneer KURO plasmas, but they are nevertheless an example of just how far LCD technology has come. Post-calibration black level measured 0.05cd/m2, an impressively low figure which was achieved by lowering the backlight setting to 2 and enabling "Reduced Power" mode under the [Features] menu. At the other end of the brightness scale (100 IRE – that's full white), brightness was still 118.96cd/m2, so peak luminance was not sacrificed in order to bring this impressive result. This was the closest we could come to our desired 103cd/m2 with the Backlight control alone, but we met our target by lowering the contrast slightly.
Detail & Resolution
Over HDMI, and with the [Full Pixel] mode turned on, the Sony KDL40V4000 successfully resolved each nuance of the horizontal and vertical 1920×1080 line patterns.
Motion Resolution
Chapter 31 of our handy FPD Benchmark Blu-ray Disc revealed that the Sony KDL40V4000's motion resolution was around 250-300 lines, in other words, completely within our expectations for an LCD TV without a 100hz system. Very subtle green trails were visible in some areas, but these were not visible during real-world content and were far less distracting than the green phosphor trails exhibited on certain Plasma displays.
Video Processing
The Sony KDL40V4000's standard-def video processing is average. At first, we were about to say that this television featured the worst standard definition scaling (upconversion) we'd ever seen, but fortunately, this turned out to be a bug. An explanation: when the TV is fed with 480i, 480p, 576i, or 576p video, and Sharpness is set to "Minimum", the TV actually applies the maximum amount of sharpening, resulting in a very poor quality picture with a huge amount of ringing.
Stepping [Sharpness] up to 1 completely removes this ugly look, leaving us with a slightly soft, but beautifully clean picture. Compensating for the softness with just a little bit of the [Sharpness] setting resulted in pleasing SD scaling – what a relief! Just in case it wasn't clear, we'll repeat: if you use any sort of standard-definition video device with this TV connected via HDMI, be sure the Sharpness setting is set to 1 instead of "Min"! This bug does not extend to the built-in Freeview tuner, nor the other video inputs, which probably explains why it's snuck through.
With this behind us, we moved on to the Silicon Optix HQV Diagonal Filtering test, being piped in from a DVD player outputting 576i over HDMI. This tests how effectively the television's video processor can reduce the appearance of jaggies, which result from Interlaced material. Here, the Sony KDL40V4000 failed the test, producing jagged edges at almost all angles, suggesting that no Directional Interpolation is being used at all. How much or not this will matter in the real world, though, is debatable, as the majority of sources don't feature enough detail to really highlight this shortcoming.
The Film Cadence tests fared just as poorly, with the PAL (2:2) cadence failing, and the NTSC (3:2) cadence and Detail Test being a hit and miss affair. As a result of this rather uninspiring performance, the old adage of bringing your own video processing, in the form of a high quality upconverting DVD player (or video processor), is more true than ever. That won't save TV broadcasts viewed on the Sony KDL40V4000's built-in Digital TV tuner, though, but to be fair, these broadcasts have so many other inherent problems anyway, so a lack of cadence detection or diagonal interpolation may mean little for some viewers.
Picture Quality
High Definition (Blu-ray)
For testing the 1080p performance of the Sony KDL40V4000 LCD television, I picked out Resident Evil: Extinction, a video transfer which looks beautiful from start to finish (yes, even during the scenes of zombie splattering). The superb contrast being offered by the LCD panel rendered a dark scene near the end in a particularly stunning fashion. On other displays, particularly those that share the same S-PVA panel type (which can suffer from response time issues when not carefully implemented), the shadows around Milla Jovovich drag and blend into her face noticeably as she walks around, but the effect was absolutely minimal here.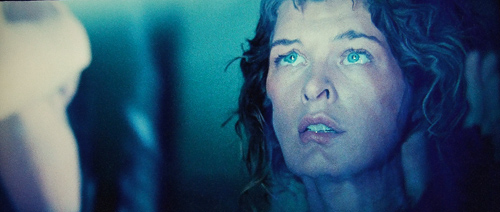 Camera pans were also smooth and judder-free, as the 24p input signal was handled and displayed correctly. Lastly, the film's natural grain texture was reproduced beautifully without any behind-your-back processing. All of this meant that the film looked like a film, rather than a very well shot amateur video, as is the case on some displays.
The small amount of non-defeatable edge enhancement introduced by the video processor did not visibly harm the picture for video content, but all the same, we'd really rather it wasn't here, because there is no need for it on a 1080p HD signal. It is noticeable when using a PC with the display, however.
Standard Definition (Freeview Digital TV)
The current Beijing Olympic Games on BBC One provided fantastic test material for the Sony KDL40V4000's digital TV performance. Even at this channel's fixed bit rate of 6mbps, we weren't sure whether or not we were supposed to be watching atheletes or compression blocks, but of course, this is the fault of the source, and not the television. Engaging the [MPEG Noise Reduction] feature was effective in reducing the obvious compression grid structure without killing detail, and sitting back further of course helped make things much more tolerable.
Console Gaming
With my Xbox 360 away for costly repairs (again), I instead used downloaded Playstation 3 game demos to test HD gaming performance (I use the system as a Blu-ray player and don't actually own any games for it). I could detect no input lag at all, and input lag tests confirmed that there was between 0ms and 10ms present. This is an excellent result, and as such, the Sony KDL40V4000 should present no gaming problems at all.
Conclusion
Pros
SPVA panel and Backlight control allow for deep black level
Exquisite high-definition detail from "Full Pixel" 1:1 pixel mapping
Handles 1080p/24 video signal correctly without telecine judder
Scaling of standard-def input is clean, without ringing
Solid connectivity
Settings can be saved independently per input
Speedy and responsive EPG and channel navigation
Table-top stand swivels and easy to set up
Colour accuracy is relatively good
TV menus and fast, and remote is easy to use
Panel uniformity (in our test sample) was excellent, with almost no clouding/unevenness
Cons
No white balance control in user menu for greyscale calibration
Motion resolution not as good as on HDTVs equipped with MCFI/100Hz technology
Fails to apply 3:2/2:2 pulldown compensation to 480i/576i film-based content even with [Film Mode] set to "Auto"
Doesn't smooth jaggies from Interlaced content effectively
Small amount of non-defeatable edge enhancement visible on 1080i/1080p input, which is unnecessary
Summary
The Sony KDL40V4000 is an aesthetically pleasing, affordable HDTV which puts out a very pleasing image, due largely in part to its fantastic calibrated black level. Colours are relatively accurate, and although it wasn't possible to fully calibrate the display, the "Warm2" greyscale preset will still please many. Gaming, too, was fantastic fun, thanks to the almost non-existent input lag.
A very slight forced sharpening of 1920×1080 feeds, underwhelming standard-def video processing, and a lack of user-accessible Greyscale control were a touch disappointing, but at the end of the day, the Sony KDL40V4000 ticks the most important boxes for High-Def users. It doesn't redefine what we'll all expect from a mid-range display, but on the whole it's a solid, good-looking, affordable choice.