Update: We have completed and published full reviews of the Sony Bravia KDL40W5500 and KDL37W5500 LCD TVs.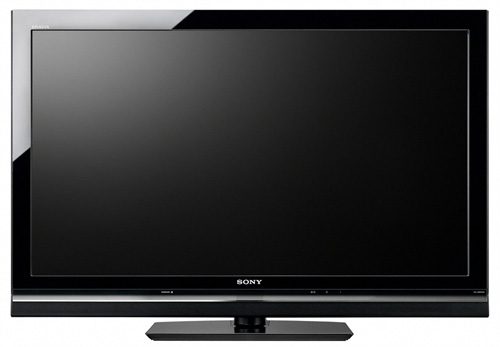 Sony has launched a whole new line-up of their Bravia LCD televisions for the year 2009. The multi-award-winning Bravia W4500 series will be replaced by the Sony W5500 series which will come in five different sizes. In addition to the usual 32-inch (Sony KDL32W5500), 40-inch (Sony KDL40W5500), 46-inch (Sony KDL46W5500) and 52-inch (Sony KDL52W5500) versions, there is now a 37-inch variant in the form of the Sony KDL37W5500.
Like the outgoing W4500 series, the Sony W5500 LCD HDTVs are blessed with full HD 1920×1080 native screen resolution, and their proprietary Motionflow 100Hz motion-compensated frame interpolation (MCFI) technology. However, there have been a few changes as well – for example, the Sony KDL40W5500 offers the following extras over the KDL40W4500:
Applicast: a mashup of XMB graphical user interface (GUI), RSS feeds and widget applications which lets viewers access selected internet content (such as news, weather and stock quotes) over an Ethernet connection without having to switch on their computers;
An extra HDMI input (4 on the Sony KDL40W5500 vs 3 on the W4500);
Expanded DLNA functionality: in addition to digital still photos and MP3 music files, you can now stream some video formats from compatible networked devices to be displayed on the Sony KDL40W5500; and
Bravia Engine 3 (BE3): the latest incarnation of Sony's video processing technology (the W4500 used Bravia Engine 2).
Unfortunately there have also been a couple of downgrades (at least on paper): the Sony KDL40W5500 sports only an 8-bit panel (vs a 10-bit panel on the 40″ W4500) and CCFL backlight (the W4500 had WCG-CCFL). While it's unlikely that picture quality will be compromised, we shall reserve judgement until we get our hands on a review sample.
The Sony KDL40W5500 HDTV is expected to be available for sale in the United Kingdom from mid-March onwards at an RRP of £1199 (though we've seen pre-order prices as low as £900 from certain internet retailers).