In Sony's efforts to expand their LCD TV empire by catering to buyers with different requirements and budgets, they have come up with more range and models of Bravia LCD televisions than you can shake a stick at. We have tested the latest W4500 series, and are waiting for the imminent X4500 series to hit the stores, but where does the Z4500 series – unveiled at IFA 2008 as the world's first 200Hz LCD HDTV – fit into the picture (no pun intended)? Today we're going to have a look at the Sony KDL40Z4500 and find out…

Note: The specific model we tested was the Sony KDL40Z4500U (which denotes the 3-pin-plug United Kingdom version), but the terms KDL40Z4500 and KDL40Z4500U will be used interchangeably throughout this review.
Design
The Sony KDL40Z4500 HDTV reprises the "Midnight Sky" theme previously seen on the W4000 series: its glossy black bezel is sprinkled with sparkly flecks which become visible upon closer inspection. A thin pane of transparent perspex extends below the bezel frame to carry a horizontal speaker bar spanning the width of the LCD TV, creating a distinctly Sony-esque "suspended-in-air" effect.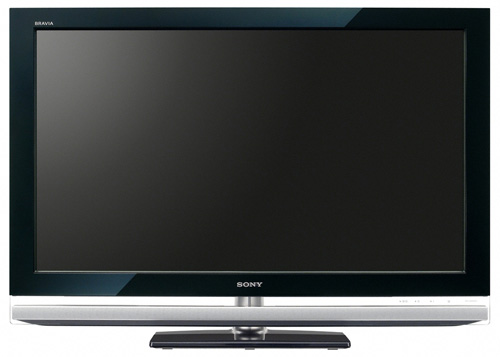 The illuminated Sony logo, the backlit touch-sensitive control buttons at the bottom right of the panel, and the LED indicators embedded on the glass-like perspex are no doubt swanky touches. But Sony have also not forgotten the practical side of things, judging from the inclusion of a pair of recessed handgrips at the back of the television to facilitate easier lifting onto the swivelling pedestal stand.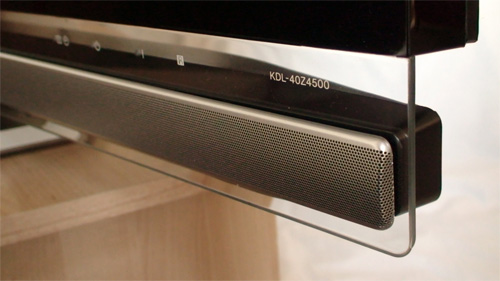 Midnight Sky bezel, transparent perspex, horizontal speaker bar
The chassis of the Sony KDL40Z4500 is bulkier and heavier than the W4000 and W4500 series. While this was probably necessary to accommodate the extra motion-enhancing gadgetry, the Sony KDL40Z4500 can look cumbersome when pitted against slim-profile LCD televisions which are increasingly popular with manufacturers and consumers alike.
Connections
Connectivity on the Sony KDL40Z4500 is no different from that on the W4500, featuring 3 instead of 4 HDMI inputs, a USB 2.0 port, a DLNA-compatible ethernet port, and a Digital Media Port among other standard connection interfaces.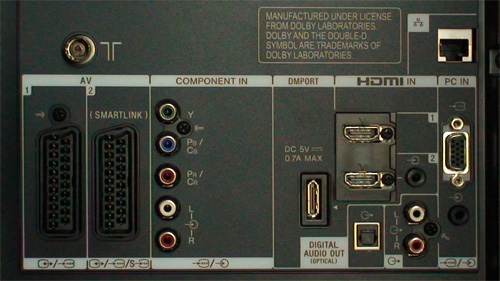 Rear: 2 x HDMI, VGA, component, 2 x Scarts, aerial, LAN port, DM port, audio outs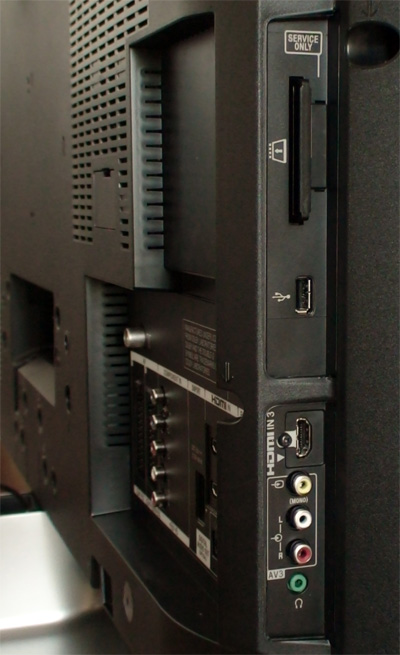 CI slot, USB, HDMI, composite video, headphone
Operation
The Sony KDL40Z4500 LCD HDTV sports the same user menu and EPG (both the standard Sony and the alternative Guide Plus+ versions) found on the W4500 series.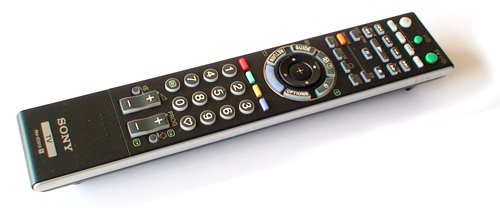 Just like the television panel, the bundled infrared remote control is chunkier, no thanks to some extra buttons at the top of the remote which can be used to control other compatible equipments. Another ergonomic blunder is how some important buttons encircle the central navigation keypad, which means that some conscious effort, precision and dexterity are required to avoid hitting the wrong key. On the plus side, pressing a button on the top left of the remote control will light the keys up with neon blue glow to save you from fumbling in the dark.
Calibration
Given the continued omission of white balance controls at user-menu level even for a high-end model like the Sony KDL40Z4500, it's hardly surprising to find that its post-calibration charts and measurements are very similar to the W4000 and W4500 series. [Colour Temperature] "Warm 2" was plus-red relative to D65:

[Colour Temperature] "Warm 2" CCT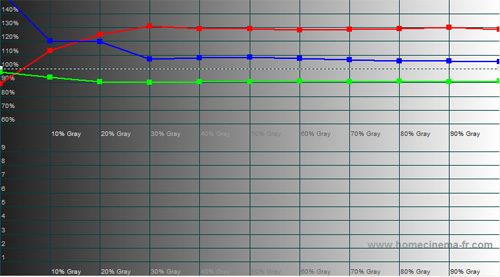 [Colour Temperature] "Warm 2" RGB Tracking
[Colour Temperature] "
Warm 1
" was plus-blue:

[Colour Temperature] "Warm 1" CCT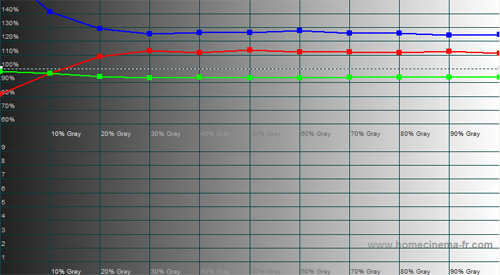 [Colour Temperature] "Warm 1" RGB Tracking
[Colour Space] "
Standard
" yielded accurate primary chromaticities: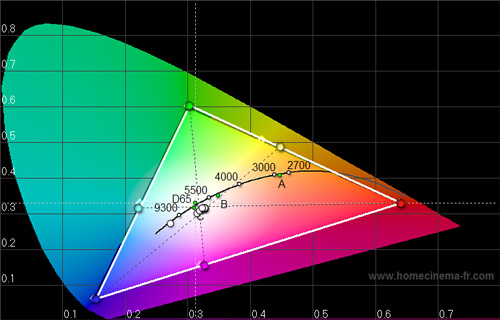 [Colour Space] "Standard" CIE chart with reference to HD Rec. 709
[Colour Space] "
Wide
" resulted in an extended colour gamut with oversaturated green, which was further exaggerated by [Live Colour]:
| | |
| --- | --- |
| | |
| [Colour Space] "Wide" CIE | [Live Colour] "High" CIE |
Benchmark Test Results
| | |
| --- | --- |
| Dead pixels | None |
| Screen uniformity | No clouding and backlight bleed if calibrated |
| Overscanning on HDMI | 0% with [Display Area] set to "Full Pixel" |
| Blacker than black | Passed |
| Black level | Excellent (0.06 cd/m2 calibrated) |
| Black level retention | Stable |
| Primary chromaticity | Excellent with [Colour Space] "Standard" |
| Scaling | Above average |
| Video mode deinterlacing | Average; limited jaggies reduction |
| Film mode deinterlacing | Poor; Failed 3:2/ 2:2 cadences in 480i/ 576i |
| Viewing angle | 75° |
| Motion resolution | [Motionflow] "Standard" and "Max": 1080; "Min": 750; "Off": 300 |
| Digital noise reduction | Acceptable at baseline |
| Sharpness | Undefeatable edge enhancement on 1080i/1080p |
| 1080p/24 capability (PS3) | Accepts 1080p/24 video signal; no telecine judder |
| Input lag | 0-10ms in [Game Mode] or over VGA; 16-31ms otherwise |
Power Consumption
| | |
| --- | --- |
| Default ([Picture Mode] "Standard") | 164 watts |
| Calibrated ([Picture Mode] "Cinema") | 111 watts |
| Standby | 14 watts with [Quick Start] engaged; <1 watt otherwise |
Notes On 200Hz LCD Panel
Sony probably needed to use a slightly different LCD panel for a problem-free implementation of its 200Hz Motionflow system, and various characteristics of the screen certainly gave this away. Even out-of-the-box, we immediately noticed less clouding and backlight bleed on the Sony KDL40Z4500 HDTV than on the W4000 or W4500 series. The Sony KDL40Z4500's edge in screen uniformity was also maintained off-axis, though it must be pointed out that its contrast and colour washed out slightly earlier than the W4000 and W4500 when viewed from an angle.
Although the dynamic contrast of the Sony KDL40Z4500 was quoted at 80,000:1 (vs. the 50,000:1 of W4500), the native contrast of the LCD panel actually measured marginally lower. Dispensing with any contrast enhancing gimmickry (which boosts top-end brightness and/or blacks at the expense of highlight and/or shadow detail), the deepest black level we could achieve after calibration was 0.06 cd/m2 – which of course is still excellent for an LCD TV – if we did not want to sacrifice peak brightness too much. At the other end of the spectrum, highlight detail and red channel started clipping pretty early when we gradually increased the [Contrast] value, effectively holding us back from raising the ceiling of the television's dynamic range.
Without engaging [Motionflow], baseline motion resolution on the Sony KDL40Z4500 HDTV was measured to be 300 according to Chapter 31 of the "FPD Benchmark Software For Professional" test disc. Setting [Motionflow] to "Standard" was enough to boost motion resolution to 1080, the highest we've ever recorded on an LCD television. Even the "Min" setting delivered a motion resolution of 750 – surpassing all other LCD TVs we've tested to date – though the image did seem less stable (the scrolling lines flickered more) compared to either "Standard" or "Max".
As expected, there's no improvement in the quality of video processing on the Sony KDL40Z4500 compared to the W4500 according to our benchmark tests, as both employ the Bravia Engine 2 (BE2).
Picture Quality
High Definition (Blu-Ray)
Just like the W4500 (and the W4000 before it), the Sony KDL40Z4500 LCD HDTV turned in a breathtaking high-def performance underpinned by excellent blacks and colour fidelity, depicting the dreary darkness and the intentionally desaturated colour palette in Underworld on Blu-ray with convincing accuracy. And even though none of the colour temperature presets yielded D65 greyscale, we still managed to appreciate the blue tint deployed extensively throughout the film.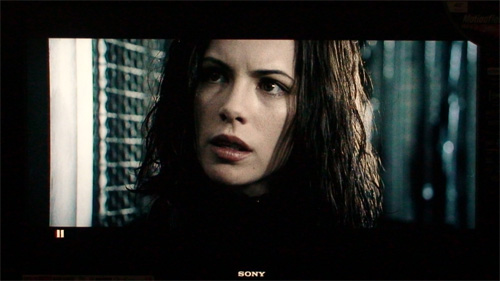 Perhaps because of the slightly different LCD panel used, calibrated gamma was 2.1 on the Sony KDL40Z4500 (it was 2.25 on the W4500), and unfortunately no gamma control was available in the user menu to bring this closer to spec. While videophiles may lament the brighter (maybe a touch too bright) shadow detail and marginally reduced punchiness/ "pop" compared to the 2.2 ideal, at least all the subtleties in the darkest crevices in Underworld were portrayed clearly for all to see.
Animated movies can provide a stern test for motion-compensated frame interpolation (MCFI) algorithms due to their digitally-rendered textures and lighting effects, and what better film than the absolutely flawless (in terms of picture and audio quality) Blu-ray transfer of Kung Fu Panda to grill the Sony KDL40Z4500's 200Hz Motionflow system.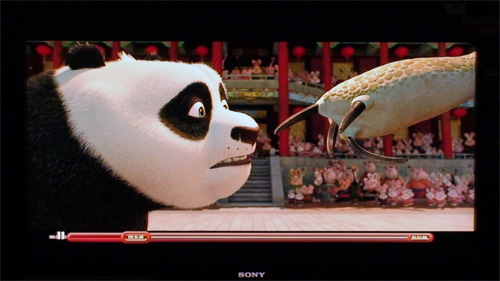 The Sony KDL40Z4500 passed the test with flying colours: we genuinely did not witness any interpolation artefacts throughout the movie with [Motionflow] set to "Min". This setting was sufficient to improve clarity during medium-fast pans (for example when Shifu surveyed the courtyard at around the 51:57 mark), yet its inevitable "video" effect was still tolerable to those who cherish the filmic look of 24p material.
Standard Definition (Freeview Digital TV)
For live action sports however, we certainly wouldn't hesitate in setting [Motionflow] to "Standard" for an even higher motion resolution, though to be honest we struggled to see any significant advantage over the 100Hz Motionflow on the W4500 series. During England's football friendly against Germany on ITV1, we did notice the odd sparkles around the high-contrast areas of moving objects (e.g. the names and numbers on the back of the players' shirts), but thankfully these were pretty much negligible amidst the onslaught of compression artefacts like mosquito noise and macro-blocking stemming from the broadcast source.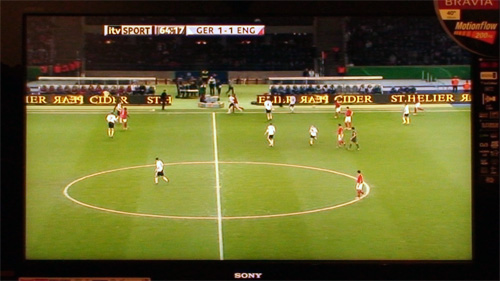 Otherwise, as long as a sensible viewing distance was adopted, Freeview channels with reasonable bit-rate were immensely watchable on the Sony KDL40Z4500 LCD television due to its deep blacks, accurate colours and above average scaling.
HD Console Gaming (Sony PS3)
We're not sure if the theoretically faster LCD panel played a part here, but the input lag we measured on the Sony KDL40Z4500 was typically 15-20ms lower than that on the W4500, even with [Motionflow] engaged. Of course, the playing field would be levelled if [Game/Text Mode] was activated: the input lag on both TVs would drop to a mouthwatering 0-10ms, which – alongside vibrant colours and exceptional detail – paved the way for an utterly immersive gaming experience.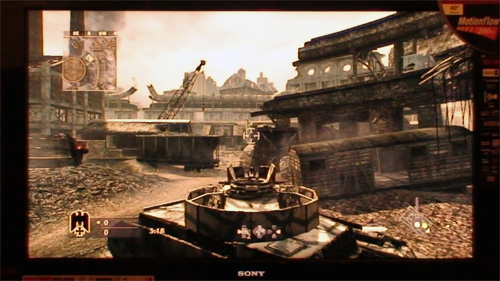 The downside is that [Game/Text Mode] automatically deactivates the 200Hz Motionflow system on Sony KDL40Z4500, but we'll choose a lag-free gaming response over a slight reduction in motion blur any day, particularly for reflex-dependent multiplayer first-person shooters such as Call Of Duty 5: World At War.
Conclusion
The deep blacks, accurate colours and low input lag on Sony's latest high-end (W series and above) LCD HDTVs need no further praise, so we're left to comment on the Sony KDL40Z4500's 200Hz Motionflow implementation.
The good news? There are surprisingly few kinks for what effectively is the first incarnation of 200Hz MCFI technology. Now the not-so-good news: any resultant improvement in motion clarity isn't really leaps and bounds ahead of what 100Hz LCD televisions currently offer when it comes to real-life viewing.
So while the Sony KDL40Z4500 holds the current record for the highest motion resolution we have measured on an LCD TV so far, pound-for-pound we think that the Sony KDL40W4500 (equipped with 100Hz Motionflow) represents better value-for-money.